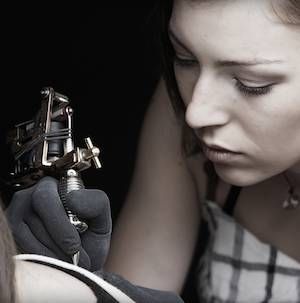 This content contains affiliate links. When you buy through these links, we may earn an affiliate commission.
Tattoos are pretty mainstream at this point in the greater culture, but as a teenager, tattoos symbolize quite a bit. Getting a tattoo is as much about being an act of rebellion as it is about an act of declaring independence. Teens who get tattoos are literally marking their bodies and their lives as their own through the transference of ink.
In YA fiction, tattoos are not as common as one might imagine. It's not a trait or characteristic or rite of passage that's described frequently, so when it does become a plot point or a feature of a character or his/her story, it stands out.
Let's take a look at 3 YA books where tattoos play a role in the story, be it a central component of the story or a detail that enriches a character.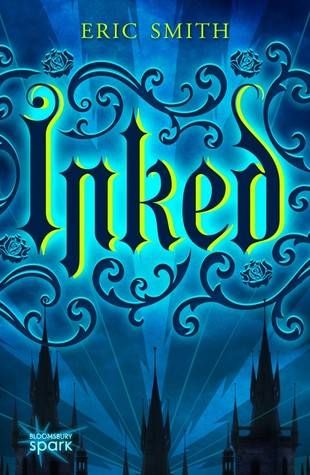 Inked by Eric Smith (digital only)
Tattoos once were an act of rebellion.
Now they decide your destiny the moment the magical Ink settles under your skin.
And in a world where Ink controls your fate, Caenum can't escape soon enough. He is ready to run from his family, and his best friend Dreya, and the home he has known, just to have a chance at a choice.
But when he upsets the very Scribe scheduled to give him his Ink on his eighteenth birthday, he unwittingly sets in motion a series of events that sends the corrupt, magic-fearing government, The Citadel, after him and those he loves.
Now Caenum, Dreya, and their reluctant companion Kenzi must find their way to the Sanctuary, a secret town where those with the gift of magic are safe. Along the way, they learn the truth behind Ink, its dark origins, and why they are the only ones who can stop the Citadel.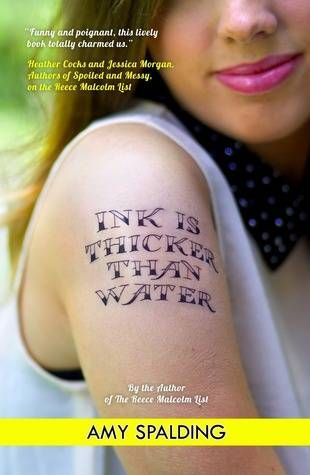 Ink is Thicker Than Water by Amy Spalding
For Kellie Brooks, family has always been a tough word to define. Combine her hippie mom and tattooist stepdad, her adopted overachieving sister, her younger half brother, and her tough-love dad, and average Kellie's the one stuck in the middle, overlooked and impermanent. When Kellie's sister finally meets her birth mother and her best friend starts hanging with a cooler crowd, the feeling only grows stronger.
But then she reconnects with Oliver, the sweet and sensitive college guy she had a near hookup with last year. Oliver is intense and attractive, and she's sure he's totally out of her league. But as she discovers that maybe intensity isn't always a good thing, it's yet another relationship she feels is spiraling out of her control.
It'll take a new role on the school newspaper and a new job at her mom's tattoo shop for Kellie to realize that defining herself both outside and within her family is what can finally allow her to feel permanent, just like a tattoo.
Tattoo by Jennifer Lynn Barnes
Bailey Morgan isn't the type of girl who shows a lot of skin, but somehow, she ends up in a dressing room at the mall with her friend Delia applying a temporary tattoo to her lower back. Never one to suffer fashion doubt, trendsetter Delia knows exactly where she wants her own tattoo: on her stomach, right where her shirt ends—can you say "midriff"? Annabelle, the quiet one, chooses the back of her neck, and tomboy Zo plasters hers on the top of her foot. The tattoos will last for three days, and Delia's sure that with them, the four friends will absolutely kill at the school dance.
Unfortunately, killing is just what someone has in mind, and Bailey, Delia, Annabelle, and Zo are in for the battle of their lives. Along with her tattoo, each girl receives a gift—a supernatural power to help them in their fight. As Bailey's increasingly frightening dreams reveal the nature of their enemy, it becomes clear to the girls that it's up to them to save the world. And if they can get Delia to stop using her newfound power to turn gum wrappers into Prada pumps, they might actually stand a chance.
Two additional YA titles where a character either spends time in a tattoo shop or gets inked that are worth noting include Fingerprints of You by Kristen-Paige Madonia and The Good Sister by Jamie Kain.
Looking for more 3 On A YA Theme posts? Got you covered:
3 On A YA Theme: Historical Fiction in Verse
3 On A YA Theme: Candy-Covered YA
3 On A YA Theme: Trans Experiences and Identities
3 On A YA Theme: 3 You May Have Missed in 2014
3 On A YA Theme: Characters with Disabilities
3 On A YA Theme: 3 YA Set in Africa
3 On A YA Theme: Beautiful Covers of Anne of Green Gables
3 On A YA Theme: Modern Takes on Little Women
3 On A YA Theme: It's Basketball Season
3 On A YA Theme: Teens Who Are Writers
3 On A YA Theme: Parents Who Are Writers
3 On A YA Theme: It's Halloween
3 On A YA Theme: Girls Who Dig Horror Movies
3 On A YA Theme: Be Ready to Be Scared
3 On A YA Theme: If You Love Watching Supernatural
3 On A YA Theme: YA-Inspired Art
3 On A YA Theme: YA Films on Netflix Instant
3 On A YA Theme: More YA Films on Netflix Instant
3 On A YA Theme: Astral Projection
3 On A YA Theme: Dolls On Covers
3 On A YA Theme: Girls Who Run
3 On A YA Theme: Dystopian YA Nail Polish
3 On A YA Theme: Summer Camp
____________________
Expand your literary horizons with New Books!, a weekly newsletter spotlighting 3-5 exciting new releases, hand-picked by our very own Liberty Hardy. Sign up now!