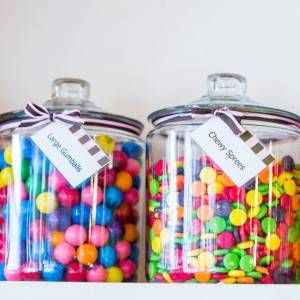 Do you have a sweet tooth and live in the U.S.? Then you might already be more than aware that January is National Candy Month. If you don't have a sweet tooth or you're not a U.S. citizen, then welcome to our annual celebration of all things sugary and sweet. I'm not sure whether there are any formal celebrations or if it's a candy corporation-sponsored holiday, but none the less, some of us are going to enjoy a nice box of Nerds or roll of Rolos in its honor.
For this week's "3 On A YA Theme," let's talk about all things sweet and saccharine. Or at least, let's look at some good-looking candy. These three books have little or nothing in common topically, but they all share a cover similarity: candy.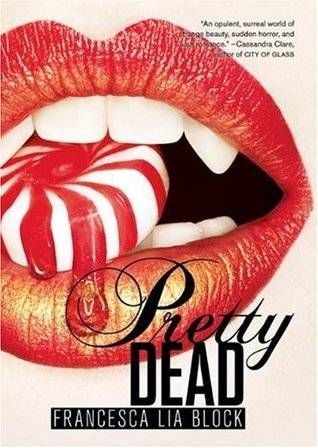 Pretty Dead by Francesca Lia Block
People pity me, but mostly they feel envy. I have all the luxury and freedom a girl my age could want.
Something is happening to Charlotte Emerson. Like the fires that are ravaging the hills of Los Angeles, it consumes her from the inside out. But whether it is her eternal loneliness, the memory of her brother, the return of her first love, or the brooding, magnetic Jared—she cannot say. What if it's something more . . .
Something to do with the sudden tear in her perfect nails. The heat she feels when she's with Jared. The blood rushing once again to her cheeks and throughout her veins.
For Charlotte is a vampire, witness to almost a century's worth of death and destruction. But not since she was a human girl has mortality touched her.
In what way will you be transformed?
Until now.
After the Kiss by Terra Elan McVoy
This moment changes everything.
Becca has been head-over-heels for Alec from the instant they met. He's a brainy jock with a poet's heart; in other words, perfect for her.
Camille is careful with her words and protective of her heart, especially since Chicago. Then a new boy in her new town catches her off guard with a surprise kiss.
Too bad that new boy is Becca's boyfriend, Alec.
Camille and Becca have never met, but their lives will unravel and intertwine in surprising ways as they deal with what happens after the kiss.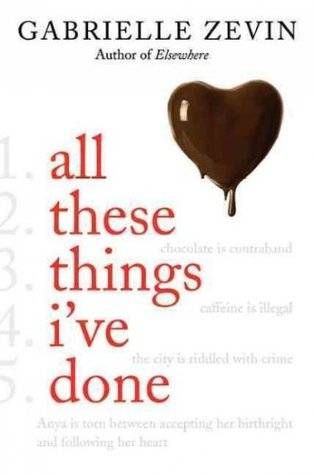 All These Things I've Done by Gabrielle Zevin (Birthright #1)
In 2083, chocolate and coffee are illegal, paper is hard to find, water is carefully rationed, and New York City is rife with crime and poverty. And yet, for Anya Balanchine, the sixteen-year-old daughter of the city's most notorious (and dead) crime boss, life is fairly routine. It consists of going to school, taking care of her siblings and her dying grandmother, trying to avoid falling in love with the new assistant D.A.'s son, and avoiding her loser ex-boyfriend. That is until her ex is accidently poisoned by the chocolate her family manufactures and the police think she's to blame. Suddenly, Anya finds herself thrust unwillingly into the spotlight–at school, in the news, and most importantly, within her mafia family.
*The chocolate on the cover of this title disappeared in the paperback redesign.
Itching for more 3 On A YA Theme posts? Got you covered:
3 On A YA Theme: Trans Experiences and Identities
3 On A YA Theme: 3 You May Have Missed in 2014
3 On A YA Theme: Characters with Disabilities
3 On A YA Theme: 3 YA Set in Africa
3 On A YA Theme: Beautiful Covers of Anne of Green Gables
3 On A YA Theme: Modern Takes on Little Women
3 On A YA Theme: It's Basketball Season
3 On A YA Theme: Teens Who Are Writers
3 On A YA Theme: Parents Who Are Writers
3 On A YA Theme: It's Halloween
3 On A YA Theme: Girls Who Dig Horror Movies
3 On A YA Theme: Be Ready to Be Scared
3 On A YA Theme: If You Love Watching Supernatural
3 On A YA Theme: YA-Inspired Art
3 On A YA Theme: YA Films on Netflix Instant
3 On A YA Theme: More YA Films on Netflix Instant
3 On A YA Theme: Astral Projection
3 On A YA Theme: Dolls On Covers
3 On A YA Theme: Girls Who Run
3 On A YA Theme: Dystopian YA Nail Polish
____________________
Expand your literary horizons with New Books!, a weekly newsletter spotlighting 3-5 exciting new releases, hand-picked by our very own Liberty Hardy. Sign up now!