This content contains affiliate links. When you buy through these links, we may earn an affiliate commission.
Novel format in YA fiction can take so many forms. There are traditional, linear narratives as much as there are epistolaries, graphic novels, novels told in vignettes, scrapbook-style storytelling, and, perhaps my favorite format, the verse novel.
A verse novel, for those who haven't picked one up, is a story told through poetry. The poetry itself can be done as a long 200 or 300 page book; it can be broken up into pieces throughout the novel, either in hundreds of separate poems, through varied voices told through poems; or the verse can serve as one piece of a bigger part of the narrative. The verse gives the novel a different flavor all together, and as much as it's about the way the story reads, verse can also lend a very visual component.
What makes verse even more interesting is the impact it can have on the story. It's not always an effective storytelling method, but sometimes, it's the best way for the story to be told. The verse has to not only be solid as verse, but it has to make sense narratively. Because verse requires paring down a story to its essential pieces and being unable to expand upon them too much, the balance of success lies on what's shared as much as what's withheld from the reader. It's easy to spot when it isn't working, though it's much easier — and much more satisfying — to see when verse is the perfect means of telling a story.
I find historical fiction in YA as told through verse my kryptonite. I like a good historical novel, but I don't always pick them up. But a historical novel in verse? I will read those in a heartbeat, even if the historical period or story isn't necessarily one I'd otherwise be drawn to. There's something about the information and how it's presented through verse that makes these both accessible and extremely enjoyable.
For today's 3 On A YA Theme, three historical novels told through verse more than worth diving into: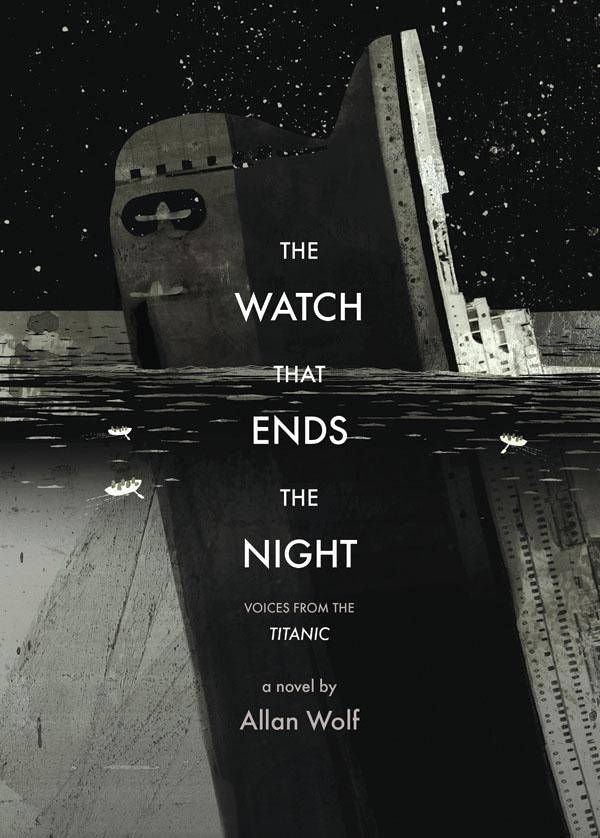 The Watch That Ends the Night: Voices from the Titanic by Allan Wolf
Arrogance and innocence, hubris and hope–twenty-four haunting voices of the Titanic tragedy, as well as the iceberg itself, are evoked in a stunning tour de force.
Millionaire John Jacob Astor hopes to bring home his pregnant teen bride with a minimum of media scandal. A beautiful Lebanese refugee, on her way to family in Florida, discovers the first stirrings of love. And an ancient iceberg glides south, anticipating its fateful encounter. The voices in this remarkable re-creation of the Titanic disaster span classes and stations, from Margaret ("the unsinkable Molly") Brown to the captain who went down with his ship; from the lookout and wireless men to a young boy in search of dragons and a gambler in search of marks. Slipping in telegraphs, undertaker's reports, and other records, poet Allan Wolf offers a breathtaking, intimate glimpse at the lives behind the tragedy, told with clear-eyed compassion and astounding emotional power.
Three Rivers Rising by Jame Richards
Sixteen-Year-Old Celstia spends every summer with her family at the elite resort at Lake Conemaugh, a shimmering Allegheny Mountain reservoir held in place by an earthen dam. Tired of the society crowd, Celestia prefers to swim and fish with Peter, the hotel's hired boy. It's a friendship she must keep secret, and when companionship turns to romance, it's a love that could get Celestia disowned. These affairs of the heart become all the more wrenching on a single, tragic day in May, 1889. After days of heavy rain, the dam fails, unleashing 20 million tons of water onto Johnstown, Pennsylvania, in the valley below. The town where Peter lives with his father. The town where Celestia has just arrived to join him. This searing novel in poems explores a cross-class romance—and a tragic event in U. S. history.
Karma by Cathy Ostlere
It is 1984, and fifteen-year-old Maya is on her way to India with her father. She carries with her the ashes of her mother, who recently committed suicide, and arrives in Delhi on the eve of Prime Minister Indira Gandhi's assassination.
Maya is separated from her father and must rely upon the mysterious, kindhearted Sandeep to safely reunite them. As her love for Sandeep begins to blossom, Maya must face the truth about her painful adolescence…if she's ever to imagine her future.
In the Riot Round-up this month, I noted that Melanie Crowder's Audacity was my favorite read, and that fits this theme, too, as a historical novel in verse about worker's rights at the turn of the 20th century.
Itching for more 3 On A YA Theme posts? Got you covered:
3 On A YA Theme: Candy-Covered YA
3 On A YA Theme: Trans Experiences and Identities
3 On A YA Theme: 3 You May Have Missed in 2014
3 On A YA Theme: Characters with Disabilities
3 On A YA Theme: 3 YA Set in Africa
3 On A YA Theme: Beautiful Covers of Anne of Green Gables
3 On A YA Theme: Modern Takes on Little Women
3 On A YA Theme: It's Basketball Season
3 On A YA Theme: Teens Who Are Writers
3 On A YA Theme: Parents Who Are Writers
3 On A YA Theme: It's Halloween
3 On A YA Theme: Girls Who Dig Horror Movies
3 On A YA Theme: Be Ready to Be Scared
3 On A YA Theme: If You Love Watching Supernatural
3 On A YA Theme: YA-Inspired Art
3 On A YA Theme: YA Films on Netflix Instant
3 On A YA Theme: More YA Films on Netflix Instant
3 On A YA Theme: Astral Projection
3 On A YA Theme: Dolls On Covers
3 On A YA Theme: Girls Who Run
3 On A YA Theme: Dystopian YA Nail Polish
____________________
Expand your literary horizons with New Books!, a weekly newsletter spotlighting 3-5 exciting new releases, hand-picked by our very own Liberty Hardy. Sign up now!