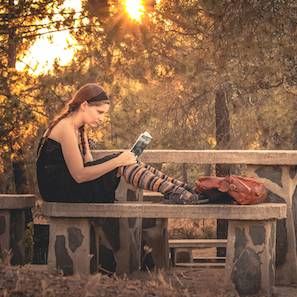 Newsletter 1
3 On A YA Theme: 3 You May Have Missed This Year
Let's wrap up this year's "3 On A YA Theme" posts with three titles that, thematically, have nothing to do with one another. Rather, these are three books that published in 2014 that you may have missed, either because they flew a bit under the radar — that happens when so much buzz centers around just a few titles — or because they're from smaller publishers.
As Red As Blood by Salla Simukka, translated by Owen Witesman
In the midst of the freezing Arctic winter, seventeen-year-old Lumikki Andersson walks into her school's dark room and finds a stash of wet, crimson-colored money. Thousands of Euros left to dry—splattered with someone's blood.
Lumikki lives alone in a studio apartment far from her parents and the past she left behind. She transferred into a prestigious art school, and she's singularly focused on studying and graduating. Lumikki ignores the cliques, the gossip, and the parties held by the school's most popular and beautiful boys and girls.
But finding the blood-stained money changes everything. Suddenly, Lumikki is swept into a whirlpool of events as she finds herself helping to trace the origins of the money. Events turn even more deadly when evidence points to dirty cops and a notorious drug kingpin best known for the brutality with which he runs his business.
As Lumikki loses control of her carefully constructed world, she discovers that she's been blind to the forces swirling around her—and she's running out of time to set them right. When she sees the stark red of blood on snow, it may be too late to save her friends or herself.
Why you should pick it up: This has a very Steig Larsson feel to it, though Simukka is a little less fixated on tiny details of the story. It's a compelling crime thriller with a fun — though cold and bleak — foreign setting. Lumikki is a great, fully-fleshed, and moderately frustrating character. We actually end up knowing very little about her, and it's that mystery which makes me want more of her story. I'm eager for the sequel to hit shelves in March. This is also a YA novel in translation, which adds a little bit of diversity to your reading palate.
Damaged by Amy Reed
After Kinsey's best friend Camille dies in a car accident during which Kinsey was driving, Kinsey shuts down, deciding that numbness is far better than mourning. All she wants during the last few weeks of high school is to be left alone, but Camille's mysterious boyfriend, Hunter–who was also in the car that night–has different ideas.
Despite all of Kinsey's efforts, she can't outrun Camille, who begins haunting her dreams. Sleep deprived and on the verge of losing it, Kinsey runs away with Hunter to San Francisco. As they drive across the country, trying to escape both the ghost of Camille and their own deep fears, Kinsey questions all she once believed about her friendship with Camille. Hunter, meanwhile, falls into a spiral of alcoholism, anger, and self-loathing. Ultimately, Kinsey and Hunter must come to terms with what they've lost and accept that they can't outrun pain.
Why You Should Pick It Up: Amy Reed is one of my favorite YA authors, and she's also wildly underrated. Her writing is tight and compelling, and in Damaged, she takes a story of grief and waves it into a ghost story (for real — I don't believe this is one of those instances where the reader is left wondering if it's the main character wrestling with mental demons or if it's "really" a ghost). Kinsey as a character is a bit of a rarity in YA, too: she's dependent upon her part-time job to help make ends meet, as she's not from a wealthy upbringing. Kinsey has a lot of bad habits and she's a reluctant character, but those make her realistic and relatable. There's romance here, but it takes a huge back seat to Kinsey's journey through grief and, ultimately, self-discovery. This, as well as Reed's backlist, are for fans of gritty stories.
Crazy Horse's Girlfriend by Erika T. Wurth
Margaritte is a sharp-tongued, drug-dealing, sixteen-year-old Native American floundering in a Colorado town crippled by poverty, unemployment, and drug abuse. She hates the burnout, futureless kids surrounding her and dreams that she and her unreliable new boyfriend can move far beyond the bright lights of Denver that float on the horizon before the daily suffocation of teen pregnancy eats her alive.
Why You Should Pick It Up: Confession time. I haven't read this one yet. It came to me highly recommended from multiple sources, so I ordered it without hesitation. It looks to be an intense, realistic novel about growing up and growing through rough conditions, and it features a Native American main character — all of those things hit my sweet spots in reading. This is at the top of my holiday reading pile.
Itching for more 3 On A YA Theme posts? Got you covered:
3 On A YA Theme: Characters with Disabilities
3 On A YA Theme: 3 YA Set in Africa
3 On A YA Theme: Beautiful Covers of Anne of Green Gables
3 On A YA Theme: Modern Takes on Little Women
3 On A YA Theme: It's Basketball Season
3 On A YA Theme: Teens Who Are Writers
3 On A YA Theme: Parents Who Are Writers
3 On A YA Theme: It's Halloween
3 On A YA Theme: Girls Who Dig Horror Movies
3 On A YA Theme: Be Ready to Be Scared
3 On A YA Theme: If You Love Watching Supernatural
3 On A YA Theme: YA-Inspired Art
3 On A YA Theme: YA Films on Netflix Instant
3 On A YA Theme: More YA Films on Netflix Instant
3 On A YA Theme: Astral Projection
3 On A YA Theme: Dolls On Covers
3 On A YA Theme: Girls Who Run
3 On A YA Theme: Dystopian YA Nail Polish
____________________
Expand your literary horizons with New Books!, a weekly newsletter spotlighting 3-5 exciting new releases, hand-picked by our very own Liberty Hardy. Sign up now!