Buy, Borrow, Bypass: September 9, 2013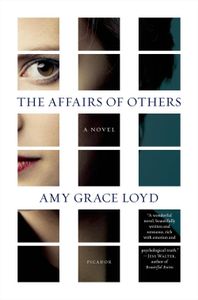 The Affairs of Others, Amy Grace Lloyd (Picador, August 27, 2013)
I'll admit it–when this book was sent to me by the fine folks at Picador, I was originally interested because it was written by a former Playboy fiction editor, with jacket copy that mentioned a "torrid and noisy affair" and the shocked residents of an apartment complex. Sounds steamy, right?  So I was completely taken aback by the quiet and unsettling unfolding of events in Lloyd's novel. Celia, a young widow, rents rooms in her boarding house to tenants, and, in return, expect them to respect the privacy and boundaries of each other. When a new neighbor disturbs those boundaries and one tenant disappears, things get a lot more exciting (and salacious) than expected.
Verdict: Buy, read on the subway, and try not to smile as you're reading something infinitely more scandalous than Fifty Shades… and no one knows!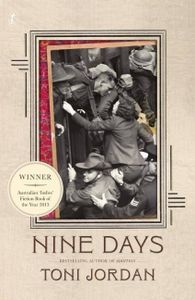 Nine Days, Toni Jordan  (Text Publishing Company, September 10, 2013)
There are two kinds of family epics–expansive Steinbeck epics, and insular, linear tales like Nine Days. Jordan chronicles transformative days in nine members of a family's life–everything from botched abortions, to marriage proposals. They're not quite vignettes, and not quite a straight chronology, but they allow the reader to play connect-the-emotional-dots. Jordan is the master of keeping a lot of characters in play.
Verdict: Borrow. Jordan's created a pretty elevated beach read–I enjoyed it, I ran through it pretty quickly, but it didn't stick with me.
The Art of Joy, Goliarda Sapienza (Farrar, Strauss & Giroux, July 30, 2013) The Art of Joy covers the lifetime of Modesta, orphaned at nine, as she moves from nunnery to city and encounters lot of debauchery in between.  I'm a self-confessed big book addict. i love giant, toe-breaking paper backs, and my theory as to why I love most of them is that agents don't want to represent big books, and publishers don't want to sell them. So each sentence and word has to be super-tightly edited and refined. The Art of Joy, however, feels a little bit loosely edited, which might be because it was written over a long time, and published in translation.
Verdict: Bypass. It's too heavy, too sluggish, and too indolent to be worth carrying it around in your bag.
_________________________
Sign up for our newsletter to have the best of Book Riot delivered straight to your inbox every two weeks. No spam. We promise.
To keep up with Book Riot on a daily basis, follow us on Twitter, like us on Facebook, , and subscribe to the Book Riot podcast in iTunes or via RSS. So much bookish goodness–all day, every day.
We have a $100 e-gift card to the country's only romance-only bookstore, The Ripped Bodice!
Go here to enter for a chance to win
, or just click the image below. Good luck!