Name That Author!: The Answer for October 25, 2012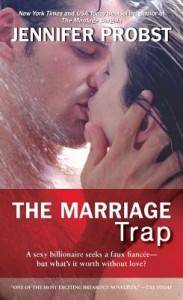 This round of Name That Author! is sponsored by The Marriage Trap by Jennifer Probst. 
To satisfy his late father's wishes, hot and single billionaire Michael Conte must find a bride—someone who will fit into his traditional family back home in Italy—and fast, so his engaged sister will be allowed to wed. With no intention of being tied down, Michael "proposes" to fiery, free-spirited photographer Maggie Ryan: if she will play the part of his fiancée during her trip to Milan for a photo shoot, he will keep away from her married best friend, Alexa, and stop making Maggie nuts with their too-close-for- comfort flirtations.
But once in Italy, sexual tension sparks the hottest no-strings- attached arrangement on any continent. Could marriage be the most enticing trap of all?
_________________________
Before the big reveal, let's recap last week's clues.
1. I switched my undergraduate major from English because a professor of mine gave me unfairly low grades.
2. I was extraordinarily tall.
3. I began publishing stories in medical school, though under pen-names. 
4. I am the only person to have a #1 film, #1 bestseller, and #1 rated TV show all in the same week.
Well, did you get it?
We have 10 copies of
A Gentleman in Moscow
by Amor Towles to give away to Book Riot readers!
Go here to enter for a chance to win
, or just click the image below. Good luck!