Critical Linking: September 26th, 2014
It would take the average person 424 days to read Game of Thrones. Could you read it quicker?
Fun, fascinating quiz/test. I could read it faster, but not considerably faster.
____________________
We went to the mall for many things — to buy a new set of socket wrenches at Sears, to pick out my sister's prom dress at Deb, to treat ourselves with an Orange Julius. But mostly, we went to visit the bookstore.
On the underappreciated mall bookstore.
____________________
IlluxCon, an annual science fiction and fantasy illustration showcase, was held this past weekend in Allentown, Pennsylvania. Among all the debuted paintings and drawings was a new series from Dave Palumbo inspired by some of his favorite books, painted straight on those books.
I've seen lots of book art, but I don't ever think I've seen anything like these alternate covers painted directly on the existing covers. Very cool.
____________________
Terry Pratchett may strike many as a twinkly old elf, but that's not him at all. Fellow sci-fi novelist Neil Gaiman on the inner rage that drives his ailing friend's writing.
You rarely get a glimpse of the real personality of a beloved writer, but Gaiman's piece on Pratchett is one of them.
____________________
Did you know that Book Riot has a YouTube channel? We do. It's new and we are having fun with it. Check it out here.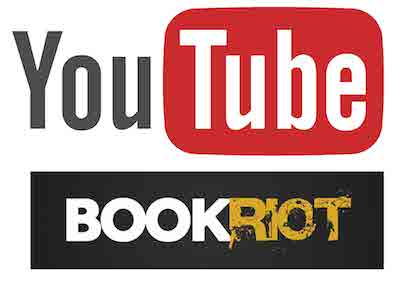 Sign up for "This Week in Books" and stay up to date with the most interesting news in the world of books and reading!
Annotated
brings you the story of the world's most glamorous librarian. Download it 
for free on
Apple Podcasts or 
Google Play
.