Buy, Borrow, Bypass: October 28, 2013
I recently attended the Southern Independent Booksellers Alliance Trade Show in New Orleans, so I'm all about THE SOUTHERN THINGS. And gumbo. My recent reads have all been Southern-centric (trade show, y'all. I gots some books). HOO-BOY. Get ready.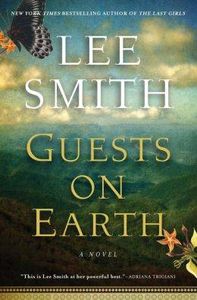 Guests on Earth by Lee Smith
Lee Smith is my favorite (living) female Southern author, so when she releases a book I drop everything and turn into a creepy loner until I finish. Guests on Earth didn't need a pitch for me to read it, but the premise alone would have hooked me anyway. An orphaned Evalina Toussaint is admitted to Highland Hospital in Asheville, North Carolina during the 1930s. Even though her crazy doesn't show too much, she lives in the facility most of her young life and of course has run-ins with Highland Hospital's most famous resident: Zelda Fitzgerald (her crazy shows a lot, bless her heart). I loved the story and appreciated the fact that Zelda isn't the immediate focal point of the narrative. In my opinion, Lee Smith should write all the books. She admits this story was one she wanted to write for a long time because she has her own deeply personal connection to Highland Hospital. I was fortunate enough to be one of three people in the room when she read an excerpt from Guests on Earth for Clearstory Radio. I don't think you can hear me weep with joy in the background, but…
Verdict: BUY. And then buy Lee Smith's backlist and thank me later.
The Funeral Dress by Susan Gregg Gilmore
Emmalee Bullard is a young mother, fending for herself and her baby. She gets a job as a collar maker at a local shirt factory and befriends Leona Lane, an older seamstress who sits next to her and teaches her how to make perfect collars. The women become close, and just as Emmalee is about to move in with Leona, there is a terrible accident and Leona dies. Emmalee decides to make Leona's burial dress, which many women in the community find especially offensive since Emmalee is an unmarried mother. She finds support from unlikely sources and the reader has a chance to discover true Southern spirit among working women. OK, even writing about the plot tore me up. I rarely describe a book as being "beautiful" but The Funeral Dress really is just that. It's beautiful. It hits you hard, builds you up, and hugs your soul.
Verdict: BUY. And buy a box of Kleenex because you're going to need it.
The Resurrectionist by Matthew Guinn
Southern Gothic Alert. The Resurrectionist is perfect for spooky Halloween week reading, because it really, really freaked me out. In a good way. Dr. Jacob Thacker is a young medical resident on probation for a Xanax addiction and gets stuck working in the PR department for his medical school. Ain't that some BS. Someone finds a bunch of dissected bones in the basement during a renovation project, and Dr. Thacker has to decide what to do about it. The book flashes back to the Civil War-era and we meet Nemo Johnston, a "resurrectionist" responsible for procuring human corpses for doctors' anatomy training. SO CREEPY. But awesome. Debut author Matthew Guinn was James Dickey's personal assistant back in the day (can you hear the banjos?) so you can only imagine.
Verdict: BUY, And if you find your copy missing, check your freezer.
_________________________
Sign up for our newsletter to have the best of Book Riot delivered straight to your inbox every two weeks. No spam. We promise.
To keep up with Book Riot on a daily basis, follow us on Twitter, like us on Facebook, , and subscribe to the Book Riot podcast in iTunes or via RSS. So much bookish goodness–all day, every day.
By signing up you agree to our Terms of Service
We're giving away five copies of Leslie Jamison's new essay collection
Make it Scream, Make it Burn
.
Click here to enter
, or click the image below!