Buy, Borrow, Bypass: April 10, 2013
I'm a biography junkie with a constant jones for literary figures and twentieth century history. I did not realize that I'm also disproportionately interested in despotic maniacs. My reading lately has been dotted with all of the above, with mixed results.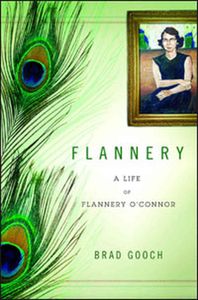 Flannery: A Life of Flannery O'Connor by Brad Gooch
How it is that I've let three years pass between the publication of a biography of one of my favorite writers and my reading of it is beyond me. Late to the party as usual, I suppose.
Anyway, in Flannery, Brad Gooch offers a warm, carefully wrought study of Flannery O Connor's short life. O'Connor's relationships with friends and family, her time at the Iowa Writer's Workshop and Yaddo, and her struggle with lupus all receive thorough attention, but Gooch's approach never feels voyeuristic. His sympathy for his subject is ever-present but the book never veers into hagiography. Biographers have to strike a delicate balance along these lines, and it can't be easy, but Gooch manages well.
As, thorough, gracious, and engaging as Gooch's study of one of the south's greatest literary voices is, however, Flannery ends up standing in the shadows of two other books.  The first, The Habit of Being, from which Gooch draws a substantial amount of his research, is a collection of letters O'Connor sent to family, friends, literary peers, and even fans and provides a more complete picture of her than any biography – even a well-executed one like Gooch's – could reasonably be expected to. The second book, Mystery and Manners, a collection of O'Connor's speeches and essays, distills for readers her attitudes toward art and faith with typical wit and insight. In a world without either of these, Flannery would be unmissable for O'Connor fans, but as it is, readers looking for an access point to FOC outside of her fiction should probably begin with one of the primary sources.
Verdict: If you're a Flannery O'Connor completist, then BUY; all others BYPASS in favor of The Habit of Being or Mystery and Manners.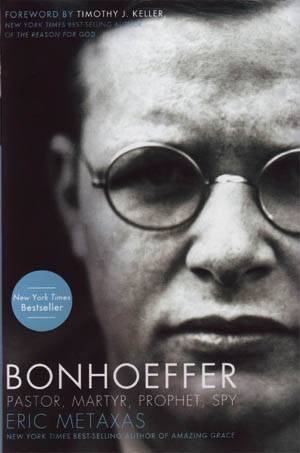 Bonhoeffer: Pastor, Martyr, Prophet, Spy by Eric Metaxas
A brilliant young German theologian and pastor, Dietrich Bonhoeffer became something else entirely when the Third Reich came to power: a co-conspirator in the plot to kill Hitler. Repulsed by Hitler's Nietzschean ideology and his orchestrations against the Jewish people, Bonhoeffer spoke out vociferously against the Nazis and warned German Christians that a failure to protect Jews from persecution represented a colossal betrayal of the Gospel of Jesus Christ. Bonhoeffer is the biography of a man whose obedience to his faith led him to stand against an evil which he fully recognized and wholly rejected.
And it is FASCINATING. We're talking coded letters and bombs in briefcases and secret files. We're talking deep theological and psychological explorations of those opposed to and in support of Hitler's Third Reich. We're talking precise historical accounting of the forces fighting for Germany's soul during the Nazis' reign. I looked up from reading probably a dozen times and said to my wife, "Did you know __________________?" I'm sure I looked up another two dozen when no one was in the room, frustrated that I couldn't immediately share whatever cool/poignant/revelatory piece of the narrative I'd just read. The "did you know" test is my personal measure for nonfiction's excellence. Bonhoeffer broke the scale.
Verdict: BUY, especially if you have any interest in the history of World War II or Christian theology.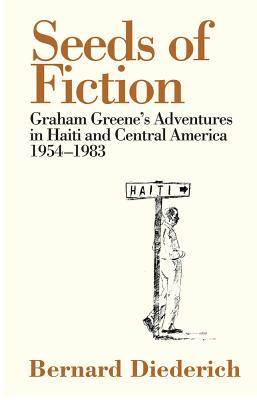 Seeds of Fiction: Graham Greene's Adventures in Haiti and Central America 1954-1983 by Bernard Diederich
I was really geared up for this one for a few reasons.
My aforementioned predilection w/r/t literary figures and despots.

The friend who recommended it lived in Haiti (where the book's first half takes place) for a few years and shares a lot of my tastes.
I love Graham Greene's fiction.
Seeds of Fiction is split into two parts. Disappointingly, the first half has less to do with Graham Greene than the events that he witnessed or was informed of by the book's author, Time foreign correspondent Bernard Diederich. For 150 pages, Diederich offers a detailed, chilling account of the crimes against humanity and Haiti committed by Francois "Papa Doc" Duvalier during his rule, interspersed with anecdotes from his few days spent travelling the Haitian-Dominican border with Greene. The travels led Greene to write The Comedians, a novel criticizing Duvalier's reign which led the dictator to wage a vitriolic and expensive campaign against Greene and the novel's film adaptation, starring Liz Taylor, Richard Burton, and Alex Guinness.
The book's second section fulfills the subtitle's promises more fully, chronicling Greene's complex relationship with Panamanian dictator General Omar Torrijos. Greene found Torrijos a much more sympathetic figure than the madman Duvalier, and actually became something of a liaison between the General and western powers before the General's death in a plane crash in 1981. Greene's time with Torrijos also produced a book – this one nonfiction – called Getting to Know the General. Greene's fascination with these figures and their relationship to his work is certainly intriguing for a Graham Greene enthusiast, but those more casually interested can likely do without.
Verdict: BORROW if you're a Graham Greene nut, BYPASS otherwise.
_________________________
Sign up for our newsletter to have the best of Book Riot delivered straight to your inbox every two weeks. No spam. We promise.
To keep up with Book Riot on a daily basis, follow us on Twitter or like us on Facebook. So much bookish goodness–all day, every day.
By signing up you agree to our Terms of Service
We have 10 copies of
A Gentleman in Moscow
by Amor Towles to give away to Book Riot readers!
Go here to enter for a chance to win
, or just click the image below. Good luck!