Critical Linking: May 16, 2015
Artist/Song: Elton John – Rocket Man (from 1972's Honky Chateau)
Book: Ray Bradbury's The Rocket Man (short story)
Lyrics: "She packed my bags last night pre-flight."
Also: Bernie Taupin's lyrics condense the plot of Bradbury's short story, which tells of an astronaut leaving his wife and son on a journey into space.
Missed this piece the first time around but it's a timeless one: 25 songs that reference books.
____________________
May 16 marks the third anniversary of Little Free Library becoming a nonprofit, and they're using the opportunity to look ahead. Kids are said to suffer from "summer slide" when the break from school can mean losing up to two months' language proficiency. Maybe Little Free Libraries can help by providing books all summer.
Little Free Library asks people with new or gently used children's books to drop them off at their nearest Little Free Library location on Saturday. Those who take photos of the drop-off and post them to social media networks Twitter, Facebook and Instagram with the hashtag #givebooks will be eligible for Little Free Library swag.
If you've got kids books and you're near a Little Free Library, today's the day.
____________________
"Depression and self-harm is something I struggled with for a long time, so I knew I wanted to do something on that topic," said Teresa, a 15-year-old freshman at Shawnee Mission East High School. "The thing I was feeling was loneliness. A lot of the books distracted me and made me feel like I wasn't alone, like other people understood what I was going through."
She ordered the materials to build a Little Free Library and decided to curate her own collection of books. Each of the books has helped her in some way. To illustrate that, she's written summaries and reviews to indicate why she chose each title.
Speaking of Little Free Libraries, what a great story of a teenager using the building of one as a way to work through her own mental health challenges.
____________________
Potions, charms and transfiguration may seem heaps more fun than maths, English and science, but the students at Hogwarts might disagree with you; even witches and wizards can't escape the exam stress that's becoming more and more severe.
Unfortunately, there's not much chance of this year's exams being cancelled like they were in Chamber of Secrets (even though a rogue Basilisk might seem preferable to more long hours of maths revision!), but JK Rowling's books are still crammed full of advice for anxious students struggling with exams. Channel your inner Hermione and check out some of our favourites below!
Even those of us who aren't dealing with exam stress can enjoy a good stress-related quote or two from Harry Potter.
____________________
Book Riot Live is coming! Join us for a two-day event full of books, authors, and an all around good time. It's the convention for book lovers that we've always wanted to attend. So we are doing it ourselves.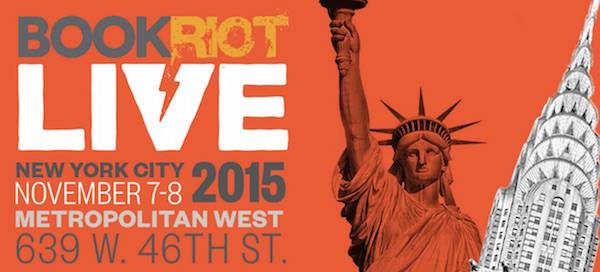 By signing up you agree to our Terms of Service
In a book lover's life, there's nothing as magical as a perfect, surprising recommendation from someone who just
gets
you. But finding those people can be tough! That's where
TBR
comes in. Go here to find out more, or just click the image below: