Inbox/Outbox: March 28, 2014
My pace has been slower this week, but the quality has been high. Who can complain about that? Here are my highlights. Tell me all about yours in the comments!
Inbox (Books Acquired)
Facing the Wave: A Journey in the Wake of the Tsunami by Gretel Ehrlich–Ehrlich, a writer and student of Japanese poetry and art, wasn't in Japan when the tsunami hit in 2011. In its wake, she traveled to the Tohoku coast to listen to survivors tell their stories, and this book represents the collected narrative of those experiences. I was bowled over by the courage and resilience in Sonali Deraniyagala's Wave, a memoir of surviving the 2004 tsunami in Sri Lanka, and while I'm not exactly looking forward to reading these stories, I'm hoping for an equally powerful experience.
Chop Chop by Simon Wroe (April 17, The Penguin Press)–Few literary tropes get me more excited than a good chef memoir, so I'm super curious about how it will translate into fiction. This is Wroe's debut novel, set in a restaurant kitchen, and if the buzz is to be believed, we're in for a treat.
Outbox (Books Finished)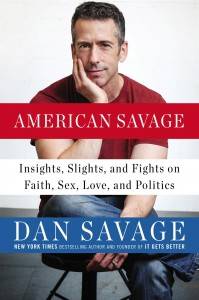 American Savage: Insights, Slights, and Fights on Faith, Sex, Love, and Politics by Dan Savage–I've been reading Dan Savage's work in bits and pieces for years–his Savage Love sex-and-romance advice column has been around in one form or another for more than 20 years–but this was my first experience with his book-length work. True to the title, there's a little bit of everything here, which is both a strength and a weakness. I loved getting Savage's take on more than love and relationships, and I damn near cheered out loud through his oh-so-logical arguments about marriage equality and gay adoption, but I think I prefer him more focused. This book is a really excellent, well-rounded introduction to Savage's work, but I think I'll be sticking to his single-topic features going forward.
CivilWarLand in Bad Decline by George Saunders–I was woefully late to the George Saunders party, and I'm still a little mad at the bookternet for not forcing his work on me sooner, but now that I've made it, I'm here to stay. After reading his newest collection Tenth of December (which was my Saunders conversion moment), I decided to go back to the beginning with this, his 1996 debut. And holy cats, it's just about impossible to believe THIS incredible work is someone's literary debut. The stories feel visionary and insightful now, when so many of the things Saunders imagined into the future have come into being, so I can only imagine how amazing they must have seemed nearly two decades ago. The ebook edition has an introduction by Joshua Ferris, who notes that not only does Saunders' satire render the real absurd, it renders the absurd real. I can't do any better than that description, and I can't ask for any more than that from this work. So so highly recommended.
In the Queue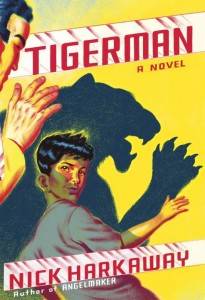 Tigerman by Nick Harkaway (July 29, Knopf)–Nick Harkaway Book Day would be a national holiday if I had my way, and I'm so excited to read this that I am studiously avoiding all descriptions of. All I know is that the people I know who have read it already have said it's awesome, and that's all I want to know. Let the rest be a glorious surprise, I say!
That does it for me. What have been reading this week? What's on top for the weekend?
By signing up you agree to our Terms of Service
We have 5 copies of
The Library Book by Susan Orlean
to give away!
Go here to enter for a chance to win
, or just click the image below. Good luck!