Name That Author!: The Answer for November 8, 2012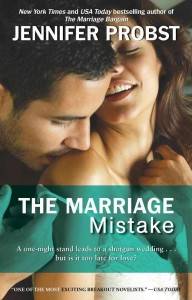 This round of Name That Author! is sponsored by The Marriage Mistake by Jennifer Probst.
Carina Conte has had a crush on her brother Michael's best friend, Max Gray, since she was a teenager. Now she's earned her MBA and come to work at Michael's new venture, America's fastest-growing bakery empire. But some things never change: her family still treats her like a child. With three drop-dead gorgeous siblings, she's still the ugly duckling of the bunch. And Max, the company's new CEO, still barely notices her.
Max knows Carina Conte is strictly off limits. But hot-blooded lust wins out at a conference when the two share a scorching one-night stand—and are busted by her mother! Now, forced by old-world Italian tradition into a marriage he's not ready for, Max is miserable—and Carina is furious. Her new husband is about to realize that hell hath no fury like a woman transformed….
_________________________
Before we reveal the answer to last week's Name That Author, let's have a recap of the clues.
1. I published one novel, and when I first submitted it to a publisher, I sent my ONLY copy. 
2. When I was 5, a major race riot happened just a few miles from my house.
3. I never lived on a plantation, but my forebears did.
4. I was one of the first authors to become interested in acquiring international copyright. I saw foreign editions of my most famous novels that weren't generating any money for me and I "gave a damn."
How did you do?
We have 5 copies of 
the
Forbidden Hearts series
by Alisha Rai to give away to Book Riot readers!
Go here to enter for a chance to win
, or just click the image below. Good luck!