Inbox/Outbox: October 19, 2012
This week's round-up truly reflects the eclecticism of my reading taste and my bookshelves. Love it when that happens! Take a look-see, and chime in in the comments to share the highlights of your reading this week.
Inbox (Books Acquired)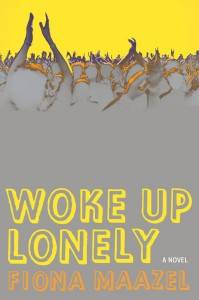 Woke Up Lonely by Fiona Maazel (Graywolf Press, April 2013)–The main character of this debut novel is the founder of a cult that promises to cure loneliness. But guess what? He's lonely. The folks at Graywolf haven't steered me wrong yet, and I am really looking forward to this one.
Last Call: The Rise and Fall of Prohibition by Daniel Orkent–My friend and podcast co-host Josh raved about this one several months back, and I picked it up this weekend. No time like Boardwalk Empire season for a read about prohibition, right?
I Want To Show You More by Jamie Quatro (Grove Press, March 2013)–Okay, I know it's sorta not fair to talk about books this far before their publication dates, YOU GUYS, this one is going to be big. It's a debut collection of linked short stories set the American south, and it's so good, I kind of want to lick it. (I confess, I peeked at a couple of the stories…and yowza!)
Outbox (Books Finished)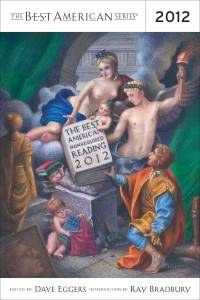 The Best American Nonrequired Reading 2012, edited by Dave Eggers–It's a good thing there's not a reading equivalent of the Clean Plate Club. I've started and not-quite-finished several books lately, but this is one I wanted to stick with all the way through.
Turning the dial up to 11 in both variety and quality, Eggers et al present short stories, journalism, essays, comics, and even the minutes from the Occupy Wall Street official meetings. I read one piece a night at bedtime for a couple weeks, and it was the perfect way to end the day. Highly recommended. Bonus: Ray Bradbury wrote a kickass introduction, which turned out to the the last essay he wrote before his death, and it makes the book totally worth the price of admission.
In the Queue
The Summer Guest by Justin Cronin–I spent the weekend in Rangeley, Maine for a friend's wedding, where, let me tell you, it is beautiful.  I found this (from THAT Justin Cronin) in a near-perfect little bookshop called Books, Lines, and Thinkers, and the owner revealed that it's set in/inspired by/contains pieces of Rangeley. So I broke from my tradition of buying food and travel writing while I travel and bought something set in my destination instead. Cronin's literary chops are evident in the Passage books, and I'm super-excited to read him in his original genre.
And that's it for me! I'm in the mood to stop planning my reading so much and just pick up whatever looks appealing.
How was your reading week? Bought, finished, or shared anything amazing?
By signing up you agree to our Terms of Service
We have 5 copies of
The Library Book by Susan Orlean
to give away!
Go here to enter for a chance to win
, or just click the image below. Good luck!