The Week's Most Popular Posts: July 1st – 6th, 2012
Our most popular posts from the week that was…
What I am going to do for the month of July is a Daily Book Pic (or #dailybookpic). I'll be sharing my pics on Twitter and Pinterest, and anywhere else that I think of on that given day. I invite you to join along. I know July is already underway, so jump in whenever you like.
Remember, be creative. The prompts below are just a starting place. Feel free to go in whatever direction you choose.
From #dailybookpick: a Bookish Photo Project by Cassandra Neace
____________________________
Aside from the arguments that literature is, among many other things, supposed to take readers to a place outside their comfort zone, while at the same time allowing them to identify via its "realism," it's okay to recognize that there might be some rules when it comes to how to use words some might see as indecent. After all, how we use words is what gives them—or removes—their power in the first place.
From Great $%&@ Gatsby! On "Bad" Words in Good Literature by Victor Wishna
____________________________
To mark the United States' 236th birthday, I give you Walt Whitman's "Preface to Leaves of Grass." Here, more than 150 years after he wrote it, Whitman's dream of America remains one of the most powerful and inspiring visions of what America can be.
From "The United States Themselves Are Essentially the Greatest Poem": Walt Whitman's Dream of America by Jeff O'Neal
____________________________
Pride and Prejudice clothes pins: Get creative with these cute pins from the Jane Austen gift shop; turn them into refrigerator magnets or use them as nametag holders for your next book club.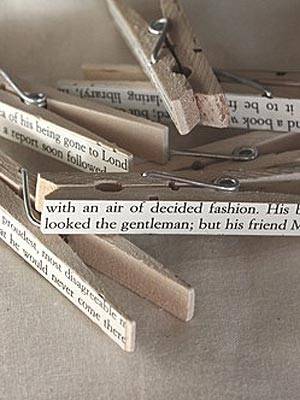 From Book Fetish: Volume XXXVI by Brenna Kalmer
By signing up you agree to our Terms of Service
We have a $250 Barnes & Noble gift card to give away!
Go here to enter
, or just click the snazzy image below. Good luck!