The Week's Most Popular Posts: June 24 – 29, 2012
Our most popular posts from the week that was…

When in doubt, add a comma. 
From The Best #badwritingtips by Rebecca Joines Schinsky
____________________________
Alright folks, here we go. The inaugural Riot Read begins today, and we are kicking off with a few Gatsby-inspired posts, including an extended discussion of the first two sentences, a new literary term to describe Nick Carraway, and a look at what some notable readers said about it.
From The Riot Read Begins… by Jeff O'Neal
____________________________
DIY book button bouquets: A cute and bookish DIY project that isn't too complicated.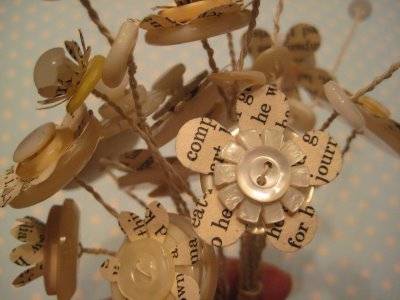 From Book Fetish, Volume XXXV by Brenna Kalmer
____________________________
What follows is a list, not of specific titles, but of the types of things that any new (or returning) college student should consider reading before they start classes in the fall (based on my own experiences and those of my boyfriend, whose major in consumer science is, for the record, about as far from a literature major as is possible to get). I choose this approach because schools and lines of study are so different that I don't think it's the actual title that matters. I think it's more important to be a well-rounded reader.
From A Summer Reading List for College Freshman by Cassandra Neace
____________________________
I don't have any answers. Maybe I'm just imagining things, maybe it's because the store where I work is in the South, maybe I just work weird shifts when the Puritans congregate on our street. Or maybe "feminine" things are still so undervalued in society that even something as lofty as a book is tainted when it's girly.
From The Gender of Reading Shame by Amanda Nelson
By signing up you agree to our Terms of Service
We are giving away a stack of 11 of our favorite Beach Reads for Summer 2018!
Go here to enter for a chance to win
, or just click on the image below. Good luck!