The Week's Most Popular Posts: April 14-20, 2012
Our most popular posts from the week that was…

"Pleasure's tyranny has two sources: the fleeting nature of pleasure and the fact that the seat of pleasure resides in the already-known. Taken together, these two characteristics make pleasure the enemy of experimentation, difficulty, and, in the end, enrichment."
From The Problem of Reading for Pleasure by Jeff O'Neal
____________________________
Hello, lover. First, I'm going to pretend that the animal head in the other room is fake, and then I'm going to spend hours pouring over the books on the shelves. I'm dying to know which ones made it to the top tiny shelf, and I'm trying to think of which ones I'd put up there… probably my oldest and rarest; to keep them safe from prying hands and sticky fingers.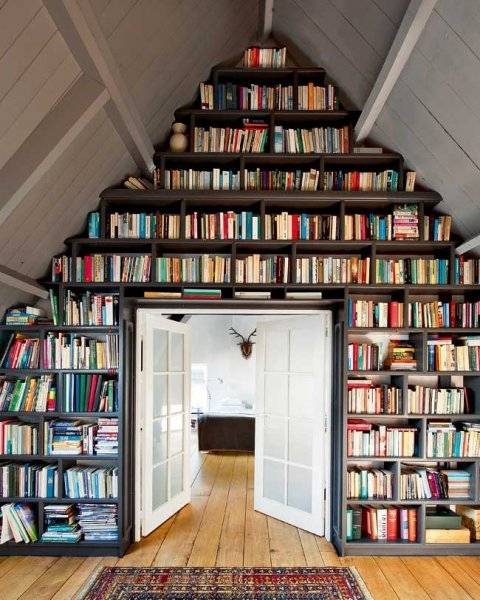 From Mouth-Watering Book Nooks by Wallace Yovetich
____________________________
"A no-award for the Pulitzer was considerably more common before 1977, the last time this happened. From the fiction award's beginning in 1917 through 1977, there was no award ten times: 1977, 1974, 1971, 1964, 1957, 1954, 1946, 1941, 1920, and 1917.  Almost twice a decade, nada."
From Some Notes on the 2012 Non-Pulitzer by Jeff O'Neal
____________________________
5. DON'T set out assuming you'll dislike a novel. If you do, you will. Simple as that. Nothing grinds my gears more than folks who read novels only to take pleasure in trashing them. That's small-minded and mean-spirited. The subtext here is be discerning in the books you choose.
From How to Be a Discerning Reader by Greg Zimmerman
____________________________
"A tumblr called The Lisa Simpson Book Club has been up and running for a while, and its goal is to compile all the books and magazines that Lisa has been seen reading in every Simpsons episode. Along with the reading list, they also post funny bookish stills from the show."
From Sites We Like: The Lisa Simpson Book Club by Scott Beauchamp
____________________________
Nobody is too busy to read. A lot of people like to say they're too busy to read. But they are liars. What they actually mean is they choose to spend their time doing something other than reading books, which is fine. We've all got twenty-four hours in a day and some of us choose to spend those hours reading and others choose to spend their time watching "Dancing With the Stars."
From Knock It Off About Not Having Time to Read by Jodi Chromey
____________________________
It seems that Card's not all bad. He has a genuine passion for reading, though, based on his comment re: The Hunger Games, he is not opposed to making fun of people for their reading choices. This is a bit ironic, it seems, given his statement about how English teachers should avoid doing just that. Card also seems to have problems keeping the conversation on an appropriate level, given that his audience was primarily young readers. It seems that he kept his stronger opinions to himself for the day. That was probably a wise decision.
From Orson Scott Card: Impressive or Offensive? by Cassandra Neace
By signing up you agree to our Terms of Service
We have 5 copies of
My Sister, the Serial Killer
by Oyinkan Braithwaite to give away to Book Riot readers!
Go here
to enter for a chance to win, or just click the image below. Good luck!