Classics
A Perfect Pastiche: Mary Robinette Kowal's GLAMOURIST HISTORIES
This content contains affiliate links. When you buy through these links, we may earn an affiliate commission.
We're celebrating Jane Austen on this, the day of her death, with a bevy of posts about her work and legacy. See all the posts here.
---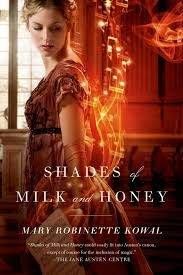 Pastiche novels are notoriously difficult to write. Well, novels are difficult to write period, especially if one chooses a genre or sub-genre with passionate devotees. Because if one misses one apostrophe in one's eleven archer's third family name, well, friend, one. Is. Toast.
I'm exaggerating but we are all passionate readers here and you know you've gone nerd rage-y when a book in a favorite category simply doesn't measure up.
Now imagine being an author, knowing the scrutiny under which you are likely to come, and juggling two or more of those sub-genres.
So much can go awry, especially if one is attempting to meld that which might not otherwise fit together. Sushi burritos? Yes. Absolutely, 100%, sign me up. Salmon flavored buttercream frosting? You go sit in that apocalypse of your own making and think about what you've done.
When creating a fusion of disparate elements, one must be discerning. One must be careful.
One must know. Her. Shit.
Mary Robinette Kowal, who has written, among other things (several of which are Campbell, Nebula, and Hugo Award winning things), the five installment Glamourist Histories, is a writer who knows how to do the thing.
The Glamourist Histories are often described as "Jane Austen with magic." And they definitely that but it is also much, much more: they are a perfect pastiche of an Austen novel and a fantasy one.
You didn't know you needed such a thing in your life but trust me, if you are a fan of the author we are celebrating today, you do.
I think Jane would have loved the Glamourist Histories.
Why does Kowal succeed where others have failed spectacularly? What is it about The Glamourist Histories that is so special?
I am sure it's no surprise I have thoughts and I am going to expound upon them right… now.
First, and perhaps most importantly, Kowal didn't try to shoehorn explosive, Gandalf-ian wizardry into a Regency framework. There are no Doctor Strange theatrics nor John Constantine demon summoning nor even Peter Grant/Inspector Nightingale's crime-solving. Kowal chose glamour for her world's magical system, one which is intended to create or enhance beauty and art. It is used to bring people together rather than as a tool of war. It is a subtle magic, as is so much of Austen's work is subtle. It is also, in large part (in this case), the provenance of women, which is apt considering the books' most significant ancestor, and gives the reader entree into that world and into the relationship which develops between the main character, Jane, and Vincent, one of few male glamourists in the story arc. Consider this: if Elizabeth and Mr. Darcy had been battle mages, they would have killed one another before every they had the opportunity to realize their commonalities. Jane and Vincent bond over their abilities rather than using them to prove supremacy.
Kowal also crafts characters who, while having some of the traits of Regency and fantasy archetypes and being recognizable as such, they are all, even those who are relatively minor, individuals with distinct voices and histories. They are, each of them, more than the sum of their parts, and something new, something real. One of the reasons I've always loved Austen is her ability to combine narrative and character study in such a way as to have each component move the other along, to show by word and action and interior monolog rather than spew a list of traits (a common enough thing in fantasy novels). One of the reasons I've always loved fantasy is its ability to take me out of myself and the real world, to make the mundane extraordinary (Austen's novels are all about the mundane, though in the best possible way). The two techniques complement one another beautifully in Kowal's skillful hands, brushing away the chaff and leaving what is best about both Austen and fantasy/alternative history.
There is also a matter of the stories themselves being good stories. As she chose a form of magic which fit her novels' timelines, Kowal crafts her plots with knowledge of history and the essential components of successful narrative. Events, both factual and alternative, follow one another naturally, allowing her to exploring the larger events of the day while keeping a tight focus on how they affect Jane, Vincent, and their friends and family, keeping everything "close to home," as it were, as Austen's characters always did. Kowal does, however, allow herself to play with history, changing it in subtle and careful ways, allowing the fantasy part of her pastiche carry her characters forward and giving them life of their own separate and distinct from those who came before.
And when the Glamourist Histories aren't enough for you, look for Ghost Talkers, Kowal's most recent novel, which posits a World War I Spirit Corps, able to communicate with, and gather intelligence from, recently deceased soldiers.
Well? Why are you still sitting here, my fellow Austen fans? The Glamourist Histories are waiting for you.
The Glamourist Histories include: Shades of Milk and Honey, Glamour in Glass, Without a Summer, Valour and Vanity, and Of Noble Family.