Learning To Read As An Adult Changes Deep Regions Of The Brain: Critical Linking, June 18, 2017
Sponsored by Be True To Me by Adele Griffin.

---
Within six months, participants who could read between zero and eight words even before the training had reached a first-grade level of reading, according to Huettig. "This process was quite remarkable," Huettig says. "Learning to read is quite a complex skill, as arbitrary script characters must be mapped onto the corresponding units of spoken language."
When the researchers looked at the brain scans taken before and after the six-month training, Huettig says they expected to simply replicate previous findings: that changes are limited to the cortex, which is known to adapt quickly to new challenges.
What they didn't expect was to see changes in deeper parts of the brain.
____________________
If you're looking for alternatives to read as you bask in the sun, melanin gleaming, there's no shortage of phenomenal black writing for you to indulge in. Ranging from memoirs to novels, history and poetry, this list is by no means comprehensive, but offers works by black authors for a wide range of readers. So next time you're headed for the beach, the pool or your couch (let's be honest, sometimes it's just nice to sit around), pull one of these books off the shelf and start reading!
____________________
The C.S.A. model is simple: consumers commit a certain amount of money to a farm up front in exchange for a portion of the future harvest. Farmers use the resources to support themselves during the slower months. Over the past few decades, C.S.A.s have grown in popularity across the United States. Many farms on the Blue Hill peninsula have adopted such programs, and Haskell watched a local brewery, Strong Brewing Company, get its operation off the ground with a community-supported beer program. "The idea of purchasing a season's or a year's worth of books seemed like an interesting way to structure thinking about a customer's relationship to the store," Haskell said recently. At Blue Hill Books, C.S.B. members can purchase a "share" for a thousand dollars—or partial shares for two hundred or five hundred dollars—and draw on that credit to buy books throughout the year. "It's not a donation; it's not an investment," Sichterman explained. It's more of a "gift certificate for yourself."
That is a whole lot of money to upfront, but the idea is really interesting. 
____________________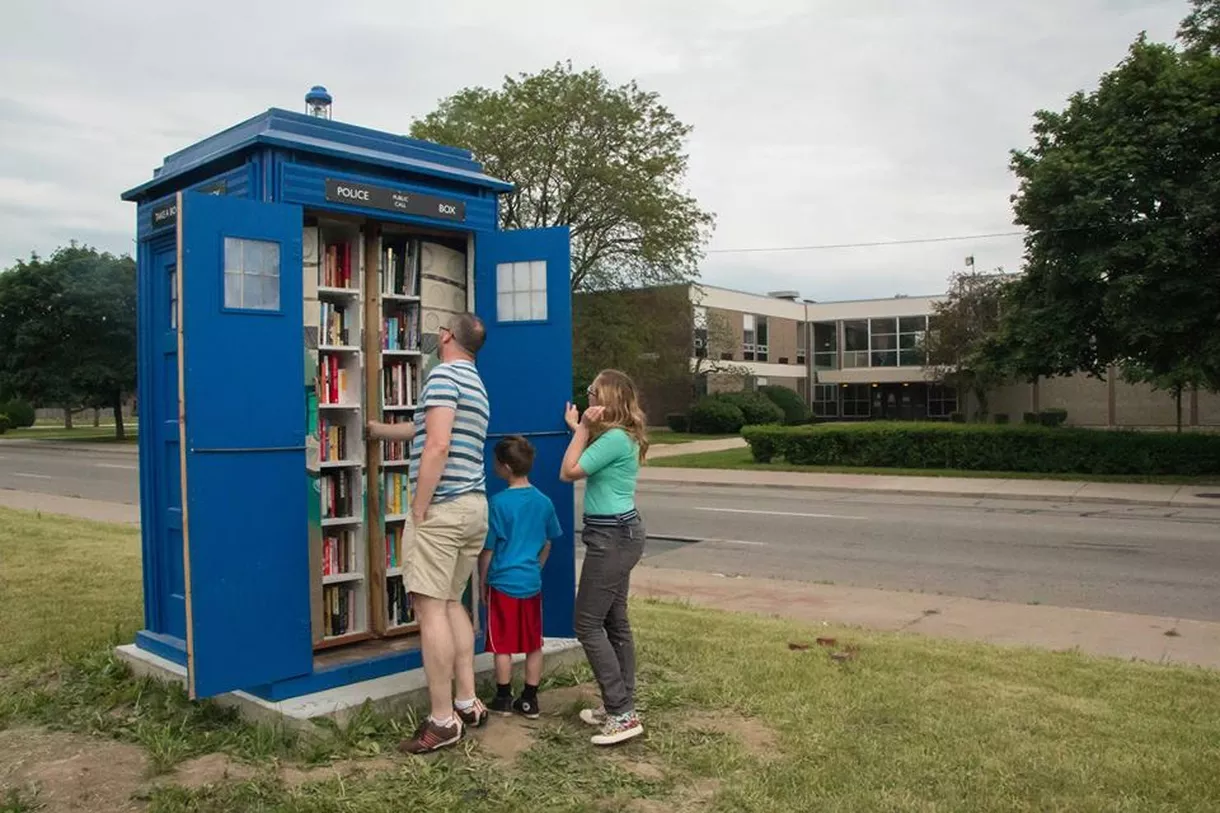 In recent years, free libraries have popped up across the country in an effort to bring access to books to local communities. Detroit is now home to a new free library in the form of a replica TARDIS from the BBC show Doctor Who.
By signing up you agree to our Terms of Service
We have 5 copies of
The Library Book by Susan Orlean
to give away!
Go here to enter for a chance to win
, or just click the image below. Good luck!