The Week's Most Popular Posts: September 7 – 11, 2015
Let's take a look back at the week that was, here on Book Riot:
September is Post-Apocalyptic Survival Month, and the end is nigh. Thankfully there's a lot of literature out there that will help you and your family get through end times.
First things first, guys. Because we are talking about the apocalypse, you are going to need to get hard copies of these books. We here at Book Riot love us some e-books, but this is the one time when you should value physical books over their virtual counterparts. Let's be real: your Wi-Fi will be the first casualty of the apocalypse.
from It's Post-Apocalyptic Survival Month. Read These If You Want To Live. by A. J. O'Connell
____________________
Tired of hearing about the death of the book?
Yeah, me too. So I did a little digging and found a few things we can ALL be happy about. It turns out that more and more people are reading, and book sales are actually doing fine, thank you very much.
So, rejoice with me and read these 6 select great news from the world of books.
from 6 Things to Show to People Who Say The Book Is Dead by Johann Thorsson
____________________
As an end-of-summer-school treat for myself, I borrowed a friend's very used, tenuously -spined copy of the first Game of Thrones book and jumped right in.
A couple things you should know: every single person I know reads and/or watches this series, and so I knew one day I would too, but have mostly been able to keep myselfspoiler free. It helps if you don't go on the interwebs or visit the local water cooler when the TV show is in season. (And threaten death upon anyone who would reveal too much.) Also, I love fantasy books, anything with dragons, and if there's a map in the beginning showing the fictional world, I will love you forever.
What the book (along with my summer children's nonfiction reading list for school) has inspired me to do is think about group reading by way of book clubs, and how you can spice yours up. So I offer some tips to reinvigorate your book club that I have not tested yet at all so please don't try these and then hate me. Thank you.
from 5 (More) Tips For Reinvigorating Your Book Club by Alison Peters
____________________
Whatever your particular gustatorial challenge, cookbooks have got you covered.
from 10 Overly Specific Cookbooks by Raych Krueger
____________________
Call it the Kimmy Schmidt effect. These days, it's easy to dive headfirst into the creepy quarantine of modern day cults – just peruse the YA shelf. Here, five of the best in the recent crops of soon to be cult classics.
from Cult Hits: 5 YAs to Satisfy Your Kimmy Schmidt Cravings by Sona Charaipotra
____________________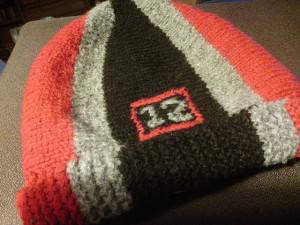 from LitKnits: Nine Literary Hat Patterns by Leila Roy
Follow Book Riot on Instagram
for books. Obviously.