Critical Linking for May 22nd, 2015
Each state's representative fiction book was chosen based on Goodreads scores for series with over 50,000 ratings. If no book from the state reached that vote threshold, we selected the highest-rated in the closest tier of votes. No parts of series that cannot stand alone were included; in other words, The Wonderful Wizard of Oz qualified while Twilight did not.
Not sure that this map of the most popular book set in each state really means much of anything, but it's kinda fun. More interesting to me: Goodreads has a wealth of fascinating data.
____________________
Mindy Kaling and B.J. Novak will make $7.5 million for penning a book about their off-and-on romance, according to a well-placed publishing industry source.
Since I've been paying attention to book deals, this is the biggest advance I've heard of. 
____________________
Each year, Bill Gates picks a handful of books that he enjoyed reading, reviews them, and suggests you do the same. This year, the philanthropist tried to stay away from financial tomes and historical narratives (last year's list included Stress Test by Timothy Geithner and Doris Kearns Goodwin's examination of presidential power) in favor of lighter fare.
Bill Gates reading lists are always worth a look, just even to see what catches the eye of someone who thinks about the world like he does.
____________________
Book Riot Live is coming! Join us for a two-day event full of books, authors, and an all around good time. It's the convention for book lovers that we've always wanted to attend. So we are doing it ourselves.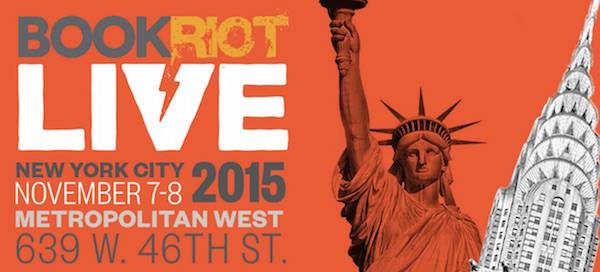 By signing up you agree to our Terms of Service
Enter to win
a $100 Amazon gift card when you sign up for our sci-fi/fantasy newsletter!
Enter here
: