Buy, Borrow, Bypass: Novels About Sisters
There's a funny thing that happens when you realize you're trending towards a certain theme or motif in your reading life. For me, this has recently happened in novels about sisters.
And so in this week's Buy, Borrow, Bypass, I'm taking a look at four novels that dive into sisterly relationships.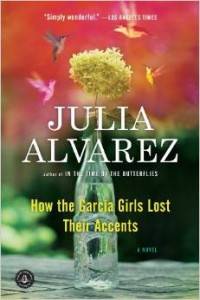 How the Garcia Girls Lost Their Accents by Julia Alvarez
The Garcia girls came to America after political turmoil in the Dominican Republic forced the family to flee to safety in New York. But the girls, young enough to become thoroughly Americanized, find themselves at the intersection of their new life and culture and their roots back home. Jumping around from sister to sister, and sometimes incorporating the mother's point of view as well, we get a sense of how different life is in America, the disappointments and joys, the conflicts and celebrations. Alvarez gives us book about growing up, about changing cultures, and about authentic identity.
This novel is transporting, rich in its language and descriptions. Told at varying, non-chronological points in time, it is possible to see that a family's make-up – its members and culture and feelings and expectations – are constantly in flux, and are largely imperfect though grounded in love.
Verdict:  Buy.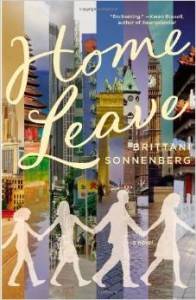 Home Leave by Brittani Sonnenberg
The Kriegsteins are an expat family, following the father, Chris, all over the world, from Germany to England to Shanghai. Tagging along with him are his wife and two young daughters. And while expat culture agrees with them, they do always look forward to home leave, the period each summer when the expat wives and children are sent home, to the U.S., to visit family. This novel follows the family's journey through this life, through birth and death, through secrets and homesickness, proving that pinning down where exactly home is, for each person, is a difficult and dynamic thing.
This novel is told using a revolving narrator, the story coming to us from the points of view of each of the family members, some extended family, and even a house, at one point. There are moments in the book where I full-on ugly cried, where Sonnenberg so accurately nails the tension that comes in adolescence and in dealing within the death of a family member. However, because of all the jumping around in point of view, even some that we never come back to, the book felt longer than it needed to be. This book is a solid look at family life in really unusual circumstances, but some of the narrative choices were a bit of a stretch for me.
Verdict:  Borrow.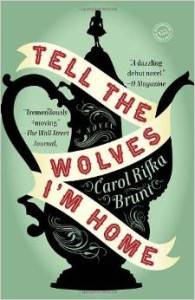 Tell the Wolves I'm Home by Carol Rifka Brunt
In 1987, fourteen year-old June Elbus loses her uncle, Finn, her ally in the family, to AIDS. But when his boyfriend, Toby, comes into June's life, he introduces her to a way to connect with her uncle, even though he's gone. Toby must remain a secret, as June's mother blames him for Finn's early death. Toby is in a race against time, his own body succumbing to the virus. June helps Toby as best she can, something she knows – thanks to a note he left her – that her uncle would have wanted. But while she juggles her secret liaisons with Toby, she also deals with being an adolescent and a younger sister.
This novel recreates adolescent sibling drama – particularly between sisters – in such a powerful way that I was stressed out while reading. Secrets, old wounds, the distance that comes with growing up, and growing apart, all riddle June's relationship with her sister. But in the end, her sister is her greatest ally, if only June will let her in.
With its truly remarkable tension and conflict, its redemptive qualities, and the ways that this story is constantly brought back around to love, Tell the Wolves I'm Home is a quintessential sister novel, and a great book about growing up.
Verdict:  Buy.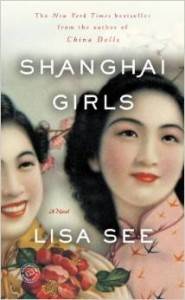 Shanghai Girls by Lisa See
When sisters May and Pearl are sold into arranged marriages to cover their father's debt, they see their life of fun, beauty, and independence slip away, and when Japanese troops storm Shanghai and war breaks out, they must flee China and try to escape with their lives to America, where their husbands, strangers, await.
This story, which spans their girls' lives from before their marriages and well into the next few decades, is a harrowing, intense tale of sisterly love, familial duty, the Chinese struggle in America, and inner strength. The sisterly conflict progresses in the book, cresting on waves of tension and then receding into periods of calm, until it reaches its boiling point in a fall-out that had me turning pages furiously and gasping at the revelations.
Verdict:  Buy.
Enter to win
$250 to spend at Barnes and Noble!