Inbox/Outbox: February 8, 2013
This week has found me with not-quite-enough reading time, but isn't that always the case? I'm knee deep in A.M. Homes' May We Be Forgiven, and if I could take the day off to read a book (why isn't that a built-in benefit when your job is writing about books on the internet?), I would do it for this one. Here's what else I've been up to.
Inbox (Books Acquired)
Fellow Mortals by Dennis Mahoney–I've known Dennis Mahoney on Twitter for a while now (you can follow him @giganticide), and I was really pleased to see this arrive on my doorstep. About a mail carrier whose cigar starts a fire that kills a woman and changes several lives, including his own (of course), the novel (just out from FSG) has garnered early comparisons to Richard Russo and Stewart O'Nan. I like both of them, so I'm excited to give this one a shot soon.
Garlic and Sapphires by Ruth Reichl–Just about a year ago, I picked up Ruth Reichl's first memoir Tender at the Bone in a used bookstore in Charleston, S.C. and began a belated but very passionate love affair with food writing. Since then, I've torn through a bunch of foodie books, and I figure an upcoming trip to Charleston is the perfect excuse to dip into this. Give me sunshine and sand and a book about all things delicious.
How Should a Person Be? by Sheila Heti–I've heard a lot to make me think I'm not going to love this novel (which I'm reading for our Tournament of Books readalong project here at the Riot), but I also love and respect the bookish opinions of some people who really love this book. So, nothing's fine and I'm torn. And I guess I'll read this one for myself to see how I feel.
Outbox (Books Finished)
When Women Were Birds: Fifty-Four Variations on Voice by Terry Tempest Williams–"My mother left me her journals, and all her journals were blank." At fifty-four, Terry Tempest Williams is the age her mother was when she died and left Williams her journals, making her promise not to look at them until after she was gone. In this collection of fifty-four vignettes (call them essays, reflections, poems, memoirs), Williams considers what her mother was saying with her silence, with a life's worth of journals unwritten.
These pieces are beautiful and contemplative and absolutely heartbreaking (I was in tears by page 20, so heads up if books make you cry in public). They're a call to be mindful of how we use your voices and why, and to be grateful that we have voices at all. Above all else, they are a celebration–of words, of writing, of family, and of the gifts we make of our lives to the people we love. Seriously, read this one.
In the Queue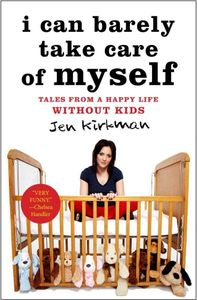 I Can Barely Take Care of Myself by Jen Kirkman (Simon & Schuster, April 16)–I dove into this as soon as it arrived a couple weeks ago and have been reading it in snippets in between the Big Serious Literature I'm reading for the TOB. Jen Kirkman, a happily childfree comedian, covers the trials, tribulations, and social suffering (like having perfect strangers tell you that you're selfish) that come with being a woman in her 30s who doesn't want to have kids. And HOO BOY does she nail it. Neither a rant nor a polemic, the book is funny but very pointed. I happen to think it's pointed in all the right places, and I sincerely hope it will reach readers beyond the obvious preaching-to-the-choir demographic. If you're childfree by choice or trying to make sense (or be sensitive) of people who are, put a circle around April 16 on your calendar and pick this one up.
That covers it for me. How's your reading week been?
By signing up you agree to our Terms of Service
We have 10 copies of
A Gentleman in Moscow
by Amor Towles to give away to Book Riot readers!
Go here to enter for a chance to win
, or just click the image below. Good luck!