Inbox/Outbox: December 7, 2012
I'm not sure I've ever realized how many books I read that have subtitles. Perhaps this is fitting since I so often feel like I need to add a little explanation of my own when writing (and often revert to the good old parenthesis for that). Also, while reviewing this list, I realize how very eclectic my reading is… one minute I'm baking with booze in the kitchen, the next I'm reading about D-Day and colorful writers. Also, very fitting.
Inbox (Books Acquired)
Booze Cakes: Confections Spiked With Spirits, Wine, and Beer by Krystina Castella and Terry Lee Stone – I'm not sure this needs much explanation, but here it goes… this was sent to me by Quirk books; it's part of their Gift Guide for the holiday season. I'm pretty sure I'll be the most popular person at holiday parties when I bring, oh let's say the Tequila Sunrise Cake instead of chocolate chip cookies.
Conversations With Capote by Lawrence Grobel – I've had this book marked as to-read for ages, so imagine my delight when I found a copy at a used book store. This old, fell-off-the-map-but-shouldn't-have book is basically conversations that the author had with Truman Capote over the last two years of his life. He dishes on everyone from Jacqueline Onassis to Norman Mailer. Me thinks this one might go well with a pairing from Booze Cakes.
Dreaming in French: The Paris Years of Jacqueline Bouvier Kennedy, Susan Sontag, and Angela Davis by Alice Kaplan – I can pretty much be talked into anything that has to do with France… ok, "talked into" might not be the best phrasing; if you mention Paris to me, I'm in. Done. Boom. No more effort needed. So reading about these three influential women and how living in Paris changed who they were is a no-brainer. (Like I need any more reasons to tempt me to become Parisian.)
Outbox (Books Finished)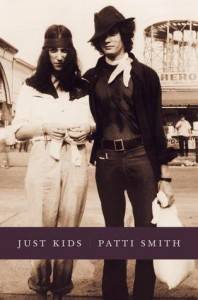 Charms For the Easy Life by Kaye Gibbons – This sweet, short novel is basically full of vignettes told by a young woman about her mother and grandmother (but especially her grandmother) during the first half of the 20th Century. The stories are fun, most things work out for the best, and, if you like ladies with gumption, this will be a good read for you.
Just Kids by Patti Smith – Hello my lovely, hello my inspiration, hello my cool new friend muse. Um, how was I not already obsessed with Patti Smith? I feel like my mom somehow failed me as a child by not introducing me to the coolness of the 1970s rock/art/drug scene (you know "failed" or was a responsible parent, take your pick on the wording). Seriously, if I had read this book as a teenager, there may have been more drugs in my past. As it is, as a responsible adult, it inspired me not only because of the incredible love story (not romantic, a different, much cooler type of love story), the expression and passion for art (and the never giving up), but also the style and the culture. I now am a proud owner of a temporary tattoo (ok, so Patti Smith had someone literally carve a tattoo into her knee at the Chelsea Hotel and I soaked one on with a washcloth over my sink… still influenced, people).
Is Everyone Hanging Out Without Me? by Mindy Kaling – I love laughing out loud, and I love Mindy Kaling's new TV show, The Mindy Kaling Project. Therefore, it will be no surprise that I love this book. I would open it and say, entertain me Mindy, and she did… usually by making me laugh and utter, "sooooo true!" in that really annoying way that chicks have of drawing out words when they want to emphasize them.
In the Queue
Double Cross: The True Story of the D-Day Spies by Ben Macintyre – This is the story of the most sophisticated and successful deception operation ever carried out, and it was done against Hitler. Can anything beat that? This is the story of D-Day from the perspective of the double agents who convinced Hitler that a fake invasion was happening elsewhere, which ensured an Allied victory in one of the most critical junctions of the war. Even though I know it all worked out (thank our lucky stars), my heart will be pounding the entire time. How many guesses for how long it will take for this to become a movie?
A Train in Winter: An Extraordinary Story of Women, Friendship, and Resistance in Occupied France by Caroline Moorehead – This story of the Parisian (yes, Paris again) women who were fiercely anti-Nazi during a time of German occupation in their country is sure to be inspiring and heartbreaking. Out of the 230 women the Gestapo hunted down, only 49 would return to France from Auschwitz; yet this story will show us how the bonds of friendship and an unshakeable passion for stopping the evil that was happening around them turned ordinary people into the bravest of heroes.
How was your reading this week?
By signing up you agree to our Terms of Service
Follow Book Riot on Instagram
for books. Obviously.