Name That Author!: The Answer for November 1, 2012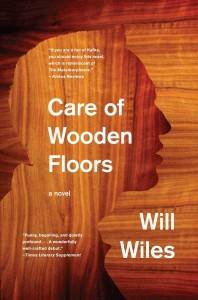 This installment of Name That Author! is sponsored by Care of Wooden Floors by Will Wiles.
A British copywriter house-sits at his composer friend Oskar's ultra-modern apartment in a glum Eastern European city. The instructions are simple: Feed the cats, don't touch the piano, and make sure nothing damages the priceless wooden floors. Content for the first time in ages, he accidentally spills some wine. The apartment and the narrator's sanity gradually fall apart in this unusual and satisfying novel.
Oskar has left several notes for his friend, gently instructing him in the proper maintenance of the flat. But over the course of one disastrous week, as the situation in (and out) of the apartment spirals out of control, the notes take on a more insistent—and creepily prescient—tone.
Anyone who has ever felt inferior to a perfectionist friend will sympathize with the narrator's plight.
_________________________
Before we reveal the answer to last week's trivia challenge, let's have a recap of the clues.
1. I wanted to study classics and history, but had to leave boarding school to apprentice as a surgeon for financial reasons.
2. One of my early literary fascinations was a particular translation of The Odyssey
3. I died at the same age as Kurt Cobain and Jim Morrison.
4. One of my most famous poems was to a piece of crockery from the Mediterranean.
So, did you get it?
Do you like podcasts like
This American Life, RadioLab, or Planet Money
?
Annotated
is kinda like those, but for books. Go
here to find out more
, or click the image below: