Review GPA: 1Q84 by Haruki Murakami
In Review GPA, we translate reviews of notable new books into letter grades and determine a grade point average. Check out previous report cards of ZONE ONE, THE MARRIAGE PLOT, and RIN TIN TIN.
__________________________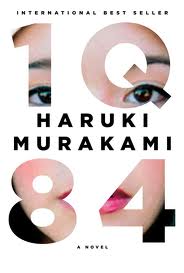 From The Los Angeles Times review by David Ulin:
Gold Star:
"1Q84 is a big, sprawling novel, a shaggy dog story to be sure, but it achieves what is perhaps the primary function of literature: to reimagine, to reframe, the world."
Demerit:
"…in places, the coincidences line up too neatly, and a plot line involving the 'Little People' — actual beings who may or may not have a spiritual agenda but mostly function here as agents of chaos — peters out like a neglected thread."
Grade: A
__________________________
From The Wall Street Journal review by Sam Sacks
Gold Star:
"you'll find genuine wisdom and emotional depth in 1Q84."
Demerit:
"The unpredictability of Mr. Murakami's inventions is constantly offset by the dullness of his prose. One of the most purely negative consequences of his rupture with tradition is his indifference to trying to write with anything approaching beauty."
Grade: B-
__________________________
From The Washington Post review by Michael Dirda:
Gold Star:
"Despite its great length, Murakami's novel is tightly plotted, without fat, and he knows how to make dialogue, even philosophical dialogue, exciting."
Demerit:
"Murakami doesn't neatly solve all its mysteries or tie up all his threads. 1Q84 also treads close to being a grandly conceived yet still slightly pulpy melodrama, something like a more fantastical Atlas Shrugged."
Grade: A-
__________________________
From the Entertainment Weekly review by Rob Brunner:
Gold Star:
"Even at a daunting 932 pages, Japanese cult superstar Haruki ­Murakami's breathlessly awaited 1Q84 is one of those books that ­disappear in your hands, pulling you into its mysteries with such speed and skill that you don't even notice as the hours tick by and the mountain of pages quietly shrinks."
Demerit:
"1Q84 is 'a place where questions outnumbered answers,' and this is not the kind of book where the long, tangled threads all come together in the end."
Grade: A

(publication determined)
__________________________
From the Salon review by Laura Miller:
Gold Star:
"Very few writers speak the truths of that secret, inner universe more fluently."
Demerit:
"This is not great writing by conventional literary standards. Murakami isn't afraid of repetition, outright cliche ("They were just letting off steam") or the overuse of such vague, anodyne terms as 'special,' and the characters all tend to express themselves with the same declarative, matter-of-fact diction."
Grade: A-
__________________________
Review GPA: 3.62 (A-)
By signing up you agree to our Terms of Service
We have 10 copies of
A Gentleman in Moscow
by Amor Towles to give away to Book Riot readers!
Go here to enter for a chance to win
, or just click the image below. Good luck!