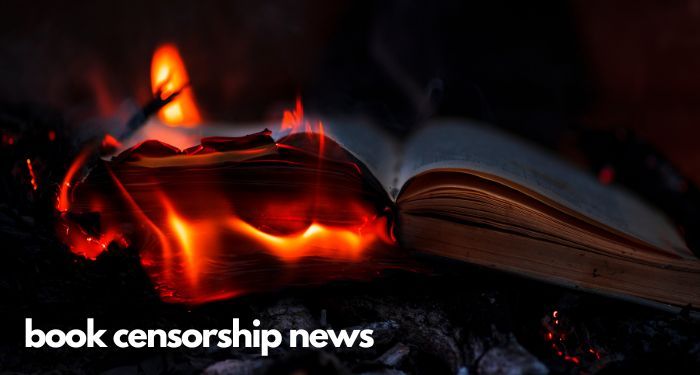 Censorship
The Most Banned Books in the U.S. Are Not New Books: Book Censorship News, July 7, 2023
Books by and about people of color, queer people, and those living at the intersections of those identities have increased in publication since the founding of We Need Diverse Books in July 2014. This was a watershed year, in that it came with increased demands for better representation in books, especially in YA. Things are still nowhere near parity with what the U.S. population looks like, but for the purposes of this post, what's important to know is there are more books by and about BIPOC and queer people in YA than ever before.
Today's teens, who were born between 2004 and 2010, are significantly more diverse than in previous generations. One-quarter of teens identify as LGBTQ+ — and that's the 25% who openly identify that way — while only half of today's teens identify as white, non-Hispanic. One in four of today's teens are Hispanic, 14% are Black, 6% are Asian, and 5% are bi- or multi-racial. Nearly 1/4 of Generation Z are the children of immigrants and 66% live in a household with married parents. All of that data comes from PEW Research.
Despite growth in diversity both in publishing and in young people, it is curious to see that the most banned and challenged books in the USA average a publication date equal to today's teenagers. These books, many classics of course, are not contemporary depictions of concerns or realities of today's teens; good literature endures, so this isn't a condemnation of that. Instead, it's a moment to pause and realize that the process of getting books banned is long, requires wide access to books, and has a wealth of information about previous challenges and bans upon which book censorship advocates can draw.
Utilizing the most recent data from both PEN America and the American Library Association (ALA), I've noted the publication dates for every title in the top 10 most banned and challenged books. In one instance, a YA book was published in the UK before the U.S., so I've used the U.S. date to keep everything consistent. You can spend time looking at PEN and ALA's introductions to understand why the titles differ slightly between the organizations.
Let's take a look.
PEN America's Most Banned Books, as of April 2023
Gender Queer, published 2019
Flamer, published 2020
Tricks, published 2009
Handmaid's Tale Graphic Novel, published 2019
Crank, published 2004
Sold, published 2006
Push, published 1996
A Court of Mist and Fury, published 2020
This Book Is Gay, 2015
The Bluest Eye, published 1970
Milk and Honey, published 2014
Average Publication Date: 2008 | Average Age: 15
Median Publication Date: 2014 | Median Age: 9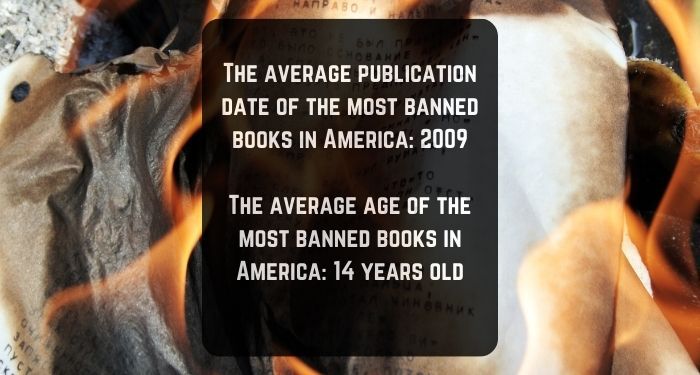 American Library Association's Most Challenged Books, April 2023
Gender Queer, published 2019
All Boys Aren't Blue, published 2020
The Bluest Eye, published 1970
Flamer, published 2020
Looking for Alaska, published 2005
The Perks of Being a Wallflower, published 1999
Lawn Boy, published 2018
The Absolutely True Diary of a Part Time Indian, published 2007
Out of Darkness, published 2015
A Court of Mist and Fury, published 2020
Crank, published 2004
Me and Earl and the Dying Girl, published 2012
This Book is Gay, published 2015
Average Publication Date: 2010 | Average age: 13
Median Publication Date: 2015 | Average age: 8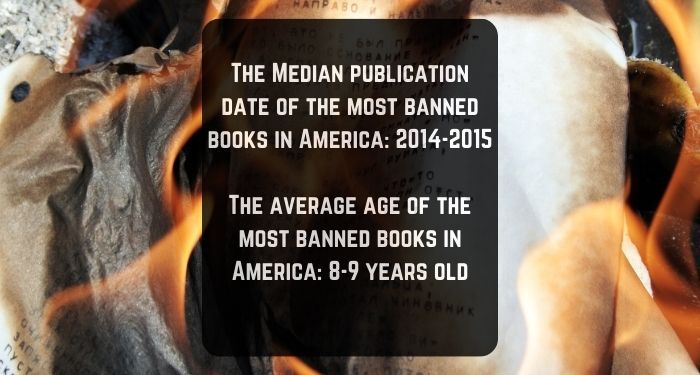 Don't take this information as anything other than what it is: a look at some interesting dates and data. It is not reflective of the thousands of books being banned right now, across the country, and it is certainly not reflective of the hundreds or thousands of books not being purchased or being quietly removed from shelves through silent/quiet censorship. But it is a reminder that these most banned books are but a segment of the books seeing book banning ire and indeed, that segment is not as new as you might think it is.
Banning books at the current rate takes a lot of work — and it is still work if it's simply plagiarizing other book banners. These people have been playing the long game since the start of the '00s, and they'll continue to ram their christofascist agenda forward.
Book Censorship News: July 7, 2023
Thanks to this week's day for fascists to throw their whole selves into other activities, book censorship news is lighter than usual. Don't expect this to continue.
Moreover, this roundup features more paywalled stories than ever before. The media, by putting news about book bans behind a paywall, are complicit in their continuation. If your community does not know what's happening and cannot access information about it, you leave wide open the door for it to continue since there is no accountability being held. If someone looks for news and can't access it at your site, they'll find it at a free fake news site.