Horror
6 Books to Scare You So Bad They Have a Shelf in the Freezer
This content contains affiliate links. When you buy through these links, we may earn an affiliate commission.
This list of some of the scariest freezer books is sponsored by The Dark Net by Benjamin Percy.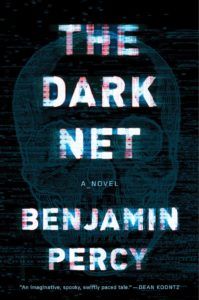 The Dark Net is real. And now an ancient darkness is gathering there, threatening to spread virally into the real world unless it can be stopped by members of a ragtag crew. They have no idea what the Dark Net really contains.
The Dark Net is a cracked-mirror version of the digital nightmare we already live in, a timely and wildly imaginative techno-thriller about the evil that lurks in real and virtual spaces, and the power of a united few to fight back.
---
There's an iconic episode of Friends in which Joey gets so scared by one of the books he's reading that his roommate finds it in the freezer, where he put it for his own protection. I never identified much with the characters of that show until then. I have definitely walked a book out of my house when it freaked me out too much, and I thought it was GENIUS that he stored it in the freezer.
This list is for those horror fans so dedicated to their own fear that not only will they put a book in the freezer for protection, but they have a permanent shelf in there. A Special Collection of the Shit We Can't Handle. It's for those of us who want to be scared but don't want to stay scared, for those of us who have to feel scared in order to know what, exactly, we are afraid of.
This ol' thing will have you not only scared for your immortal soul, but also wondering whether the decisions you make are actually decisions, or if everything is predestined, even your fall from Grace. After being declared by his stepfather a member of "the Elect," or one of those special few admitted to heaven, Robert meets a new friend, Gil Martin/the devil himself, who convinces him to do all sorts of atrocities. (Since he is of the Elect, Robert can do anything without consequence.) This book had me legitimately frightened to do anything at all when I read it. It's slow going because some of the language is archaic, but honestly, I think it adds to the horror.
You are probably most familiar with the new Netflix film adaptation of the same title, but this novel is the original. If you enjoyed/were traumatized by the terror of the show, the movie is more of that same mood. I remember reading the novel and having to stop because I thought I could hear the house that I was renting creaking around me in the same way that Hill House does in the book. I knew it was all in my head, of course, but then again…that's what Hill House always makes its guests think. THAT'S STRAIGHT TO THE FREEZER FOR YOU, SIR.
The Road by Cormac McCarthy
Most people fear the apocalypse. What happens after the apocalypse is scarier. At least, according to this book it is. We never really find out what caused humanity's end; we only know what happens afterward. When every part of humanity is a threat to itself, the real horror is what we do to each other, what we know people are doing to other people, and what we can't ignore nor prevent. The terror in this novel builds on itself, and as with so many movies, it's not what we see that scares us, it's what hovers just off the page.
Addendum: Fuckin' anything by Cormac McCarthy will horrify you. To quote one of the very few interviews he gives, "If it's not life or death, it's not interesting."
Beloved by Toni Morrison
This novel is on every list, from scariest to most important to best written in all of time ever. The opening chapters are scary enough, with their baby ghost, and—of course—the atrocities of slavery are enough to give anyone with a conscience nightmares. The scariest parts are in its later pages, though, when the reader discovers how those two elements are related, and how some actions can never be undone. (I can't tell you exactly what is so scary about this novel without giving it away, but trust me: you won't get through it unscathed.)
Haunted by Chuck Palahniuk
This novel is more unsettling than horrific, though the rumor is that during its first reading, two people vomited. Set in a secluded writer's retreat, the metanarrative tells how the place for writing becomes a survival situation…on purpose…so the writers have a story to tell. Each character gets his or her own time to tell their scary story, too. This is easily this author's most compelling book, in my opinion, and that's a real accomplishment. To quote my mentor, "I can't read his books. They make my brain loud." This is definitely one that will shock you later as new truths dawn, and you'll have to explain why something that you read four days ago is suddenly freaking you out again, and how you let it sit in your mind, dormant, for all that time.
There's a lot to fear in this book, from the lack of medical science to the selling of humans to the class system that kept so many people from having humanity. One of the scariest elements of this book is the inextricable nature of love and evil: when 12-year-old Sierva Maria de Todos los Angeles is bitten by a rabid dog, first she is treated with every primitive measure known in the 1750s. Then her father surrenders her to a convent because, while they may not be able to save her body from the rabies that she does not have, the Bishop feels they may be able to exorcise the demon that does not possess her. He sends an exorcist who then falls in love with the girl because he sees that she is not possessed. Except that she is, in fact, possessed. So much about this narrative twists the reader's experience, from the manipulation of time to the skewing of perspective, until the truth is not really knowable.
Those are my top 6 scariest books, books so scary they live in my refrigerator. And I did my best to articulate what exactly was so scary about them. What about you? Did the same things about these books scare you as scared me? What other books scare you the most? Let us know in the comments!