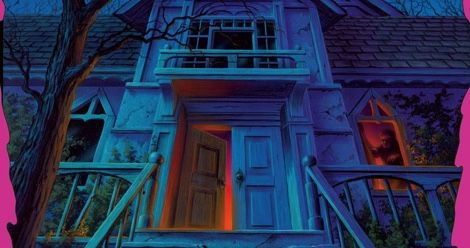 Children's
Readers Beware, We Need All the Scares: How GOOSEBUMPS Paved the Road for Children's Horror
This content contains affiliate links. When you buy through these links, we may earn an affiliate commission.
This post on how Goosebumps influenced children's horror books is sponsored by In the Night Wood by Dale Bailey.
In this contemporary fantasy, the grieving biographer of a Victorian fantasist finds himself slipping inexorably into the supernatural world that consumed his subject.
---
The library had rotating displays for the children's paperbacks. Despite my stating repeatedly that the covers looked terrifying, I'd pull them out with fascination. They had such eye-grabbing images. And yet, they seemed too scary for my taste. I didn't read much as it was, and I wanted to read for fun if ever.
My fourth grade teacher had some of the same titles on his tiny shelf in his classroom. Eventually I screwed up my courage and borrowed one, The Blob Who Ate Everyone. Then I confess to being hooked, and read all the other Goosebumps books available. Thrills would fill me.
R.L. Stine first published Goosebumps in 1992, starting with the book Welcome to Dead House. It would spawn two main series, at least five spinoffs, a television show, and two feature films. While Slappy the dummy became the face of the series, the novels also contained monsters such as pink and purple blobs, sentient masks, some pretty nasty human beings, and even a comic book villain that does his own inking.
The Scarcity of Scares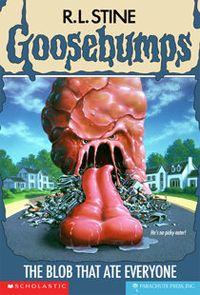 If you went to the library in the early 1990s, you would most likely see Goosebumps cover when perusing children's horror. There were other books, but they didn't occupy the mind. While Roald Dahl had published creepy children's literature, like Matilda, The Witches and The BFG, he didn't spark a trend for some reason. Bruce Coville wrote fantasy horror around the same time period, and that was in collected anthologies that he edited, such as Bruce Coville's Book of Monsters. Anthony Horowitz in the UK didn't publish his collection Horowitz Horror until 1999.
People didn't believe that kids wanted to be scared. Part of it is that it seems antithetical; why would we read a book that terrifies us? And yet, children's horror provides a thrill.
We can argue that Goosebumps told editors and publishers that children readers wanted children's horror. The dearth existed. And that paved the way for other writer to put in better stories, and give Stine competition. Without Goosebumps, we might not have Coraline, The Night Gardener. or All the Lovely Bad Ones. Even fantasy series could get darker; Harry Potter had the dementors and basilisks, while Children of the Red King and The Saga of Darren Shan could allude to death, children going missing, and psychological abuse. We got a raised bar, while publishers got permission to scare kids.
Store-Bought Creeps and Contract Breaches
One aspect of the original series that blogger Troy Steele has noticed on his website Blogger Beware, with appropriate snark, is that the Goosebumps books, in hindsight, did not have consistent writing quality. A few are quite memorable and terrifying, like Ghost Beach, Be Careful What You Wish For, and The Ghost Next Door. Attack of the Mutant reminds you of how comic book lore and hero tropes can be used to ramp up suspense, while being really silly in hindsight. Others run on the campy side, such as The Legend of the Lost Legend, which makes no sense when you go through the story. Charles Payseur for his Liver Beware! reviews has also commented on the quality and story potential.
As Troy has also pointed out, the books also have a lot of fat-shaming and racist stereotypes. It can make for rather difficult reading in hindsight, with the worst offenders being the original Attack of the Jack-o-Lanterns, as well as Say Cheese and Die- Again! and The Horrors at Camp Jellyjam.
Slappy becoming the Goosebumps mascot foretold the campy branding. The dummy has a share of creepy stories, not the least being that he tries to turn children into his slaves and gaslights their families into believing the children cause trouble. There are only so many stories you can tell about him, however, when each Goosebumps story involving Slappy involves him getting turned into sawdust. People also don't play with creepy dolls or practice ventriloquism these days.
Scholastic in a suit filed against Parachute Press, the original publisher for Goosebumps and its predecessor Fear Street, asserted that Stine started letting ghost-writers take over the series, and that may be the reason why sales declined. Stine has denied this claim, but the thought has persisted, especially given how many books were produced in a short amount of time. If this claim were true, then it would explain the varying qualities of each story. In any case, the suit meant that Scholastic cancelled at least one series of Goosebumps books and would not resume the series until 2009, with Revenge of the Living Dummy as part of Goosebumps Horrorland.
The TV Series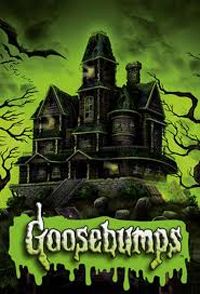 Considering what they had to work with, the Goosebumps TV series was pretty decent. It fixed some of the racist issues that the source material had, filled in plot holes when they could, and even built careers for some of their stars. (Mind, this does not mean Cartoon Network should have aired reruns in the late '00s. It's Cartoon Network, and mixing that with live -action shows spells bad news.) They also even had room for the late Adam West to make a hilarious cameo, and if you can get Adam West, you are golden.
In a case of trends being followed, the show Are You Afraid of the Dark? surpassed Goosebumps by virtue of having better quality writing and a willingness to rely on acting rather than unreliable special effects. People have more nostalgia for the former, and good memories. Stine released a second series called The Nightmare Room, but it aired in 2001, and didn't take off after networks cancelled Saturday morning slots meant for children. A third sister series, The Haunting Hour, was based off Stine's short stories and did far better in luring in viewers.
The Film
Right. So here, I'm going to admit that I haven't watched the film or its sequel, so I cannot give judgment on either. But I can mention something metatextual about the premise that with context seems very on-point.
We have the R.L. Stine in the film who claimed to write all his books, but in actuality he used black magic to seal the real monsters in their books and profit off them. Eventually the monsters have enough of this and run free, nearly killing Stine and his daughter Hannah. It sounds eerily suspicious to Scholastic's lawsuit claim, with a twist: Goosebumps was eventually revived, and of course in the film the monsters are defeated, but you can understand their pain and frustration. If we feel sympathy for Slappy, one of the least empathetic monsters from the original series, then something is up.
The lesson here is don't do a book just for the money. Make sure you have love for your creations, else they may come back to haunt you. Readers will know, and so will publishers. Maybe even a screenwriter will pick up the subtext and incorporate it into their interpretation.
A Legacy of Scares
Goosebumps didn't have to be perfect. It just had to scare us, and pave the way for its successors. Future authors could learn the lessons on how to set up proper suspense, plot, and emotions. Others could fill in the gaps that Stine left, and what the genre needed to plug.
Sometimes you need a predecessor to give you inspiration to write the cool stuff, and inspiration. It's all right to scare, and be scary. All you have to do is tap into that inner fear.
Happy Halloween, folks. Be nice to volunteers in haunted houses, watch out for people wearing pumpkin-head costumes, and trust no ventriloquist dummies. Seriously.