This content contains affiliate links. When you buy through these links, we may earn an affiliate commission.
This post about all-ages audiobooks is sponsored by Macmillan Audio.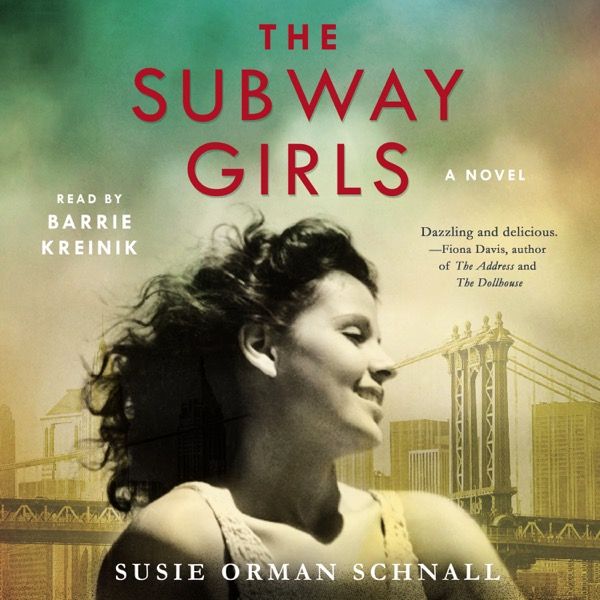 From Susie Orman Schnall, author of The Balance Project, comes a dual-timeline audiobook featuring a 1949 Miss Subways contestant and a modern-day advertising executive whose careers and lives intersect. Read by Barrie Kreinik. Listen to an excerpt!
---
How old were you when you started listening to audiobooks? I first got into audiobooks when I was a kid listening to books in the car with my family on long road trips. Car games are only fun in theory, so next time you hit the road with your family, consider one of these 12 audiobooks that are good for all ages.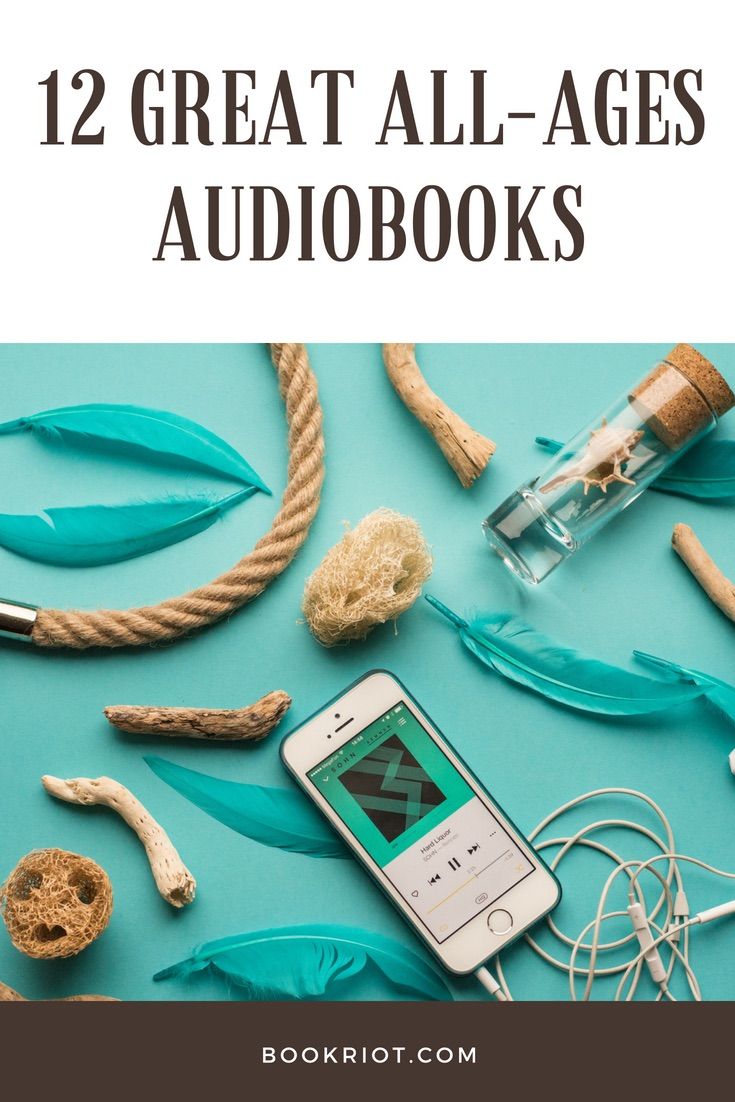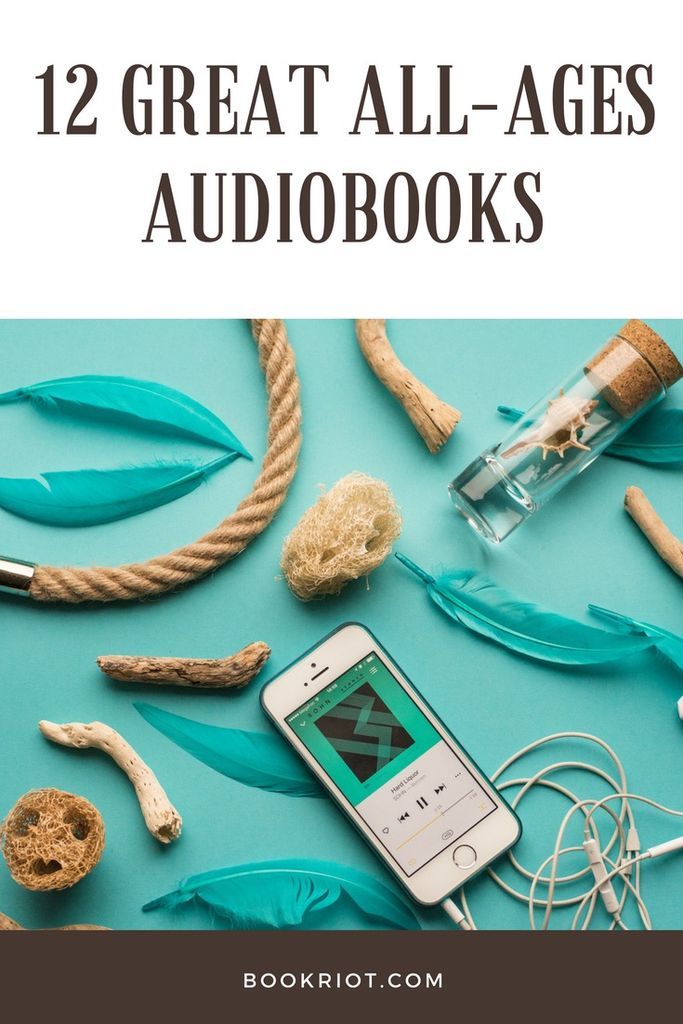 This list kicks off with the most obvious choice. If you haven't experienced the Jim Dale–narrated Harry Potter audiobooks, then you haven't experienced the Harry Potter series in every way possible. This series, following a boy wizard through his journey through wizarding school and his fight against evil, is beloved by both children and adults, dogs and cats…basically everyone. If you don't love it, fight me.
I used to love this movie as a kid, but I didn't listen to the book until I was an adult. The audiobook is narrated by Gerard Doyle, who also narrated Christopher Paolini's Eragon books, among others. If you're unfamiliar with The Neverending Story, the novel follows Bastian, a young boy who discovers a mysterious book about an enchanted world called Fantastica. Little does he know when he starts to read the book that he himself will be called upon to enter the world of the book and save Fantastica from impending danger.
The Book Thief is famous for its unconventional narrator. Death itself tells the story of Liesel Meminger, a young girl living in foster care outside of Munich during World War II. Playing the role of Death for this audiobook is Allan Corduner. If you're a big audiobook aficionado, you might also recognize his deep, silvery voice from Magpie Murders by Anthony Horowitz.
Mysteries make for great audiobooks, and Mark Haddon's story of a 15-year-old boy named Christopher with Asperger's Syndrome makes for a good mystery audiobook for the whole family to enjoy. Christopher normally doesn't like talking to people or venturing out beyond his own street. But when a neighborhood dog dies under mysterious circumstances, Christopher knows he'll have to leave his comfort zone in order to catch the culprit. Narrator Jeff Woodman does an excellent job of voicing Christopher with heart and emotion without making him seem too childlike.
Listen to this one before the movie comes out later this year. Angie Thomas's young adult novel about teen girl who witnesses a police officer gunning down her childhood friend is topically relevant and worth reading/discussing for both young people and adults. This novel is narrated by Bahni Turpin, who has narrated many other excellent young adult novels, such as The Sun is Also A Star by Nicola Yoon.
I never listened to this book with my family, but I remember watching the movie with my family on multiple occasions. I also ended up reading the book multiple times: the first time was at summer camp when I was ten, and the most recent time was listening to the audiobook version, narrated by director Rob Reiner. Having experienced The Princess Bride as a child and as an adult, I can honestly say that this is a story that somehow keeps me engaged and keeps surprising me at every age I return to it, even though at this point I know exactly what's going to happen next.
The best thing about listening to an audiobook with multiple character perspectives is getting to listen to multiple narrators read for them. Ramon de Ocampo and Amielynn Abellera narrate this audiobook. Chet, Kaori, Gen, and Valencia live in the same neighborhood, but they aren't friends. Not until Chet plays a prank that lands Virgil and his pet guinea pig at the bottom of the well. Now Chet, Kaori, and Gen must work together to rescue Virgil. This book was written with children in mind, but like all of the best children's books, Erin Entrada Kelly's story is just as engaging for adults.
The Poet X by elizabeth acevedo
The Poet X is a coming of age story about Xiomara, a girl from Harlem who learns to deal with her adolescence and her introduction into the adult world through poetry. Elizabeth Acevedo narrates her own novel, and since I firmly believe poetry is best experienced when read aloud, listening to this book rather than reading it is a no-brainer.
Fresh Ink, edited by lamar giles
As a kid, I always thought short stories made the best audiobooks because if I fell asleep during one story, I could just wake up and pick back up on the next story. As an adult who is often behind the wheel while listening to audiobooks, this is no longer a perk. So if you're going to listen to a short story collection, you'd better find one that is engaging and enjoyable for everyone. Fresh Ink, an anthology featuring a diverse group of YA authors, is just that. The stories are accessible and enjoyable for all ages, and cover topics such as gentrification, acceptance, untimely death, coming out, and poverty. The genres range from contemporary realistic fiction to adventure and romance to even a one act play. The audiobook features different narrators for each story.
It's hard to discuss where exactly this novel is set, because it's a book about time travel. More importantly, it's a book about family and love. And it's a book about pirates. Really, this novel has a little bit of everything for everyone. Narrated by Kim Mai Guest, this audiobook is the story of a girl named Nix who time travels in her father's ship, using maps to different periods of time.
If you've already gone for the most obvious choice of Harry Potter and loved every minute of those audiobooks, then the Akata Witch series should be what you go for next. This first novel in the series follows Sunny, an albino girl born in America and living in Nigeria. Sunny has trouble finding her place in the world until she discovers that she has magic powers. She is a "free agent," and soon she finds her place in a group of four young students studying the world of magic. Akata Witch is read by Yetide Badakti who artfully brings these characters and this world to life with her narration.
You might think Stephen King writes for adults only, but King's short story collection Skeleton Crew is one of the books I most vividly remember listening to with my family. Sure, for some younger children, horror is too much, but for many young people, Stephen King is their entry into the horror genre. Skeleton Crew is arguably King's best short story collection, and the newest audiobook version has a star-studded cast of narrators, including Michael C. Hall and Matthew Broderick.