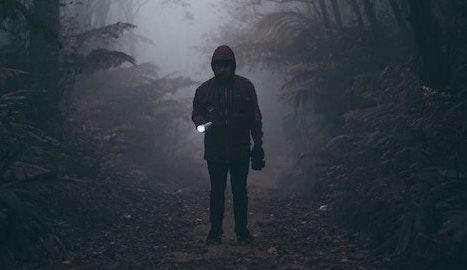 This content contains affiliate links. When you buy through these links, we may earn an affiliate commission.
This round-up of the best true crime audiobooks is sponsored by Macmillan Audio.
The most addictive and unpausable debut thriller audiobook you'll hear this year. Adam adores Emily. Emily thinks Adam's perfect, the man she thought she'd never meet. But lurking in the shadows is a rival, a woman who shares a deep bond with the man she loves. While Emily chose Adam, she didn't choose his mother Pammie. There's nothing a mother wouldn't do for her son, and now Emily is about to find out just how far Pammie will go to get what she wants: Emily gone forever. Listen to a bonus conversation with the author at the end of the audiobook! Listen to an excerpt!
---
We all know how in true crime is; it's having a moment right now. That's not to say it wasn't popular before, because it was. But now it's somehow more acceptable to binge watch your favourite crime docu-series, listen to a backlog of Serial-esque podcasts, or discuss the Golden State Killer case in-depth with your friends. There's more content, and it's given more credence. But if you're anything like me, you were a murderino well before My Favorite Murder made it cool. And if you're like me, you've exhausted most of the aforementioned podcast backlogs. What do you do when you want to listen to an excellent grisly podcast but the next episode isn't out for a few days? And you know you'll want more when it's over? Or what do you do when you want more than serial killers? You add these ten true crime audiobooks to your queue, that's what!
When Pablo Escobar, the notorious drug lord, died in 1993, Colombians hoped the reign of drug cartels would be over. But in the late '90s, paramilitary groups with ties to the cocaine industry rose up and the corruption, terror, and bloodshed continued. They began massacring, torturing, and destroying entire towns. Three of those people stood up. A human rights activist, a prosecutor, and a journalist. They took up the cause of the people of Colombia to reveal the corruption and collusion of the government and military with the mafia. There Are No Dead Here follows their tireless fight and investigation against all the odds as even assassins hunted them in the streets.
Do you like spy thrillers for your true crime audiobooks? If yes, this one's for you. The Spy Who Couldn't Spell is the story of Brian Regan and the FBI's hunt for him. He was a very ingenious traitor who was looking to sell American secrets to Libya. He sent coded letters to the consulate. These letters were even harder to decode because Regan is dyslexic. It took years and tons of specialists and code breakers to track him down.
Just like the tagline suggests, this book is both a memoir and a tale of a murder. When she is working at a law firm for the summer, she works with a case of a child murderer. Originally, she thought her position on the death penalty was solidly against it. But after seeing and hearing this man on tape, she wants him to die. She digs deeper into this man's crimes and it causes her to reflect on her own life and re-examine her childhood. Marzano-Lesnevich grapples with forgiveness and how the law isn't always an impersonal thing.
Adnan Syed was convicted of murdering his ex-girlfriend Hae Min Lee in 2000. Rabia Chaudry, a friend and supporter of Syed, always believed he was innocent. She put his story on Sarah Koenig's radar, and thus began the incredibly popular true crime podcast Serial. This book goes beyond what they covered in the podcast. Chaudry presents and examines new evidence and tells of Syed's life in prison.
This is the story of NecroSearch International. NecroSearch is a group of scientists and forensic specialists who assist law enforcement find clandestine graves and other key forensic evidence. In No Stone Unturned, we learn how NecroSearch came to be, how they used pigs as surrogate bodies to study graves, and about many of the cases they have been involved in. You get to go behind the scenes of forensic investigation, their techniques, and how they perfected them.
In 1978, Detective Ron Stallworth went undercover. In his hometown of Colorado Springs, the Klu Klux Klan was getting bigger and he was going to be investigating them. While undercover, he became a member, and eventually the leader of their chapter. The kicker? Stallworth is a Black man. In Black Klansman, Stallworth recalls his time undercover, the politics of his job, and all the challenges he faced.
This is a story of corruption, lies, intrigue, and murder. A Death in the Lucky Holiday Hotel digs into the life and scandal of former Chinese politician Bo Xilai. The authors detail this drama and international scandal by investigating all that Bo Xilai and his family and supporters were involved in, including the murder of a British businessman.
This is the story of the startup Theranos and its founder and CEO Elizabeth Holmes. When Holmes was a bright student at Stanford, she came up with an idea to revolutionize the way that blood is tested and treatment is delivered. She dropped out of Stanford to begin her startup. Backed by many prominent investors, Holmes raised millions of dollars to begin. While fundraising and selling shares, the company was at one point valued at 9 billion dollars. And Holmes? 4.7 billion. The problem? Theranos didn't work. Bad Blood tells a story of ambition, scandal, and fraud. And it's riveting.
Michelle McNamara was an incredible true crime writer with a large following on her website, TrueCrimeDiary.com. Her passion was investigating unsolved crimes. The one that really captured her attention was the East Area Rapist/Original Night Stalker, who she dubbed The Golden State Killer. This serial rapist and murderer raped over 50 women and killed 12 people more than 40 years ago. When this book was published, he was still at large. Two months after the publication of this book, he was arrested. I'll Be Gone in the Dark is Michelle's ultimate work. We follow her as she pours over evidence, police reports, leads, and everything in between. This is a must read (listen?) for fans of cold cases.
When it comes to true crime audiobooks and interest in serial killers, the ones that we think of and talk about are all men—Bundy, Gacy, Ramirez, etc. Some people even seem to think that serial killers are mostly, if not exclusively, men (and white men at that). But the truth is, there have been female serial killers as well—they just haven't been as glamourized. In Lady Killers, Tori Telfor continues her popular online series chronicling these killers. Here, each chapter discusses a different lady killer, like Erzsébet Báthory, Nannie Doss, Mary Ann Cotton, and Darya Nikolayevna Saltykova.
What are your favourite true crime audiobooks? Want more true crime? Check out these 50 Must Read True Crime Books, 31 of Book Riot readers' Favourite True Crime books about Women, and the Best True Crime Books one Rioter Has Ever Read.