This content contains affiliate links. When you buy through these links, we may earn an affiliate commission.
Sponsored by Macmillan Audio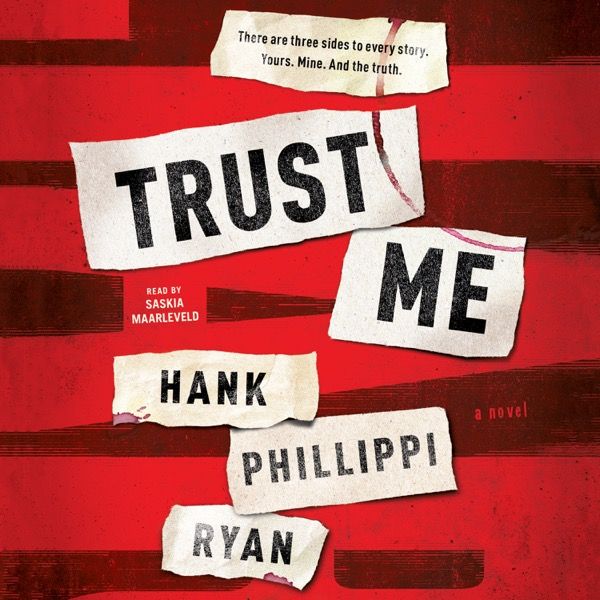 A chilling audiobook of psychological suspense and manipulation from award-winning author and renowned investigative reporter Hank Phillippi Ryan. An accused killer who insists she's innocent of a heinous murder and a grieving journalist surfacing from the wreckage of her shattered life create an unlikely alliance that leads to a dangerous cat and mouse game. Who can you trust when you can't trust yourself? Hear a bonus interview with the author at the end of the audiobook! Listen to an excerpt!
---
Summer is the time when our family relaxes. Everything relaxes: our rules, our extracurriculars, our family dinners. Our reading time. As an elementary librarian, I totally wince when admitting that during the school year, family reading is a daily thing, but in the summer, it's more likely to fall by the wayside.
I kind of feel like I'm about to lose my parenting and bookish cards all at once.
Summer is also the time when our road tripping picks up. We do day trips, explore museums, and go away for the weekend. We're in the car a lot. And luckily for me, my kids love audiobooks. So even when it's been a few late nights since we've cuddled up for our pre-bedtime ritual of reading on my bed, I can make sure my kids are getting good literature while we're getting to where we're going. Even when I'm not reading with my boys daily (I know, that's still the best possible scenario), I'm listening to audiobooks with my sons.
Our first audiobook happened before I was sure if they were into it or not. Three summers ago my boys were two and three and I picked up the recording of The Tale of Despereaux on a whim at our library. It is beautifully read—Kate DiCamillo's words are magical, even more so when you hear them out loud, slowly and respectfully. The CD meant I couldn't use my trick of upping the reading speed to get more book more quickly. I settled in to let it all wash over me—I wasn't even sure if the boys were listening at all. But after awhile we'd get buckled in and my oldest would start asking for "the mouse." It was a few back-and-forths before I realized he was asking to keep listening to the book, and I was pumped. Since then, we've listened to dozens of novels and early readers, and starting new books is one of the most exciting things we share.
I do have a few tips to make this experience even sweeter.
Embrace the DNF.
That's right—feel free to abandon a book that isn't clicking. You do not have to finish. Narrators vary and not every story is going to engage you or your kids. While I feel this is good advice for any reading experience, it applies especially to choosing books on audio. Grab a stack from the library (my surefire plan for trying out of a bunch with zero commitment) and give yourself a few minutes before making a solid decision, but don't be afraid to pass if the narrator or the content aren't for you! We've dropped books because the narrator is too silly or too distracting, because I realize that the book is gendering stuff as "boy" things or "girl" things too often for my comfort (a cringeworthy failing of many books written by adults trying to capture a kid's voice), or simply because we weren't that into the story. Never spend a second reading something you don't like reading. It's not worth it.
Have the pause button ready.
Whether you are listening through a service such as Audible or just popping in CDs the old fashioned way, make sure you can quickly pause to chat. This strategy has been very helpful now that I have a six year old who has questions about everything. We stop to clarify the meaning of the words, make plot connections, and sometimes ask something that only tangentially connects to what we're actually listening to. This spring we listened to The Vanderbeekers of 141st Street and Milo constantly needed to me to stop and help him analyze the fast-moving plot full of interesting characters. When we did Crenshaw at the beginning of this summer, both boys needed me to help them figure out the difference between the flashback scenes and the current action, and sometimes we stopped just to be delighted by the absurdity of the imaginary cat sightings among such a serious topic handled in such a non-condescending way. All in all, I'm not just being a braggy mom when I say that I definitely think my children's reading comprehension has improved from our conversations while listening.
Think outside the car.
While our listening time was initially car-bound, we've since expanded and it's really been a life saver. This summer I instituted a daily rest time, which meant that no one had to sleep but everyone had to be in the their beds for at least a short period of time. I did not care a bit what they did in there, as long as they stayed put. Around the same time, I wrestled an old boom box out of retirement a borrowed a slew of audiobooks from my school library. While I had initially prepared to fight constantly about staying in the room, the use of audiobooks not only kept them in place, but also provided a structure for how long they needed to wait until it was time to come out. If the book is good enough, it can accompany playtime—we listened to all of The Wild Robot in the living room during a snowstorm this winter. I was actually able to paint an adjoining room without being bothered by my five- and six-year-olds—they listened and built with Lego and it was almost like a scene from what I thought parenting would be like before I had kids. It was an audiobook miracle.
When life gets intense (or summer lazy), it's a relief to know that even when I'm not sitting down with my sons to open books on our lap, there are still ways to get those stories in their ears. In fact, I'd wager that some of our car conversations go deeper than anything I'm willing to get into during the story time right before bed. So go ahead, count those audiobooks as a daily reading habit. Happy listening!