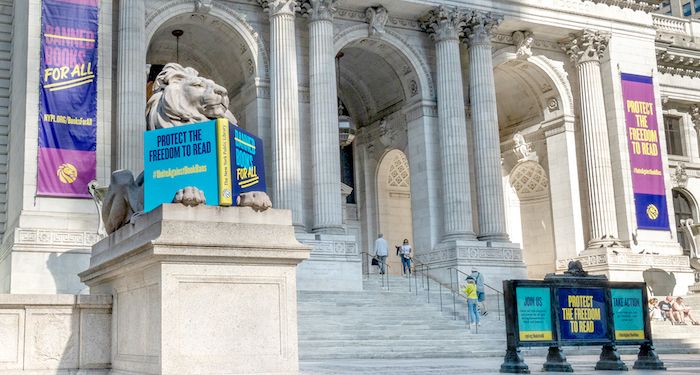 Censorship
NYPL Launches Nationwide Teen Banned Book Club
This content contains affiliate links. When you buy through these links, we may earn an affiliate commission.
In recognition of Banned Books Week, the New York Public Library is launching "Books for All: Protect the Freedom to Read," a campaign that will run until the end of June. This will be the longest running anti-censorship campaign in NYPL history, and it's in reaction to an "unprecedented" rise in censorship across the country, especially targeting young adult books.
The campaign includes a Teen Banned Book Club, where anyone 13 and up across the country can download the featured book for free using the SimplyE app. All of the books featured have been banned or challenged. The first title is Each of Us a Desert by Mark Oshiro, a queer fantasy YA novel. You can download the book now until November 30th. Mark Oshiro will be discussing the Freedom to Read today at NYPL, and a book club event for Each of Us a Desert will take place at the end of November. A new book club pick will be announced every two months.
NYPL will also be hosting a National Teen Writing Contest with the theme "Freedom to Read." The winner will receive $500, and 10 runners up will receive $250 each. Submissions are open now, and the deadline is December 22nd. You can learn more at the NYPL website.
On the subject of the Freedom to Read, NYPL President Anthony W. Marx said,
"In America today our basic freedoms are under attack: the freedom to choose what to read, to learn about new ideas and experiences, to see and understand more about ourselves and others. A vocal minority seeks to censor not just books, but the people in those books, because they find them uncomfortable. We know that stories are powerful and can shape our lives, open our eyes, and change the world but unlike advocates of book banning, we believe that's a good thing and that free people have the right to choose for themselves. Since their founding, public libraries have combated the forces of ignorance and hate by making information and knowledge freely available to all. With this campaign, we stand in solidarity with the library workers and communities across the country who are being censored and threatened. We all have a role to play in protecting everyone's right to access the full range of ideas, voices, and experiences our society has to offer. That is where our strength as a nation comes from. We welcome everyone to read along and join us."