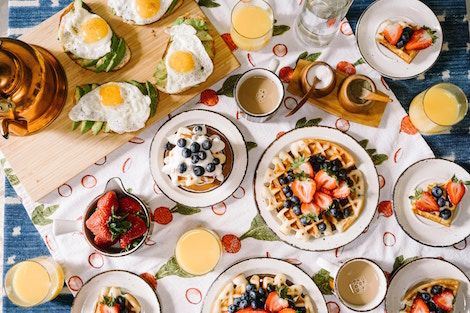 Lists
6 Memorable Meals from Novels
This content contains affiliate links. When you buy through these links, we may earn an affiliate commission.
Plenty of novels are good at making you hungry or inspiring you to cook. Sometimes lavish food details are stuffed throughout a book. Other times they contain specific food scenes that are hard to forget. Here are a few strange and remarkable fictional meals.
Oreo by Fran Ross
As befits its name, Oreo is food-obsessed. And one character in this dazzling and madcap satire of race relations is a comically over-the-top gourmet cook. Author Fran Ross devotes five full pages in the middle of the book to a nine-course menu, with six choices for each course. The abundance of dishes and cuisines (plus the assortment of fonts for the menu) is stupefying. For soups, for instance, there are: mtori, stracciatella, New England clam chowder, matzo-ball soup, Hühner Suppe, awase miso, yen-wo-t' ang, canja, petite marmite, and rassolnik, to be washed down with Amontillado and Madeira.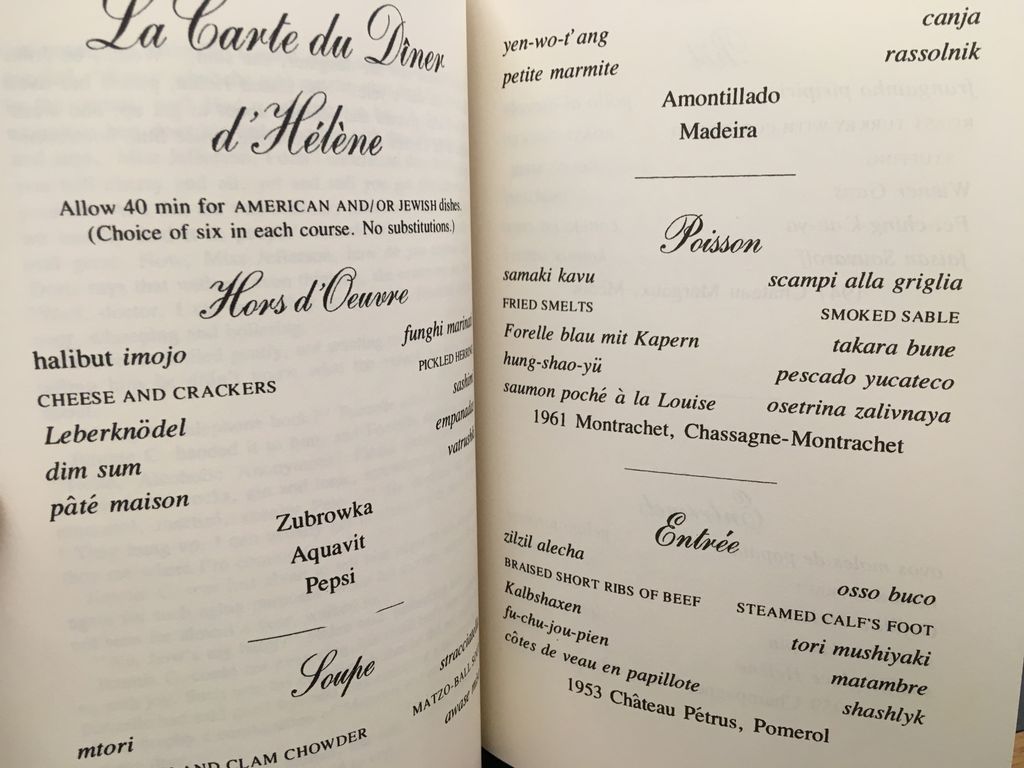 The effects of this meal resound far beyond the kitchen. "Five people in the neighborhood went insane from the bouquets that wafted to them from Louise's kitchen. The tongues of two men macerated in the overload from their salivary glands. Three men and a woman had to be chained up by their families when they began gnawing at a quincaillerie of substances that wiser heads have found to be inedible. These substances—which blind chance had put within the compass of snatchability of the unfortunate four—ranged from butterfly nuts to galoshes, with a catalog of intervening items that good taste precludes mention of here."
As with the rest of Oreo, this meal is delightfully extra.
The parts of A River of Stars set in San Francisco's Chinatown are chock-full of food. A whimsical idea plants the seed for the main character, undocumented Chinese immigrant Scarlett, to ultimately run a thriving street food business. One Thanksgiving, she and her neighbors combine the offerings from a food bank and their own mishmash resourcefulness to create a unique Chinese American Thanksgiving dinner. "In the kitchen, the turkeys had been hacked in half to fit in the oven, and glazed in honey and vinegar, the crispy skin glittering. The spaghetti was boiled, then stir-fried with the canned vegetables into an enormous pan of chow mein; canned fruit cocktail was ladled upon luminous almond jelly, and the tomato sauce was thinned into a hot and sour soup."
It's during this meal that Scarlett invents the hanbaobao. This is a play on a hamburger that is dubbed a Chinese slider. It's simple but effective: "Neighbors brought out their jarred condiments to add flavor to the turkey: red chili, mouth-numbing peppercorn, black bean, plum, and soy sauces. Scarlett spread plum sauce on an American roll, layered dark meat and sprinkled chopped scallions, and served it to Daisy."
Redwall by Brian Jacques
Am I the only person who read the medieval-esque kids' fantasy series Redwall more for the meals than for the battles? The feast scenes are gratuitous but charming, making it unsurprising that Redwall spawned a cookbook. (But I'm still a bit disturbed by the image of mice banding together to catch and then consume a fish.)
These banquets are important for setting a scene of convivial, generous peacefulness—a gentleness that's bound to be fractured by whatever villainous woodland creature is about to intrude. The original Jubilee feast features such delicacies as acorn crunch, devilled barley pearls in acorn purée, and peach and elderberry brandy.
Flavor by Joseph Keatinge, Wook Jin Clark Tamra Bonvillain, Ariana Maher, and Ali Bouzari
The comic series Flavor could do for crepes what Chocolat did for, well, you know. It's a candy-colored fantasy about people who take food seriously, though the comic itself is light. Particularly memorable is an early sequence in a grand arena, where a plucky upstart battles a hulking cheftestant in a cooking battle over crêpes suzette. Readers will come away knowing how to make crepes.
Water Music is endlessly entertaining. It follows a vainglorious Scottish explorer, the real-life Mungo Park, on his quest to chart the course of West Africa's Niger River around the turn of the 19th century. The book is full of memorable eating scenes, from the trade deals of cannibals to a renowned beauty who eats and eats to maintain her attractive corpulence.
It also contains a recipe for a baked camel. This is a sort of desert turducken, with eggs stuffed into carp, which are stuffed into big birds, which are stuffed into sheep, which are then stuffed into the camel. This recipe is bound to come in handy for most readers.
"BAKED CAMEL (STUFFED)
Serves 400
500 dates
200 plover eggs
20 two-pound carp
4 bustards, cleaned and plucked
2 sheep
1 large camel
Seasonings
Dig trench. Reduce inferno to hot coals, three feet in depth. Separately hard-cook eggs. Scale carp and stuff with shelled eggs and dates. Season bustards and stuff with stuffed carp. Stuff stuffed bustards into sheep and stuffed sheep into camel. Singe camel. Then wrap in leaves of doum palm and bury in pit. Bake two days. Serve with rice."
Chronicling the lives of an Indian diasporic family, The Sleepwalker's Guide to Dancing is full of dosas, idlis, and other South Indian dishes. Food oozes out of its pages, and carries many meanings. For one character, it's a talent and a source of respect: "Like plumage that expanded to rainbow an otherwise unremarkable bird, Kamala's ability to transform raw ingredients into sumptuous meals brought her the kind of love her personality on its own might have repelled."
And as shown by one 13-dish meal, in honor of a family member with cancer, worrying about what to cook and eat is a way to express concern about a loved one, when it's hard to articulate that in words. Those are some powerful samosas.
BONUS
But my most noteworthy fictional meal comes not from a novel, but from a short story. The last eating scene in Stephen King's "Survivor Type," plus the cumulative effect of all the others, is an image I wish I could shake. Best not to read it over a meal.