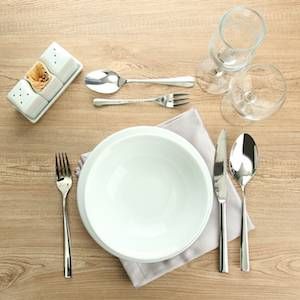 Lists
Excellent Feasting Scenes in Literature
There is something fascinating about our instinctual relationship with feasts. Food is both our greatest love and our greatest weakness. Social eating adds complexity—there's competition for the last roll, chairs scratching floors and wine being consumed. We love eating in groups for the same reason we hate it—the invasive-ness of people talking and laughing, the arguments and dirty dishes.
So, in books, feasts are a chance for authors to humanize characters and make them feel like breathing, living beings. I love reading a feast scene that has great depth and a strong impact on the plot line– a good screaming match or a subtle smile says so much at the table.
Since it's the season for eating way too many bread-puddinged, bread-stuffed, or cheese-baked things with large groups, here are some authors who truly know how to write about feasts, at length or very briefly.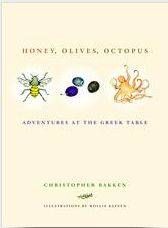 Christopher Bakken's Honey, Olives, Octopus
This one will make you want to sit on a hillside in Greece and eat olives, but really it's all about the gatherings: "When I begin swooning over the cheese, pestering the men with inquiries, they point to a scare crow sipping tsipourro in the corner. 'There's the shepherd there,' they tell me".
Clearly, feasting is a common scene in Bakkens' nonfiction book, and there are many dishes to consider, including traditionally-baked bread, sea water-drenched octopus and (obviously) the kind of olive oil you can't often find in the States. But what's awesome about the presentation of the food here is the uniqueness of these situations for the average reader to glimpse. This is travel writing at its best.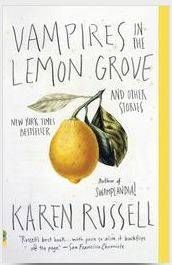 Karen Russell's Vampires in the Lemon Grove
I included this one because I was taken by the bizarre short story of girls who have been turned into creatures– "Reeling for the Empire." Eating here is unifying and degrading all at once: "When we eat the mulberry leaves, we lower our new faces to the floor".
Short stories are tricky to use in a post like this since the feast is often there, but very briefly. Note though that Russell often uses food to show group involvement (or a lack of it). Check out the consumption of lemons in "Vampires in the Lemon Grove," or check out Russell's prior collection and the way food is used to show the shifting cultures of wolfish girls in "St. Lucy's Home for Girls Raised by Wolves." There are so many little hints here about the characters simply by the food they prefer– like in St. Lucy's where there's a clear change in a girl who first dreams of chunks of raw meat, but then carries prosciutto in a basket.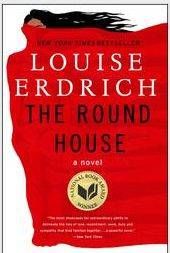 Louise Erdrich's The Round House
There were so many options here to quote, so many moments of eating while the main character tries to understand the family tragedy around him after his mother is raped: "My father let me in. The hot kitchen smelled of some violent experiment. Perfect timing he said, and put the pie on the counter. Let's keep this as a surprise. The pièce de résistance."
I can't really stop exclaiming about The Round House and other pieces of Louise Erdrich's Native American-focused work, so I'm pretty biased here. But, for me, the food in this novel is presented in such a way that we know these characters far better than we could have before we read about what they ate, how they ate it, and how they spoke while consuming. The most compelling scenes often include shared whiskey at a table.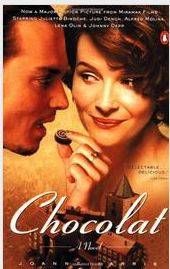 Joanne Harris's Chocolat
There is no way you can leave this off the list. Harris is a magician even when she isn't talking about chocolate: "I bring more of the Chablis; eyes brighten, faces made rosy with the effort of extracting the shellfish's elusive flesh. This is food that must be worked at, food that demands time."
The food writing here is sublime, so that sometimes the descriptions and presentations of dishes at the table are more fascinating than any other piece of the scene. Food becomes its own character. This is even more reason to read the book rather than watch the Johnny Depp version. Or, you could do both.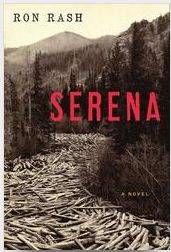 Ron Rash's Serena
Extravagance meets lumberjacks and a conniving hostess: "Serena raised her wineglass. 'To partnerships, and all that's possible,' Serena said. 'The world is ripe, and we'll pluck it like an apple from a tree.' 'Pure poetry,' Calhoun exclaimed. They ate."
Get excited about this one as its being made into a movie soon, and it's a tricky time period to put forward convincingly. The historical elements of Rash's book expertly emphasize the situation of the characters. Food, and the description of meals for people of different classes, lets us get even closer to understanding the life at this time in the Smokies.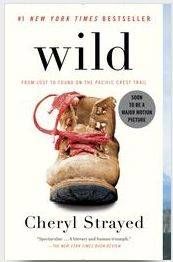 Cheryl Strayed's Wild
When hikers are truly starving on the PCT trail, food must taste that much better: " 'I have cake!' I called, and they came and stood around me and ate it with their fingers out of my hands, splitting it among themselves in the easy, unspoken way they'd honed over months of endless deprivation and unity".
I love a good tale of true hunger to wake up the reader a bit– to explain how much we really need to survive, and how much this lady was willing to risk. Wild's food presents a great shock of humanity. Yep, we gotta eat to live.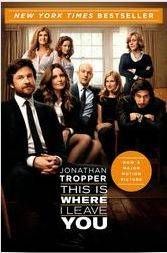 Jonathan Tropper's This is Where I Leave You
A family sits shiva to honor their father balance resentment, neighbors and food: "By now, we see them (visitors) not as individuals, but as a single coffee-swilling, bagel-chomping, tearfully smiling mass of well-wishers and rubberneckers. We can all nod and smile and carry on our end of the conversation in an endless loop while our minds float somewhere outside our bodies."
It seems only appropriate to have an example here of when gathered family and friends feels like a burden. Tropper's novel is all about heavy burdens and broken hearts. The food of grieving (in this case, traditional Jewish components like bagels and lox) draw the people together. I love a great humor novel, and the grieving here is so well balanced with that humor. I also love bagels.
Feasting has so much impact in these works, so much importance, but it's also so easy to slip past them while reading. Keep an eye out because there are many MANY more, some overt, some quick and simple, and others written oh-so-perfectly.