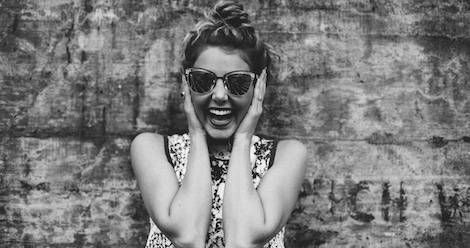 Humor
100 Must-Read Funny Novels
Confession time. I've been meaning to read Don Quixote for what feels like forever. I started Tristram Shandy and put it down almost immediately. I was exhausted only a few pages into reading The Sellout. I haven't read Bridget Jones's Diary. These are just a few of the celebrated funny novels that I haven't been able to finish.
But I've had no such problem with the following books. Some are laugh-out-loud; others are wry or even bitter. Some are realistic; others are fantastically fantastical. A few funny novels are intended for kids; several are graphic sex romps. Several are comics or graphic novels.
Just one book is listed per author, and not necessarily the most popular one. Standout books are preceded by an exclamation mark. Laughter is…well, not guaranteed, but likely with these funny novels.
Paul Beatty, in his introduction to Hokum: An Anthology of African-American Humor, writes, "A sure sign of a bad joke is one which requires permission to be granted in order for it to be told." These aren't books that ask for permission.
Satire
!What a Carve Up! by Jonathan Coe
"It is the 1980s and the Winshaw family are getting richer and crueller by the year…But once their hapless biographer Michael Owen starts investigating the family's trail of greed, corruption and immoral doings, the time growing ripe for the Winshaws to receive their comeuppance."
The Loved One by Evelyn Waugh
"Following the death of a friend, the poet and pets' mortician Dennis Barlow finds himself entering the artificial Hollywood paradise of the Whispering Glades Memorial Park. Within its golden gates, death, American-style, is wrapped up and sold like a package holiday."
The Art of Charlie Chan Hock Chye by Sonny Lieuw
"With The Art of Charlie Chan Hock Chye Sonny Liew has drawn together a myriad of genres to create a thoroughly ingenious and engaging work, where the line between truth and construct may sometimes be blurred, but where the story told is always enthralling, bringing us on a uniquely moving, funny, and thought-provoking journey through the life of an artist and the history of a nation."
!After Many a Summer Dies the Swan by Aldous Huxley
"A Hollywood millionaire with a terror of death, whose personal physician happens to be working on a theory of longevity-these are the elements of Aldous Huxley's caustic and entertaining satire on man's desire to live indefinitely. With his customary wit and intellectual sophistication, Huxley pursues his characters in their quest for the eternal, finishing on a note of horror."
Being There by Jerzy Kosinski
"It is the story of Chauncey Gardiner – Chance, an enigmatic but distinguished man who emerges from nowhere to become an heir to the throne of a Wall Street tycoon, a presidential policy adviser, and a media icon. Truly "a man without qualities," Chance's straightforward responses to popular concerns are heralded as visionary. But though everyone is quoting him, no one is sure what he's really saying. And filling in the blanks in his background proves impossible."
Animal Farm by George Orwell
"A farm is taken over by its overworked, mistreated animals. With flaming idealism and stirring slogans, they set out to create a paradise of progress, justice, and equality. Thus the stage is set for one of the most telling satiric fables ever penned—a razor-edged fairy tale for grown-ups that records the evolution from revolution against tyranny to a totalitarianism just as terrible."
Boomsday by Christopher Buckley
"Boomsday's heroine is Cassandra Devine, a charismatic 29-year-old blogger who incites massive political turmoil when, outraged over mounting Social Security debt, she politely suggests that Baby Boomers be given government incentives to kill themselves by age 75. Her modest proposal catches fire with millions of her outraged peers ("Generation Whatever") and an ambitious Senator seeking to gain the youth vote in his presidential campaign."
Thinks… by David Lodge
"Thinks . . . unfolds in the alternating voices of Ralph Messenger, director of the Centre for Cognitive Science at the University of Gloucester, and Helen Reed, a novelist and writer in residence at the university. Mutually attracted, the two end up in a moral standoff that is shattered by events that dramatically confirm the truth of Ralph's dictum: "we can never know for certain what another person is thinking.""
Excellent Women by Barbara Pym
"Mildred Lathbury is a clergyman's daughter and a mild-mannered spinster in 1950s England. She is one of those "excellent women," the smart, supportive, repressed women who men take for granted."
Birth of a Nation by Aaron McGruder, Reginald Hudlin, and Kyle Baker
"This scathingly hilarious political satire—produced from a collaboration of three of our funniest humorists—answers the burning question: Would anyone care if East St. Louis seceded from the Union?"
How to Get Filthy Rich in Rising Asia by Mohsin Hamid
"The astonishing and riveting tale of a man's journey from impoverished rural boy to corporate tycoon, it steals its shape from the business self-help books devoured by ambitious youths all over "rising Asia.""
Diary of a Provincial Lady by E.M. Delafield
"The Provincial Lady has a nice house, a nice husband (usually asleep behind The Times) and nice children. In fact, maintaining Niceness is the Provincial Lady's goal in life — her raison d'être. She never raises her voice, rarely ventures outside Devon (why would she?), only occasionally allows herself to become vexed by the ongoing servant problem, and would be truly appalled by the confessional mode that has gripped the late 20th century."
Cat Country by Lao She
"When a traveler from China crash-lands on Mars, he finds himself in a country inhabited entirely by Cat People. Befriended by a local cat-man, he becomes acquainted in all aspects of cat-life: he learns to speak Felinese, masters cat-poetry, and appreciates the narcotic effects of the reverie leaf—their food staple. But curiosity turns to despair when he ventures further into the heart of the country and the culture, and realizes that he is witnessing the bleak decline of a civilization."
Farce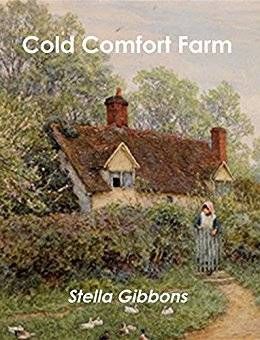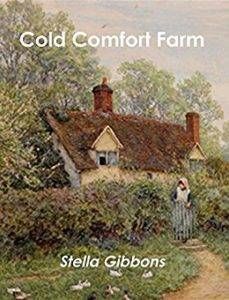 !Cold Comfort Farm by Stella Gibbons
"The deliriously entertaining Cold Comfort Farm is "very probably the funniest book ever written" (The Sunday Times, London), a hilarious parody of D. H. Lawrence's and Thomas Hardy's earthy, melodramatic novels. When the recently orphaned socialite Flora Poste descends on her relatives at the aptly named Cold Comfort Farm in deepest Sussex, she finds a singularly miserable group in dire need of her particular talent: organization."
Life at Blandings, by P.G. Wodehouse
"P.G. Wodehouse entices us into the demesne of Blandings Castle – an apparent paradise where it is eternal high summer, with jolly parties, tea on the lawn and love trysts in the rose garden. But for Clarence, ninth Earl of Emsworth, there is always something to disturb this tranquil scene."
!Three Men in a Boat (To Say Nothing of the Dog) by Jerome K. Jerome
"Three Men in a Boat (To Say Nothing of the Dog), published in 1889, is a humorous account by English writer Jerome K. Jerome of a boating holiday on the Thames between Kingston and Oxford."
The Ascent of Rum Doodle by W.E. Bowman
"Led by the reliably underinsightful Binder, a team of seven British men—including Dr. Prone (constantly ill), Jungle the route-finder (constantly lost), Constant the diplomat (constantly arguing), and 3,000 Yogistani porters—set out to conquer the highest peak in the Himalayas. Though a parody, it has become one of the most famous and celebrated books of mountaineering literature."
Lucky Jim by Kingsley Amis
"Regarded by many as the finest, and funniest, comic novel of the twentieth century, Lucky Jim remains as trenchant, withering, and eloquently misanthropic as when it first scandalized readers in 1954. This is the story of Jim Dixon, a hapless lecturer in medieval history at a provincial university who knows better than most that "there was no end to the ways in which nice things are nicer than nasty ones.""
Wake Up, Sir! By Jonathan Ames
"Alan Blair, the hero of Wake Up, Sir!, is a young, loony writer with numerous problems of the mental, emotional, sexual, spiritual, and physical variety. He's very good at problems. But luckily for Alan, he has a personal valet named Jeeves, who does his best to sort things out for his troubled master. And Alan does find trouble wherever he goes."
The Unbeatable Squirrel Girl Vol. 1: Squirrel Power by Ryan North and Erica Henderson
"Wolverine, Deadpool, Doctor Doom, Thanos: There's one hero that's beaten them all-and now she's got her own ongoing series! (Not that she's bragging.) That's right, you asked for it, you got it, it's SQUIRREL GIRL! (She's also starting college this semester.)"
The Adventures of Tom Sawyer by Mark Twain
"Whether he's sneaking doughnuts, mooning over a pretty girl, or snookering the local boys to do his work for him, Tom Sawyer is the consummate schemer—but his charm and easygoing nature keep him from being in anyone's bad graces for long."
The Poisoned Chocolates Case by Anthony Berkeley
"Scotland Yard is baffled. Enter the Crime Circle, a group of society intellectuals with a shared conviction in their ability to succeed where the police have failed. Eventually, each member will produce a tightly reasoned solution to the Case of the Poisoned Chocolates, but each of those solutions will identify a different murderer."
!The Road to Wellville by T.C. Boyle
"Will Lightbody is a man with a stomach ailment whose only sin is loving his wife, Eleanor, too much. Eleanor is a health nut of the first stripe, and when in 1907 she journeys to Dr. John Harvey Kellogg's infamous Battle Creek Spa to live out the vegetarian ethos, poor Will goes too. So begins T. Coraghessan Boyle's wickedly comic look at turn-of-the-century fanatics in search of the magic pill to prolong their lives–or the profit to be had from manufacturing it."
!The Wind in the Willows by Kenneth Grahame
"When Mole goes boating with Ratty instead of doing his spring-cleaning, he discovers a whole new world. As well as adventures on the river and in the Wild Wood, there are high jinks on the open road with that reckless ruffian, Mr Toad of Toad Hall."
Wordplay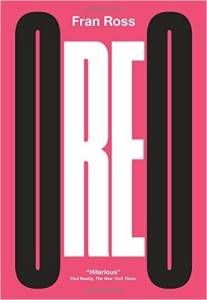 !Oreo by Fran Ross
"Oreo is raised by her maternal grandparents in Philadelphia. Her black mother tours with a theatrical troupe, and her Jewish deadbeat dad disappeared when she was an infant, leaving behind a mysterious note that triggers her quest to find him. What ensues is a playful, modernized parody of the classical odyssey of Theseus with a feminist twist, immersed in seventies pop culture, and mixing standard English, black vernacular, and Yiddish with wisecracking aplomb."
Ella Minnow Pea: A Novel in Letters by Mark Dunn
"Ella Minnow Pea is a girl living happily on the fictional island of Nollop off the coast of South Carolina. Nollop was named after Nevin Nollop, author of the immortal phrase containing all the letters of the alphabet, "The quick brown fox jumps over the lazy dog." Now Ella finds herself acting to save her friends, family, and fellow citizens from the encroaching totalitarianism of the island's Council, which has banned the use of certain letters of the alphabet as they fall from a memorial statue of Nevin Nollop. As the letters progressively drop from the statue they also disappear from the novel."
Everything Is Illuminated by Jonathan Safran Foer
"A young man arrives in the Ukraine, clutching in his hand a tattered photograph. He is searching for the woman who fifty years ago saved his grandfather from the Nazis. Unfortunately, he is aided in his quest by Alex, a translator with an uncanny ability to mangle English into bizarre new forms; a "blind" old man haunted by memories of the war; and an undersexed guide dog named Sammy Davis Jr, Jr."
Riddley Walker by Russell Hoban
"Set in a remote future in a post-nuclear holocaust England (Inland), Hoban has imagined a humanity regressed to an iron-age, semi-literate state―and invented a language to represent it. Riddley is at once the Huck Finn and the Stephen Dedalus of his culture―rebel, change agent, and artist."
The Satanic Verses by Salman Rushdie
"Set in a modern world filled with both mayhem and miracles, the story begins with a bang: the terrorist bombing of a London-bound jet in midflight. Two Indian actors of opposing sensibilities fall to earth, transformed into living symbols of what is angelic and evil. This is just the initial act in a magnificent odyssey that seamlessly merges the actual with the imagined."
!A Clockwork Orange by Anthony Burgess
"A vicious fifteen-year-old droog is the central character of this 1963 classic. In Anthony Burgess's nightmare vision of the future, where the criminals take over after dark, the story is told by the central character, Alex, who talks in a brutal invented slang that brilliantly renders his and his friends' social pathology."
Pigeon English by Stephen Kelman
"Advise yourself! Jump into Pigeon English and experience the jubilant, infectious voice of Harrison Opoku—a boy awed by the city, obsessed with gummy candy, a friend to everyone he meets. See why he is bo-styles. How being the fastest runner in Year 7 makes him dope-fine. And how crazy things get when Harri and his best friend launch their own investigation into the murder of a classmate and one of the Dell Farm Crew's hutious criminals feels them closing in on him."
Black comedy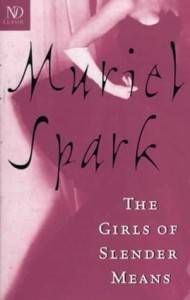 !The Girls of Slender Means by Muriel Spark
"Like the May of Teck Club itself―"three times window shattered since 1940 but never directly hit"―its lady inhabitants do their best to act as if the world were back to normal: practicing elocution, and jostling over suitors and a single Schiaparelli gown. The novel's harrowing ending reveals that the girls' giddy literary and amorous peregrinations are hiding some tragically painful war wounds."
Clown Girl by Monica Drake
"Clown Girl lives in Baloneytown, a seedy neighborhood where drugs, balloon animals, and even rubber chickens contribute to the local currency. Against a backdrop of petty crime, she struggles to live her dreams, calling on cultural masters Charlie Chaplin, Kafka, and da Vinci for inspiration."
Wetlands by Charlotte Roche
"Charlotte Roche's controversial debut novel is the story of Helen Memel, an outspoken, sexually precocious eighteen-year-old lying in a hospital bed as she recovers from an operation. To distract herself, she ruminates on her past sexual and physical adventures in increasingly uncomfortable detail. The result is a funny, shocking, and fearlessly intimate manifesto on sex, hygiene, and the compulsion to obliterate the covenant that keeps girls clean, quiet, and nice."
Kill Your Friends by John Niven
"As the twentieth century breathes its very last, with Britpop at its zenith, twenty-seven-year-old A&R man Steven Stelfox is slashing and burning his way through London's music industry."
One Flew Over the Cuckoo's Nest by Ken Kesey
"Set in an Oregon psychiatric hospital, the narrative serves as a study of the institutional processes and the human mind as well as a critique of behaviorism and a celebration of humanistic principles."
Dirty Havana Trilogy by Pedro Juan Gutiérrez
"Banned in Cuba but celebrated throughout the Spanish-speaking world, this picaresque novel in stories chronicles the misadventures of Pedro Juan, a former Cuban journalist living from hand to mouth in the squalor of contemporary Havana, half disgusted and half fascinated by the depths to which he has sunk."
The Bad Beginning: Or, Orphans! by Lemony Snicket
"Are you made fainthearted by death? Does fire unnerve you?…It is likely that your answers will reveal A Series of Unfortunate Events to be ill-suited for your personal use. A librarian, bookseller, or acquaintance should be able to suggest books more appropriate for your fragile temperament. But to the rarest of readers we say, "Proceed, but cautiously.""
*Serious Men by Manu Joseph
"A poignant, bitingly funny Indian satire and love story set in a scientific institute and in Mumbai's humid tenements."
Hello Kitty Must Die by Angela S. Choi
"Determined to thwart her parents' plans to marry her off into Asian suburbia, Fiona seeks her freedom at any price. How far will she go to bury the Hello Kitty stereotype forever? Fiona's journey of self-discovery is biting and clever as she embraces her true nature and creates her own version of the American Dream, eliminating–without fear or remorse–anyone who stands in her way."
!Ghost World by Daniel Clowes
"Originally serialized in the pages of the seminal comic book Eightball throughout the mid-1990s, this quasi-autobiographical story (the name of one of the protagonists is famously an anagram of the author's name) follows the adventures of two teenage girls, Enid and Becky, two best friends facing the prospect of growing up, and more importantly, apart."
Pygmy by Chuck Palahniuk
"Pygmy is one of a handful of young adults from a totalitarian state sent to the US disguised as exchange students. Living with American families to blend in, they are planning an unspecified act of massive terrorism that will bring this big dumb country and its fat dumb inhabitants to their knees. Palahniuk depicts Midwestern life through the eyes of this indoctrinated little killer in a cunning double-edged satire of American xenophobia."
The Information by Martin Amis
"Fame, envy, lust, violence, intrigues literary and criminal—they're all here in The Information. How does one writer hurt another writer? This is the question novelist Richard Tull mills over."
The Mandibles: A Family, 2029-2047 by Lionel Shriver
"With dry wit and psychological acuity, this near-future novel explores the aftershocks of an economically devastating U.S. sovereign debt default on four generations of a once-prosperous American family. Down-to-earth and perfectly realistic in scale, this is not an over-the-top Blade Runner tale. It is not science fiction."
Surrealism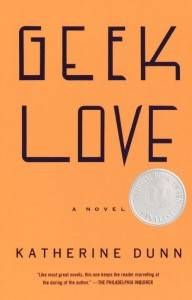 !Geek Love by Katherine Dunn
"Here is the unforgettable story of the Binewskis, a circus-geek family whose matriarch and patriarch have bred their own exhibit of human oddities (with the help of amphetamine, arsenic, and radioisotopes)."
!House of Holes by Nicholson Baker
"Shandee finds a friendly arm at a granite quarry. Ned drops down a hole in a golf course. Luna meets a man made of light bulbs at a tanning parlor. So begins Nicholson Baker's fuse-blowing, sex-positive escapade, House of Holes."
!The Floating Opera by John Barth
"It is a first-person reminiscence of the day Todd Andrews decided to commit suicide. Having picked up some sense of the French Existentialist writers from the postwar Zeitgeist, this novel questions life's value through the eyes of a 37-year-old man."
Rumo: And His Miraculous Adventures by Walter Moers
"Rumo is a little Wolperting who will one day become the greatest hero in the history of Zamonia. Armed with Dandelion, his talking sword, he fights his way across Overworld and Netherworld, two very different realms chock-full of adventures, dangers, and unforgettable characters."
!The Phantom Tollbooth by Norton Juster
"For Milo, everything's a bore. When a tollbooth mysteriously appears in his room, he drives through only because he's got nothing better to do. But on the other side, things seem different. Milo visits the Island of Conclusions (you get there by jumping), learns about time from a ticking watchdog named Tock, and even embarks on a quest to rescue Rhyme and Reason!"
Jitterbug Perfume by Tom Robbins
"Jitterbug Perfume is an epic. Which is to say, it begins in the forests of ancient Bohemia and doesn't conclude until nine o'clock tonight (Paris time)."
Wayside School Is Falling Down by Louis Sachar
"Yum! Miss Mush is dishing out her famous Mushroom Surprise in the Wayside School cafeteria. Ron says it tastes like hot dogs and grape jelly. Clean your plate and you'll turn green in time for class picture day. Wear your craziest outfit and you'll fit right in between Maurecia in her striped bikini and Clavin, who's wearing his birthday tattoo. Say cheese!"
The Witches by Roald Dahl
"This is not a fairy tale. This is about real witches. Grandmamma loves to tell about witches. Real witches are the most dangerous of all living creatures on earth. There's nothing they hate so much as children, and they work all kinds of terrifying spells to get rid of them. Her grandson listens closely to Grandmamma's stories—but nothing can prepare him for the day he comes face-to-face with The Grand High Witch herself!"
The Hitchhiker's Guide to the Galaxy by Douglas Adams
"Seconds before the Earth is demolished to make way for a galactic freeway, Arthur Dent is plucked off the planet by his friend Ford Prefect, a researcher for the revised edition of The Hitchhiker's Guide to the Galaxy who, for the last fifteen years, has been posing as an out-of-work actor."
!Texaco by Patrick Chamoiseau
"Marie-Sophie Laborieux, the saucy, aging daughter of a slave affranchised by his master, tells the story of the tormented foundation of her people's identity. The shantytown established by Marie-Sophie is menaced from without by hostile landowners and from within by the volatility of its own provisional state."
The Third Policeman by Flann O'Brien
"Told by a narrator who has committed a botched robbery and brutal murder, the novel follows him and his adventures in a two-dimensional police station where, through the theories of the scientist/philosopher de Selby, he is introduced to "Atomic Theory" and its relation to bicycles, the existence of eternity (which turns out to be just down the road), and de Selby's view that the earth is not round but "sausage-shaped.""
The Intuitionist by Colson Whitehead
"It is a time of calamity in a major metropolitan city's Department of Elevator Inspectors, and Lila Mae Watson, the first black female elevator inspector in the history of the department, is at the center of it. There are two warring factions within the department: the Empiricists, who work by the book and dutifully check for striations on the winch cable and such; and the Intuitionists, who are simply able to enter the elevator cab in question, meditate, and intuit any defects."
Great Apes by Will Self
"After a long night of partying, Simon Dykes, a successful British painter, wakes up to find that his girlfriend has turned into a chimpanzee. In fact, the world Simon once knew has become a planet of apes. Convinced he is still human, Simon is confined to the emergency ward of a hospital and put under the care of Dr. Zack Busner, clinical psychologist, radical psychoanalyst, maverick drug researcher, and media personality."
Absurdity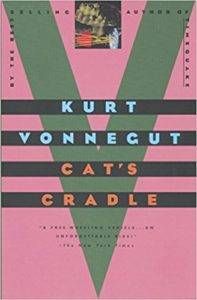 !Cat's Cradle by Kurt Vonnegut
"Cat's Cradle is Kurt Vonnegut's satirical commentary on modern man and his madness. An apocalyptic tale of this planet's ultimate fate, it features a midget as the protagonist, a complete, original theology created by a calypso singer, and a vision of the future that is at once blackly fatalistic and hilariously funny."
!A Confederacy of Dunces by John Kennedy O'Toole
"John Kennedy Toole's hero, one Ignatius J. Reilly, is "huge, obese, fractious, fastidious, a latter-day Gargantua, a Don Quixote of the French Quarter. His story bursts with wholly original characters, denizens of New Orleans' lower depths, incredibly true-to-life dialogue, and the zaniest series of high and low comic adventures" (Henry Kisor, Chicago Sun-Times)."
!Infinite Jest by David Foster Wallce
"A gargantuan, mind-altering comedy about the Pursuit of Happiness in America set in an addicts' halfway house and a tennis academy, and featuring the most endearingly screwed-up family to come along in recent fiction, Infinite Jest explores essential questions."
!Catch-22 by Joseph Heller
"Set in Italy during World War II, this is the story of the incomparable, malingering bombardier, Yossarian, a hero who is furious because thousands of people he has never met are trying to kill him."
Skippy Dies by Paul Murray
"Why does Skippy, a fourteen-year-old boy at Dublin's venerable Seabrook College, end up dead on the floor of the local doughnut shop?"
Indecision by Benjamin Kunkel
"Dwight B. Wilmerding is only twenty-eight, but he's having a midlife crisis. He lives a dissolute existence in a tiny apartment with three (sometimes four) slacker roommates, holds a mind-numbing job at the pharmaceutical giant Pfizer, and has a chronic inability to make up his mind."
The Instructions by Adam Levin
"Beginning with a chance encounter with the beautiful Eliza June Watermark and ending, four days and 900 pages later, with the Events of November 17, this is the story of Gurion Maccabee, age ten: a lover, a fighter, a scholar, and a truly spectacular talker."
Glyph by Percival Everett
"Baby Ralph has ways to pass the time in his crib―but they don't include staring at a mobile. Aided by his mother, he reads voraciously: "All of Swift, all of Sterne, Invisible Man, Baldwin, Joyce, Balzac, Auden, Roethke," along with a generous helping of philosophy, semiotics, and trashy thrillers. He's also fond of writing poems and stories (in crayon). But Ralph has limits. He's mute by choice and can't drive, so in his own estimation he's not a genius. Unfortunately for him, everyone else disagrees. His psychiatrist kidnaps him for testing, and once his brilliance is quantified (IQ: 475), a Pentagon officer also abducts him."
Amerika by Franz Kafka
"Kafka's first and funniest novel, Amerika tells the story of the young immigrant Karl Rossmann who, after an embarrassing sexual misadventure, finds himself "packed off to America" by his parents. Expected to redeem himself in this magical land of opportunity, young Karl is swept up instead in a whirlwind of dizzying reversals, strange escapades, and picaresque adventures."
Invitation to a Beheading by Vladimir Nabokov
"Invitation to a Beheading embodies a vision of a bizarre and irrational world. In an unnamed dream country, the young man Cincinnatus C. is condemned to death by beheading for "gnostical turpitude," an imaginary crime that defies definition. Cincinnatus spends his last days in an absurd jail, where he is visited by chimerical jailers, an executioner who masquerades as a fellow prisoner, and by his in-laws, who lug their furniture with them into his cell."
Culture clash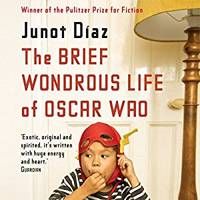 !*The Brief Wondrous Life of Oscar Wao by Junot Diaz
"Oscar is a sweet but disastrously overweight ghetto nerd who—from the New Jersey home he shares with his old world mother and rebellious sister—dreams of becoming the Dominican J.R.R. Tolkien and, most of all, finding love. But Oscar may never get what he wants. Blame the fukú—a curse that has haunted Oscar's family for generations, following them on their epic journey from Santo Domingo to the USA."
The Case of the Missing Books: A Mobile Library by Ian Sansom
"Israel Armstrong is a passionate soul, lured to Ireland by the promise of an exciting new career. Alas, the job that awaits him is not quite what he had in mind. Still, Israel is not one to dwell on disappointment, as he prepares to drive a mobile library around a small, damp Irish town. After all, the scenery is lovely, the people are charming—but where are the books?"
The Life of a Banana by P.P. Wong
"A unique, powerful novel about the life of a British-born Chinese girl growing up in London, and the prejudice she faces—inspired by the author's own experiences."
Speak for England by James M. Hawes
"Brian Marley, winner of Britain's ultimate reality TV show, survives a helicopter crash only to find himself in the midst of a jungle-island village founded by survivors of another plane crash—one that took place in 1958. With rescue imminent, Brian discovers that the seemingly idyllic community—modeled after pre-Sixties England and overseen by a stern Headmaster—is founded on a far more sinister premise."
England, England by Julian Barnes
"Imagine an England where all the pubs are quaint, where the Windsors behave themselves (mostly), where the cliffs of Dover are actually white, and where Robin Hood and his merry men really are merry. This is precisely what visionary tycoon, Sir Jack Pitman, seeks to accomplish on the Isle of Wight."
!Americanah by Chimamanda Ngozi Adichie
"Ifemelu and Obinze are young and in love when they depart military-ruled Nigeria for the West. Beautiful, self-assured Ifemelu heads for America, where despite her academic success, she is forced to grapple with what it means to be black for the first time. Quiet, thoughtful Obinze had hoped to join her, but with post-9/11 America closed to him, he instead plunges into a dangerous, undocumented life in London. Fifteen years later, they reunite in a newly democratic Nigeria, and reignite their passion—for each other and for their homeland."
White Man's Grave by Richard Dooling
"When Peace Corps volunteer Michael Killigan goes missing in West Africa, his father Randall and his best friend Boone Westfall begin separate quests to find him."
Rates of Exchange by Malcolm Bradbury
"An English professor collides with disaster at the peak of the Cold War Shortly after his plane first grazes the tarmac in the eastern European nation of Slaka, Dr. Angus Petworth is beset by a cavalcade of misadventures."
!White Teeth by Zadie Smith
"Hapless veterans of World War II, Archie and Samad and their families become agents of England's irrevocable transformation."
The Sleepwalker's Guide to Dancing by Mira Jacob
"With depth, heart, and agility, debut novelist Mira Jacob takes us on a deftly plotted journey that ranges from 1970s India to suburban 1980s New Mexico to Seattle during the dot.com boom."
Are You There God? It's Me, Margaret by Judy Blume
"Margaret Simon, almost twelve, likes long hair, tuna fish, the smell of rain, and things that are pink. She's just moved from New York City to Farbook, New Jersey, and is anxious to fit in with her new friends—Nancy, Gretchen, and Janie. When they form a secret club to talk about private subjects like boys, bras, and getting their first periods, Margaret is happy to belong. But none of them can believe Margaret doesn't have religion, and that she isn't going to the Y or the Jewish Community Center."
The Lonely Londoners by Sam Selvon
"From the brilliant, sharp, witty pen of Sam Selvon, this is a classic award-winning novel of immigrant life in London in the 1950s."
Romantic comedy
!The G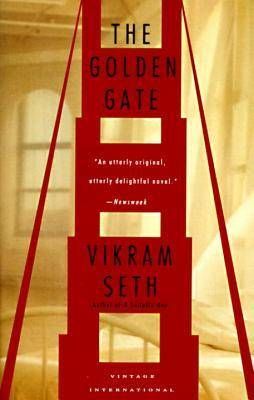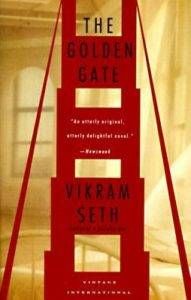 olden Gate by Vikram Seth
"John Brown, a successful yuppie living in 1980s San Francisco meets a romantic interest in Liz, after placing a personal ad in the newspaper. From this interaction, John meets a variety of characters, each with their own values and ideas of "self-actualization." However, Liz begins to fall in love with John's best friend, and John realizes his journey of self-discovery has only just begun."
Fried Green Tomatoes at the Whistle Stop Cafe by Fannie Flagg
"Folksy and fresh, endearing and affecting, Fried Green Tomatoes at the Whistle Stop Cafe is a now-classic novel about two women: Evelyn, who's in the sad slump of middle age, and gray-headed Mrs. Threadgoode, who's telling her life story."
Emma by Jane Austen
"Beautiful, clever, rich—and single—Emma Woodhouse is perfectly content with her life and sees no need for either love or marriage. Nothing, however, delights her more than interfering in the romantic lives of others. But when she ignores the warnings of her good friend Mr. Knightley and attempts to arrange a suitable match for her protegee Harriet Smith, her carefully laid plans soon unravel and have consequences that she never expected."
!High Fidelity by Nick Hornby
"Rob is a pop music junkie who runs his own semi-failing record store. His girlfriend, Laura, has just left him for the guy upstairs, and Rob is both miserable and relieved. After all, could he have spent his life with someone who has a bad record collection?"
Heroine Complex by Sarah Kuhn
"Being a superheroine is hard. Working for one is even harder. Evie Tanaka is the put-upon personal assistant to Aveda Jupiter, her childhood best friend and San Francisco's most beloved superheroine. She's great at her job—blending into the background, handling her boss's epic diva tantrums, and getting demon blood out of leather pants."
32 Candles by Ernessa T. Carter
"32 Candles by exciting newcomer Ernessa T. Carter is the slightly twisted, utterly romantic, and deftly wry story of Davie Jones, who, if she doesn't stand in her own way, just might get the man of her dreams."
*Paris Dreaming by Anita Heiss
Libby is on a man-fast: no more romance, no more cheating men, no more heartbreak. After all, she has her three best girlfriends and two cats to keep her company at night and her high-powered job at the National Aboriginal Gallery in Canberra to occupy her day – isn't that enough? But when fate takes Libby to work in Paris at the Musée du Quai Branly, she's suddenly thrown out of her comfort zone and into a city full of culture, fashion and love."
Sofia Khan Is Not Obliged by Ayisha Malik
"Sofia Khan is single once more, after her sort-of-boyfriend proves just a little too close to his parents. And she'd be happy that way too, if her boss hadn't asked her to write a book about the weird and wonderful world of Muslim dating. Of course, even though she definitely isn't looking for love, to write the book she does need to do a little research . . ."
Social relations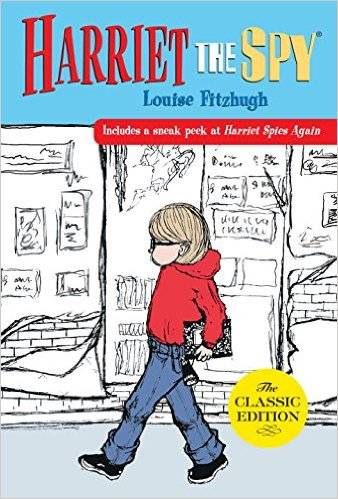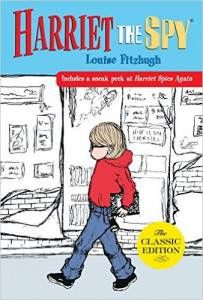 !Harriet the Spy by Louise Fitzhugh
"Harriet M. Welsch is a spy. In her notebook, she writes down everything she knows about everyone, even her classmates and her best friends. Then Harriet loses track of her notebook, and it ends up in the wrong hands. Before she can stop them, her friends have read the always truthful, sometimes awful things she's written about each of them. Will Harriet find a way to put her life and her friendships back together?"
Cannery Row by John Steinbeck
"Steinbeck's tough yet charming portrait of people on the margins of society, dependant on one another for both physical and emotional survival."
Tales of the City by Armistead Maupin
"The first of nine novels about the denizens of the mythic apartment house at 28 Barbary Lane, Tales is both a sparkling comedy of manners and an indelible portrait of an era that changed forever the way we live."
The Way We Live Now by Anthony Trollope
"Augustus Melmotte is a foreign-born financier with a mysterious past. When he moves his business and his family to London, the city's upper crust begins buzzing with rumors about him, and a host of characters ultimately find their lives changed because of him. He sets out to woo rich and powerful investors by hosting a lavish party. Whilst Melmotte is carrying out his financial shenanigans, Paul Montague is the one person who is a thorn in his side."
Portnoy's Complaint by Philip Roth
"Portnoy's Complaint n. [after Alexander Portnoy (1933- )] A disorder in which strongly-felt ethical and altruistic impulses are perpetually warring with extreme sexual longings, often of a perverse nature."
!A Heartbreaking Work of Staggering Genius by Dave Eggers
"The moving memoir of a college senior who, in the space of five weeks, loses both of his parents to cancer and inherits his eight-year-old brother. Here is an exhilarating debut that manages to be simultaneously hilarious and wildly inventive as well as a deeply heartfelt story of the love that holds a family together."
Couples by John Updike
"It chronicles the interactions of ten young married couples in a seaside New England community who make a cult of sex and of themselves. The group of acquaintances form a magical circle, complete with ritualistic games, religious substitutions, a priest (Freddy Thorne), and a scapegoat (Piet Hanema). As with most American utopias, this one's existence is brief and unsustainable, but the "imaginative quest" that inspires its creation is eternal."
Their Eyes Were Watching God by Zora Neale Hurston
"One of the most important and enduring books of the twentieth century, Their Eyes Were Watching God brings to life a Southern love story with the wit and pathos found only in the writing of Zora Neale Hurston."
Aya of Yop City by Marguerite Abouet and Clément Oubrerie
"This continuation of the dynamic story by Marguerite Abouet and Clément Oubrerie returns to Africa's Ivory Coast in the late 1970s, where life in Yop City is as dramatic as ever. Oubrerie's artwork synchronizes perfectly with Abouet's funny and lighthearted writing, which together create a spirited atmosphere and scenarios that, however unique to the bygone setting, remain entirely contemporary in their effect."
Herzog by Saul Bellow
"This is the story of Moses Herzog, a great sufferer, joker, mourner, and charmer."
The Curious Incident of the Dog in the Night-Time by Mark Haddon
"Christopher John Francis Boone knows all the countries of the world and their capitals and every prime number up to 7,057. He relates well to animals but has no understanding of human emotions. He cannot stand to be touched. And he detests the color yellow."
The Buddha of Suburbia by Hanif Kureishi
"Karim Amir lives with his English mother and Indian father in the routine comfort of suburban London, enduring his teenage years with good humor, always on the lookout for adventure—and sexual possibilities."
!Box Office Poison by Alex Robinson
"Alex Robinson's completely natural and inspiring knack for dialogue has made his story of dreary jobs, comic books, love, sex, messy apartments, girlfriends (and the lack thereof), undisclosed pasts, and crusty old professionals one of the most delightful and whimsical graphic novels to hit the stands in years."
Find even more funny novels on audio here! And share your favorite funny novels in the comments.