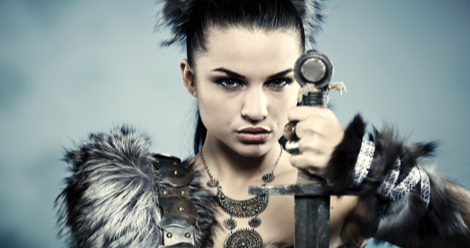 YA Fantasy Week and this list of feminist YA fantasy books is sponsored by Flatiron Books.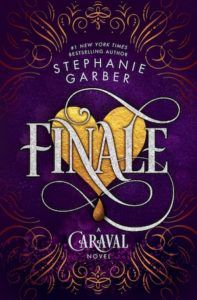 Welcome to Finale, the final book in Stephanie Garber's #1 New York Times bestselling Caraval series! It's been two months since the Fates were freed from a deck of cards, two months since Legend claimed the throne for his own, and two months since Tella discovered the boy she fell in love with doesn't really exist. Tella must decide if she's going to trust Legend. After uncovering a secret, Scarlett will need to do the impossible. And Legend has a choice to make that will forever change him. Caraval is over, but perhaps the greatest game of all has begun.
---
This year is an excellent year for feminist YA fantasy. Whether it's a response to the trash fire of government misogyny we've been living with for the past couple years, or if publishers realize the need and desire for more feminist fantasy, or some other reason, I couldn't say. But regardless, while last year had many wonderful YA feminist fantasies, this year is even better.
We Set The Dark On Fire By Tehlor Kay Mejia
In this #ownvoices LGBTQ+ and Latinx inspired fantasy, Daniela's parents have schemed to get her in the most prestigious school for girls, but she may lose it all in the name of social justice. Because at Medio School for Girls, women can choose one of two paths: Primera, the wife who handles household business for her family, and Segunda, the wife who provides emotional support for her family. If it's not clear by now, the dark being set on fire is patriarchy. Mejia writes complex female characters in a world that tries to set women as enemies. It's the first in a duology.
Descendent Of The Crane By Joan He
Hesina has always known she would be queen, but she didn't expect it to happen so soon. At 17, her father the king is murdered, leaving Hesina in charge of a kingdom on the brink of both war and committing genocide. Not to mention trying to discover her father's murderer with backstabbing politicians in charge of the trials. What makes this feminist is that Hesina is queen despite having brothers, and also her rich and complex relationship with not only the men in her life, but also the women. And her fight behind the scenes to save a group of her people being persecuted. She's a complicated, strong, and thoughtful queen. But will she be enough to save her people from self-annihilation?
The Candle And The Flame By Nafiza Azad
In author Nafiza Azad's review of the book on Goodreads, she says "This book is about many things but it is mostly about women being women in the most fantastic ways possible." Which is exactly the kind of book I crave right now. And people, there are so many wonderfully characterized women in this book, with rich, nuanced relationships with one another. The book takes place in the multicultural city of Noor, where not only different cultures, languages, and religions coexist, but also the djinn. The main character, Fatima, is one of the few survivors of the djinn slaughter of her city years before, and now the city exists seemingly peacefully under the protection of another djinn order. That is, until a leading Ifrit dies, and Fatima is changed forever. In addition to being feminist, the book is an #ownvoices Muslim fantasy.
Stepsister By Jennifer Donnelly
Recently, a friend argued that "Cinderella" is the most sexist fairytale. While I disagree and think "Sleeping Beauty" is the most sexist, I will say that "Cinderella" could always use a feminist retelling, which is exactly what Jennifer Donnelly does in Stepsister. "Don't just fracture the fairy tale," the blurb says. "Shatter it." Which is exactly what both the book and the cover does (and what a fantastic cover!). This is a story about redemption, about finding a destiny that doesn't require you to cut pieces of yourself off. I've always considered the stepsisters to be as maligned as Cinderella (at least in the Grimms' version), and here Donnelly humanizes and gives depth to the youngest stepsister, and the whole family.
The Wise And The Wicked By Rebecca Podos (May 28)
Seeped in Russian folklore, The Wise and the Wicked asks "what does is take to change a woman's destiny?" This question is especially tricky for the Chernyavsky women, who fled Russia long ago when those afraid of their powers sought to destroy them. And now all that remains of their magic is a single vision of the women they are when they die. This vision is inescapable…or is it? With queer romance and magical women at its center, this feminist fantasy will sweep you off your feet.
These Witches Don't Burn By Isabel Sterling (May 28)
If the title alone doesn't make you want to read this book, I don't know what to say. It's the kind of title I want on my protest sign for the next Women's March. I'm sad to say I was unable to nab a review copy of this book. Nonetheless, I feel confident in saying this YA feminist fantasy is going to be amazing. The synopsis reads like a lesbian version of The Craft, just with friendlier witches that I could actually befriend. It takes place in Salem, Massachusetts, of course, and the early reviews all rave about it. Can't wait!
Wicked Fox By Kate Cho (June 25)
Confession: I haven't read this book yet either. But I'm assured by a fellow Rioter that it's an amazing feminist fantasy. And it features animal transformation folklore which I've always loved. Gu Miyoung is a gumiho, a nine-tailed fox who must devour the energy of men in order to survive. Yum yum. She lurks in modern day Seoul, feasting as she likes. Until she loses her gumiho soul to rescue a boy, and now she must face the consequences of a mortal soul. I can't wait to read this!
Spin The Dawn By Elizabeth Lim (July 9)
Project Runway meets Mulan? Hmmm, let me think about it, oh never mind, I don't need to think about it at all because YES PLEASE. NOW. It also incorporates the fairytale "Donkeyskin" which, speaking of disturbingly sexist fairytales, this one takes high marks. A fantasy based on Chinese culture, when a royal messenger summons her ailing, tailor father, Maia poses as her father, and joins a group of tailors vying for the position of royal tailor. The final challenge is to make a series of dresses for the emperor's reluctant bride-to-be from the laughter of the sun, the tears of the moon, and the blood of stars. If you loved Mulan, there's another retelling coming out in September: The Magnolia Sword by Sherry Thomas. I haven't read it yet and I can't tell if it's fantasy, which is why I didn't include it on this list.
Kingdom Of Souls By Rena Barron (September 10)
Arrah wants one thing in life: to have magic as powerful as her family's. And yet, she is denied her birthright. While her family enjoy the privileges and power of being witchdoctors, she struggles under their and her own disappointment. But there is another way to acquire magic, a forbidden way. But of course it comes at a cost. When a powerful demon awakens to torment the city, Arrah knows she must pay that cost to save those she loves. The book also has an awesome, magical grandmother and I'm always here for awesome, magical grandmothers.
Children Of Virtue And Vengeance By Tomi Adeyemi (December 3)
No, I do not have an ARC of this one, so have yet to read it. I loved the complex and emotionally fraught relationship between Zélie and Amari from book one, Children of Blood and Bone. And book two promises even more relationship building between these two powerful and complex women. However, I almost didn't include this book on the list because Blood and Bone contained one of my most loathed YA Fantasy tropes: the male love interest that tries to murder the female main character. When I realized there was going to be a romance between Zélie and Prince Inan after his many attempts to murder her, I almost noped out of the book. What kept me reading is that beautiful relationship and growth between Zélie and Amari, and I'm feeling better about reading Virtue and Vengeance after reading the blurb. There's not a single mention of Prince Inan. I'm sure he'll still be there. But what I'm counting on is that women's relationships with each other and with power systems take center stage in book 2, and it looks like that will be the case.