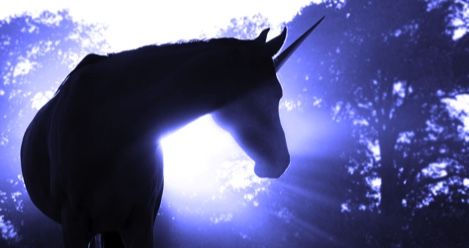 YA Fantasy Week, and this list of standalone YA fantasy books, is sponsored by Flatiron Books.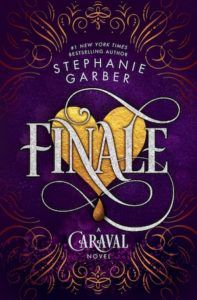 Welcome to Finale, the final book in Stephanie Garber's #1 New York Times bestselling Caraval series! It's been two months since the Fates were freed from a deck of cards, two months since Legend claimed the throne for his own, and two months since Tella discovered the boy she fell in love with doesn't really exist. Tella must decide if she's going to trust Legend. After uncovering a secret, Scarlett will need to do the impossible. And Legend has a choice to make that will forever change him. Caraval is over, but perhaps the greatest game of all has begun.
---
I'm an impatient fantasy fan. I like to read complete series or no series at all, probably because I feel burned waiting for the next installment in the A Song of Ice and Fire books to come out. That's why stand-alone YA fantasy novels are great reads if you're feeling commitmentphobic about getting involved with a new series. Stand-alones are self-contained stories that allow you to sample a writer's style, and they can be just as epic and powerful as series that stretch into eight- or nine-book installments. If you're looking for a quick hit of magic, pick up one of the 10 best standalone young adult fantasy novels on this list.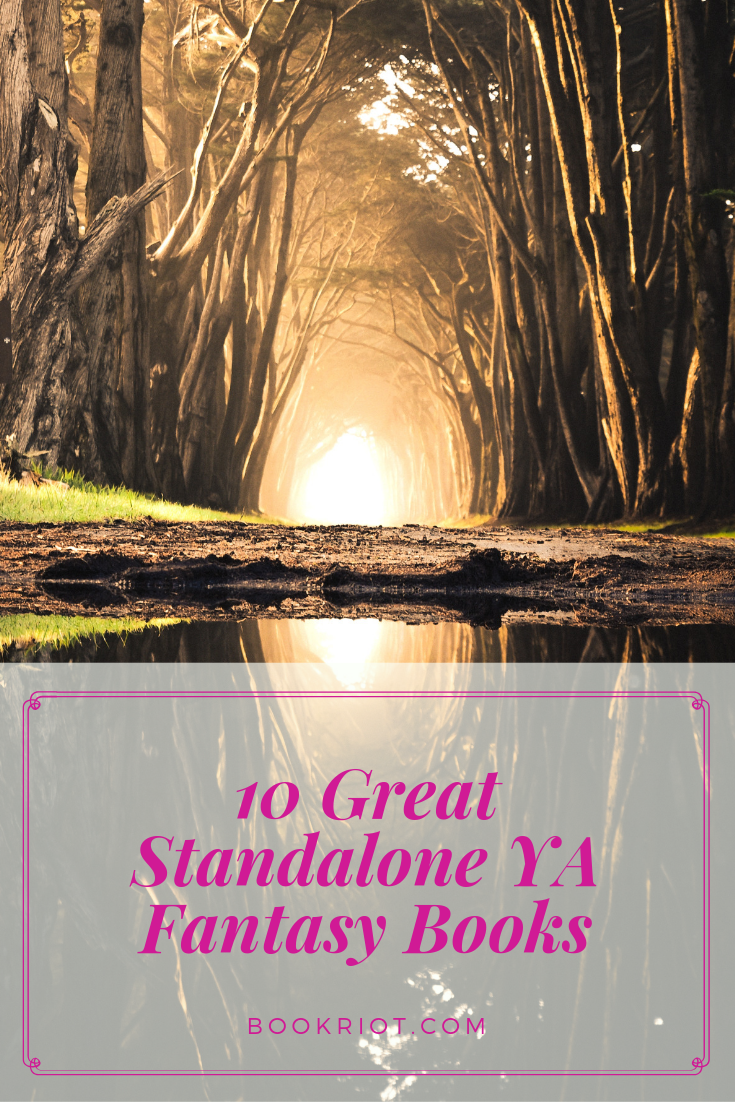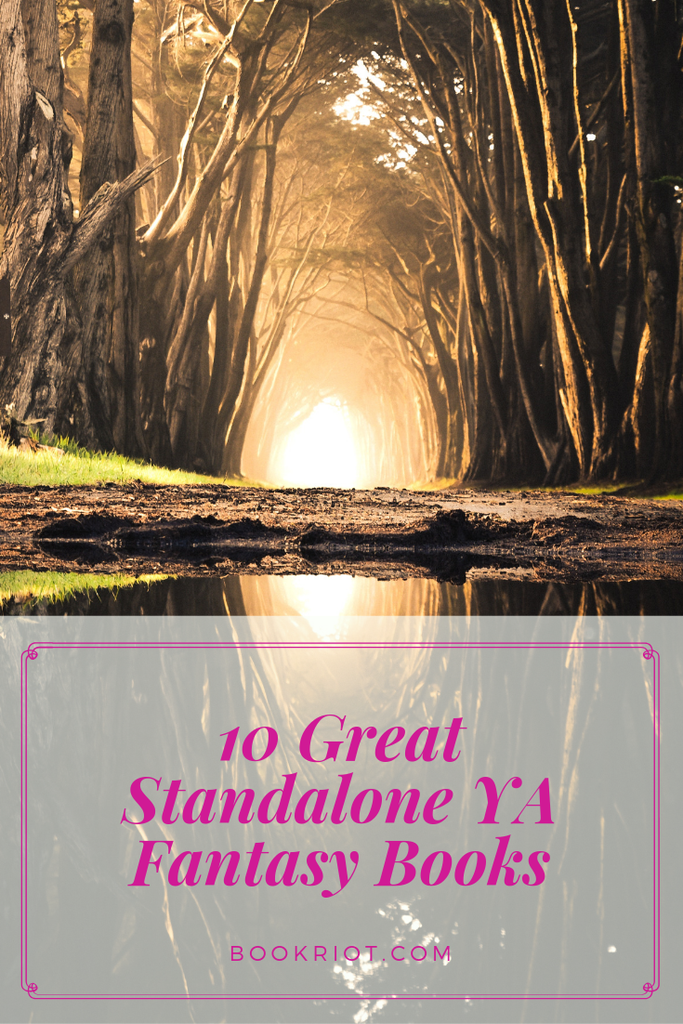 The Astonishing Color of After by Emily X.R. Pan
In this enchanting fantasy, Leigh Chen Sanders knows that her mother became a bird after dying by suicide, but why—and where did the bird go? Leigh visits her mother's parents in Taiwan, meeting them for the first time. There, Leigh's quest to understand her mother's death and her new form as a bird becomes an emotional journey through the magical and the real. Pan's debut is packed with lush writing that's almost supernatural in its beauty.
The Darkest Part of the Forest by Holly Black
Experience the prolific YA fantasy writer Holly Black in her stand-alone novel, The Darkest Part of the Forest. This novel draws on fairytale conventions while creating a new legend of its own. In the town of Fairfold, fae and humans live among each other. It's a magical place, and one that Hazel grew up in with conflicted feelings. At the center of town lies a beautiful young man who is housed in a coffin of glass, caught in enchanted slumber for years. The Darkest Part of the Forest puts you there when the enchanted sleeper wakes up.
Huntress by Malinda Lo
Though this novel is set in the same universe as Malinda Lo's Ash, a Cinderella retelling, Huntress can be read on its own. Nature is askew throughout the world, and things are getting desperate. Two girls are chosen to lead a mission to the distant Tanlili, the city where the Fairy Queen dwells, and beg assistance. Taisin and Kaede have exactly one thing in common: they are both 17. But that's where the similarities end, with Taisin gifted with magic and Kaede being firmly grounded in the earth. Their dangerous journey brings them closer together and into an unexpected attraction, but only one Huntress can save the kingdom…
Iron Cast by Destiny Sora
In 1919 Boston, hemopaths use their blood to create intricate works of art and poetry, control and change memories, and more. Ada Navarra and Corinne Wells are best friends and hemopaths who work in the Cast Iron night club, supplementing their income with con jobs that target the city's rich and powerful. But when one of their cons goes wrong, Ada is locked up in the Haversham Asylum, where Corinne will have to try to break her out. Iron Cast is a great female-driven stand-alone historical fantasy for anyone who likes a little horror with their magic.
The Lie Tree by Frances Hardinge
Frances Hardinge's The Lie Tree is set amid the 19th century tensions among Darwin's radical books and resistance to his provocative ideas. In that space we have 14-year-old Faith, a budding naturalist whose reverend father has come under some controversy for fraud. After his sudden death, Faith confronts the lie tree, which gifts fruit that will tell you the truth if you will feed it lies. Hardinge's novel is a Gothic and cerebral standalone—and stand out—young adult fantasy.
Nimona by Noelle Stevenson
In Noelle Stevenson's National Book Award–nominated graphic novel, Nimona is a talented shapeshifter whose hyperactive pixie energy belies a more rash and dangerous side. As the sidekick to the villainous Lord Ballister Blackheart, she uses her considerable powers to fight evil…well, evil in the form of the deceptively virtuous Institution of Law Enforcement and Heroics, led by Blackheart's arch-enemy, Sir Ambrosius Goldenloin. Side by side, Nimona and Blackheart vow to take on the world. But as the pressure begins to get to Nimona, her shapeshifting becomes more unpredictable. In order to work together, Nimona will need to open up about the past she conceals. Nimona is poignant and fun, with characters you'll love despite their moral ambiguity.
Promise of Shadows by Justina Ireland
When Justina Ireland's Promise of Shadows opens, our heroine, Zephyr Mourning, is resigned to being a pretty bad Harpy. She's not all that interested in strengthening her otherworldly skills, either, but after her sister is killed, Zephyr draws on an ancient and forbidden magic to save herself. That's when things get weird: Zephyr learns she might be the living embodiment of Nyx, a goddess of dark magic prophesied to change up the power dynamics in the pantheon of gods. Ireland's smart, witty standalone fantasy featuring a fierce, flawed, and vulnerable heroine.
Uprooted by Naomi Novik
Fans of fairytale fantasies will definitely want to pick up Naomi Novik's Uprooted. Drawing on that enchanted feel, Novik sets her story in a village that pays tribute to the man they call the Dragon once every ten years. With the menacing Wood on the village border, the villagers could use the Dragon's protection. When Agnieszka is chosen, she learns the truth about these so-called sacrifices and develops an unexpected, deeper bond with the Dragon. From the dense forest to the mystical magic, Uprooted transports you to a story that feels like it's happening now, not once upon a time.
SuperMutant Magic Academy by Jillian Tamaki
SuperMutant Magic Academy collects Jillian Tamaki's webcomic series of the same name. Undeniably a spoof of magic school fantasy (ahem, Harry Potter), this hilarious standalone fantasy graphic novel is a tongue-in-cheek homage to fantasy genre tropes mixed with good old-fashioned teen drama. Oh, the angst and botched romance! SuperMutant Magic Academy is a quick, laugh-out-loud must-read for any YA fantasy fan.
When the Moon Was Ours by Anna-Marie McLemore
This surrealist feat of the imagination will change the way you see the world. In When the Moon Was Ours, a dreamy standalone YA fantasy, Anna-Marie McLemore tells the epic story of two best friends, Sam and Miel. Both of these BFFs are touched with magic, but it's their soul-to-soul connection that is so strong. After Sam and Miel encounter the four Bonner sisters, rumored to be witches, these powerful young women seek to harness Miel's powers, and her relationship with Sam will be tested.