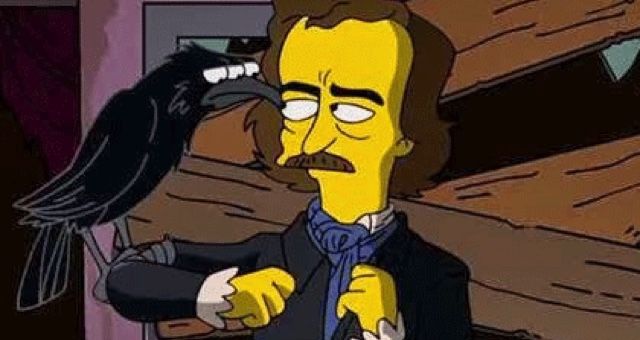 Lists
I'm Poe-pular: Edgar Allan Poe in Popular Culture
This post on Edgar Allan Poe in pop culture is sponsored by Flatiron Books, publishers of His Hideous Heart, a collection of 13 of Edgar Allan Poe's most unsettling tales reimagined.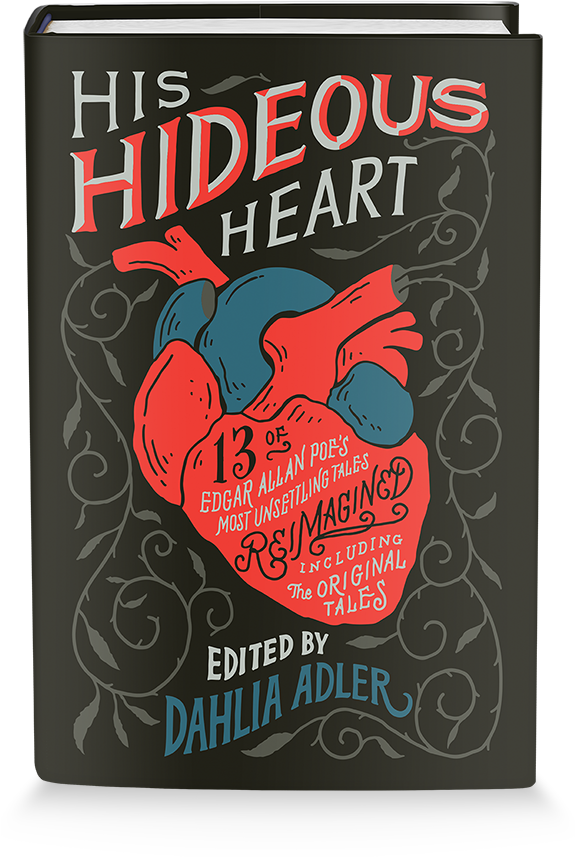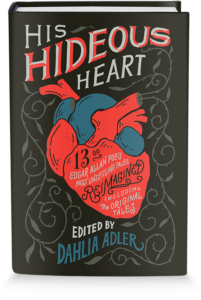 13 young adult authors… 13 heart-stopping tales… This collection will "delight longtime Poe fans just as much as readers who haven't read the classics" (Beth Revis).
---
There is no denying that Edgar Allan Poe is one of the most recognizable and widely referenced literary figures in history. Despite not having nearly the catalog of work as Shakespeare, his stories, his likeness, and his influence have been used thousands of times in popular culture. I doubt even the most serious Poe fanatic could name all the instances of Edgar Allan Poe in popular culture. There's a Wikipedia page featuring hundreds of references to The Raven alone.
What is it about him that keeps people coming back to him? The mustache? The goth attitude? The Poe Toaster? Or is it the fact that no one really knows how he died, but it has been "variously attributed to alcohol, "brain congestion," cholera, drugs, heart disease, rabies, suicide, tuberculosis, and other causes"?
Whatever it is, he has been mentioned A LOT over the last couple centuries. For those of you who love Poe, popular culture, a good literary in-joke, and/or literary trivia, here's several instances of Edgar Allan Poe in popular culture through the decades.
Note: There is a dearth of famous Poe pop culture references by creators of color. If you know of any, please shout them out to us on Twitter!
Comics
According to Wikipedia, as of 2008 Poe's stories have been adapted into comics over three hundred times. He has also made several guest appearances in comics, including:
Superboy #110 (DC Comics, January 1964) in which Poe is one of several historical figures summoned from the past.
Italian comic book Zagor, in which Poe is an agent of the American secret service called "Elsewhere," with a codename "Raven."
The First Adventure of Miss Catterina Poe centers around Poe's cat, who battles a giant predatory worm in order to save Edgar and Virginia Poe, seen in The Dreaming #56 (Vertigo/DC Comics, 2001).
Batman teams up with Poe to solve a number of murders in Batman: Nevermore (DC Comics, June–October 2003).
A Poe look-alike helps the gang solve a mystery in Scooby Doo #80 (DC Comics, March 2004).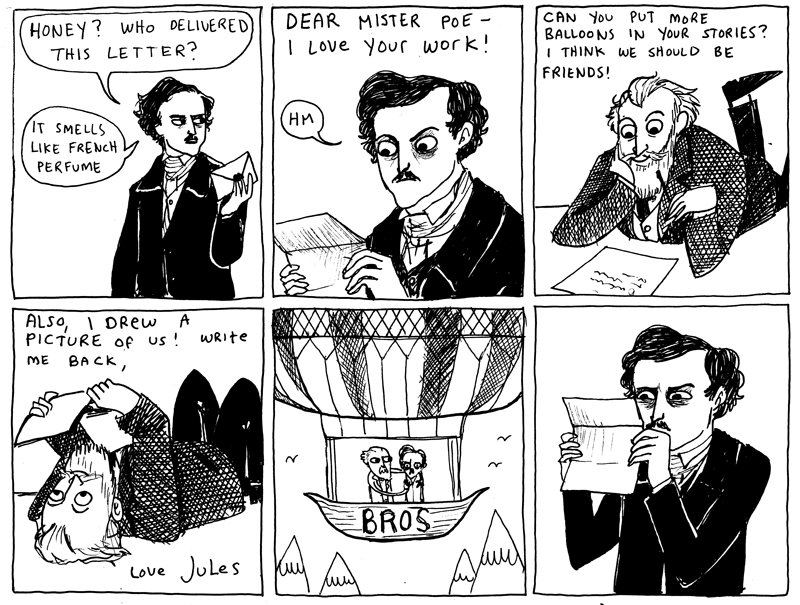 Poe appears in Kate Beaton's Hark! A Vagrant (Drawn & Quarterly, 2011), in which he receives unsettling fan mail from Jules Verne. (The book also includes a story with one of his most famous characters called "The Return of Annabel Lee."
Movies
Despite having died in 1849, at the time of this article's creation, Edgar Allan Poe has 371 writing credits on IMDB. They always say dying is the best thing you can do for your career.
Gas-s-s (1970)
EAP shows up on a motorcycle in the post-apocalyptic Roger Corman film.
Play Misty for Me (1971)
Clint Eastwood's obsessed fan (played by Jessica Walter) recites "Annabel Lee."
The Fog (1980)
The film opens with an EAP quote: "All that we see or seem is but a dream within a dream."
Picnic at Hanging Rock (1975)
Poe's poem "A Dream Within a Dream" is frequently alluded to in the film.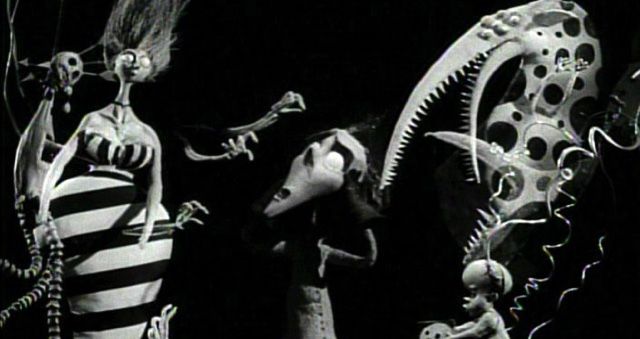 Vincent (1982)
A short film by Tim Burton about a Poe-obsessed young boy named Vincent.
The Lost Boys (1987)
The two kid vampire hunters Edgar and Alan Frog are named for Edgar Allan Poe.
The Krays (1990)
A schoolyard scene with Ronnie and Reggie Kray as children features a reading of the poem "Alone."
The Crow (1994)
Eric Draven (Eric the Raven, get it?) quotes an excerpt from "The Raven" while breaking into Gideon's Pawn Shop.
Descendant (2003)
A relative of Poe's moves to a small town to finish his novel, but women turn up murdered in Poe-influenced fashion, making him the prime suspect.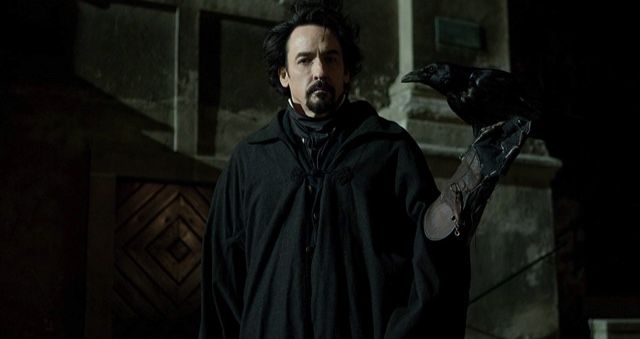 The Raven (2012)
John Cusack plays EAP in the last days of his life in 1849, as he seeks a serial killer carrying out murders influenced by his stories.
Twixt (2011)
Poe (played by Ben Chaplin) appears in the dream of a down-on-his-luck writer (Val Kilmer).
Television
Sabrina, the Teenage Witch, Episode LXXXI: The Phantom Menace (1999)
Edgar Allan Poe IV claims he is the great-great-great-grandnephew of Edgar Allan Poe.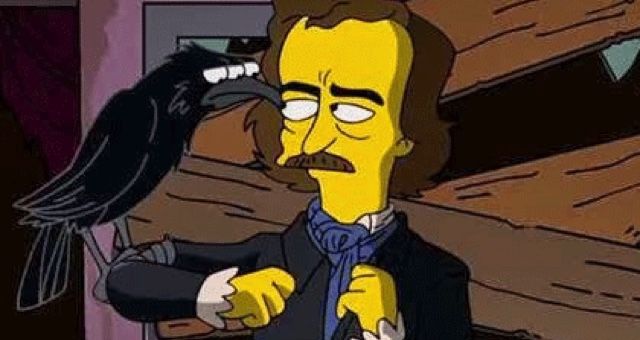 The Simpsons
The Simpsons has multiple Poe references, starting with the original "Treehouse of Horror" episode in which James Earl Jones reads Poe's poem "The Raven," with Homer as the narrator, Marge as Lenore, and Bart as the raven.
Gilmore Girls, "A Tale of Poes and Fire" (2003)
An Edgar Allan Poe convention comes to Stars Hollow.
Warehouse 13, "Nevermore" (2009)
Anything written in Poe's notebook with his pen becomes reality.
Castle, "Vampire Weekend" (2009)
Castle dresses as Edgar Allan Poe for Halloween.
The Following (2013–2015)
The entire show was based around a cop (Kevin Bacon) trying to stop a former professor-turned-serial killer (James Purefoy), who formed a cult while imprisoned, and has since escaped. He and his followers then carry out crimes, some based on the works of Edgar Allan Poe.
Gravity Falls, "Headhunters" (2012)
Edgar Allan Poe's wax figure is one of many who come to life and want to kill Grunkle Stan for having locked them away for years.
Books
The Illustrated Man by Ray Bradbury (1951)
Features "The Exiles," in which Poe lives in a refuge on Mars, and is erased when his last work on Earth is destroyed.
The Last Mystery of Edgar Allan Poe: The Troy Dossier by Manny Meyers (1978)
Poe helps the 1846 New York City police department solve a pair of murders.
The Hollow Earth by Rudy Rucker (1990)
Edgar Allan Poe is sent to the center of the Earth.
Route 666 by Kim Newman (1993)
A cyberpunk novel featuring Eddy Poe channeling Cthulhu.
Nevermore by William Hjortsberg (1995)
Harry Houdini and Arthur Conan Doyle attempt to solve a series of killings based on stories by Poe.
In a Strange City by Laura Lippman (2001)
Two Poe Toasters get in a fight, and one kills the other.
The American Boy by Andrew Taylor (2003)
A fictional account of Poe as a schoolboy in England.
The Poe Shadow by Matthew Pearl (2006)
A fictional look at the strange events surrounding Poe's death.
The Pale Blue Eye by Louis Bayard (2006)
Poe investigates a mysterious death during his time at West Point.
Supernatural: Nevermore by Keith R.A. DeCandido (2007)
Sam and Dean investigate a series of Poe-related murders.
Edgar Allan Poe on Mars by Jean-Marc Lofficier and Randy Lofficier (2007)
Who would think that a 19th century writer would end up in stories on Mars? And more than once? That's Edgar Allan Poe in popular culture for you.
Abraham Lincoln, Vampire Hunter by Seth Grahame-Smith (2010)
Edgar Allan Poe is mistaken for a vampire.
Edgar Allan Poe and the London Monster by Karen Lee Street (2016)
Edgar Allan Poe and C. Auguste Dupin attempt to solve a mystery together.
Music
The Beatles, Sgt. Pepper's Lonely Hearts Club Band (1967)
Edgar Allan Poe appears right at the top of the album cover, in the center of the back row.
The Alan Parsons Project, Tales of Mystery and Imagination (Edgar Allan Poe)
This 1976 debut album is based entirely on works by Edgar Allan Poe.
Iron Maiden, "Murders in the Rue Morgue"
A song featured on their second album, Killers, in 1981.
Lou Reed, The Raven
The 2003 album is entirely based on works by Edgar Allan Poe.
The music video for the song is an homage to Poe's Cask of Amontillado.
Stevie Nicks, "Annabel Lee"
A song featured on her 2011 album In Your Dreams.
Other
The Baltimore Ravens: The Maryland NFL team is named as an homage to one of its most famous citizens.
Raven, the professional wrestling name of Scott Levy, was inspired by the poem by EAP.
Stephen King vs Edgar Allan Poe, Epic Rap Battles of History: Exactly as it sounds.
Edgar Allan Poe Dameron cosplay.