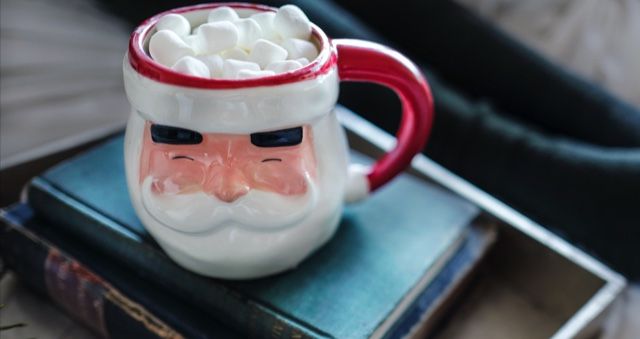 Lists
5 Books to Escape With This Holiday Season
This list of books to escape with this holiday season is sponsored by BookClubbish.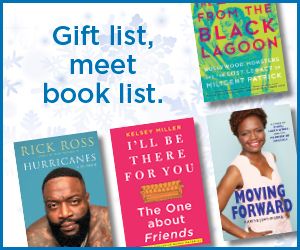 A good book makes the best gift. Check off your holiday shopping list with the best books for friends and family.
---
It's supposed to be the most wonderful time of the year, but we all know the holiday season is stressful as heck. The kind of stress we find ourselves under varies from person to person, and the impetus for it can originate from myriad sources, but the end result is the same: a need for escape.
We may not have the time, or funds, for a trip to an isolated beach-front hut on Bora Bora, but for readers, a journey of imagination can be almost as good as the real thing. Sometimes they're even better: I mean, this body is never going to the far reaches of the galaxy, but there are stories and characters who are more than willing to take me. Odds are against me ever becoming an interplanetary necromancer, but there's a book for that. I may never walk among gods and culture heroes, but I can follow someone who does.
And if I went to Bora Bora, I'd probably take at least a few of these with me anyway:
Tristan Strong Punches a Hole in the Sky by Kwame Mbalia
I've enjoyed all of the Rick Riordan Presents books immensely, but Tristan Strong is something extra special. Not only do we meet characters from African and African American mythology, to whom many of us have never been introduced, we have the privilege of navigating their world with a young, black hero with a full range of emotions and who, over the course of the story, we get to see change and grow into the fullness of himself.
Another aspect of Tristan Strong that makes it a stand out is the cadence of the words and sentences themselves. This book has a different rhythm than most middle grade (and adult, for that matter) fantasy which, in turn, affects the structure of the story in a really remarkable way: the whole time I was reading, I felt as though I were sitting, listening to a master storyteller rather than translating symbols to works to meaning in my brain. While I love books, and certainly have more than my share, I sometimes wonder if, by setting everything down on paper, we aren't missing out. The way I was transported into Tristan's world confirmed to me that we most certainly are and that, perhaps, it's time to bring back this lost art.
Gideon The Ninth by Tamsyn Muir
The original tagline for Gideon was "lesbian necromancers in space," and if that doesn't pique your interest, how about, "Welcome to Canan House, where the monsters in the basement are definitely trying to eat you."
Muir's novel (the first in a trilogy) is one of those rare fantasy/sci-fi hybrids that actually works, bringing the reader into a universe where anything is possible, but people—including Harrowhawk, scion of the Ninth House—are mostly focused on raising the dead for their own purposes. When the Emperor calls the house heirs together for a test of fortitude, though, with the winners promised immortality, Harrow finds a new mission and offers Gideon, a foundling raised (in the loosest sense) by the Ninth, the opportunity to win her freedom: all Gideon needs to do is stand as Harrow's Paladin during the quest.
Backstabbing, curses, secrets, and dueling abound in the novel, the intrigue pulling the reader in immediately and the larger than life—yet so very human—characters trying to murder one another in the middle of the night demand attention you won't be able to withhold. Gideon the Ninth is so very alive it's sure to give your brain a respite from the mundane.
The Iron Will of Genie Lo (The Epic Crush of Genie Lo #2) by F.C. Yee (Amulet, January 2020)
In The Epic Crush of Genie Lo, Genie discovered she was the reincarnation of the Ruyi Jingu Bang, failed weapon of Sun Wukong, the Monkey King. Her orderly, well-planned life takes some very unexpected turns and ends up more messy, and more wonderful, than she could ever have anticipated.
Now, her teammates want to be captain of the volleyball team, she needs to maintain good grades to get into her dream college, her mom is sick and without the resources to pay hospital bills and, oh, she's the Shouhushen, arbiter of all the demons living in California, dating Quentin, the current incarnation of Sun Wukong, being mentored by Guanyin, and was just drafted to stop the destruction of the cosmos.
It's the humor and the fantastic that draws you in and the honest exploration of life and love that keeps you. Yee is a master at integrating the mythological with the mundane, moving Genie seamlessly between worlds and the reader along with her. Enjoy the ride.
The Way of the House Husband: Vol. 1 by Kousuke Oono
A former Yakuza hit man, known by his friends and enemies alike as the Immortal Dragon, has retired from a life of crime. And he's done so to become a house husband. He tries. He tries so hard. He goes to the market, takes cooking classes, buys his wife gifts from her favorite manga, and tries desperately to stay off anyone's radar.
It's a small city, though, and inevitable he'll run into his former enemies, most of whom he's able to charm but some of whom he has to defend himself against. Worse, some of his one-time friends, in utter disbelief that the Immortal Dragon has taken such a massive social demotion, try to lead him back to the life.
I laughed so hard while I was reading this manga, I forgot there was a world outside of it and me. We all need a little joy in trying times and The Way of The House Husband is sure to provide. Looking forward to the release of Vol. 2.
My Sister, the Serial Killer by Oyinkan Braithwaite
This is not only one of the most remarkable books I read (well, listened to—same thing) this year, it may be one of the most remarkable books I've ever read.
Korede's sister Ayoola is a sociopathic serial killer and Korede has always helped clean up her messes: the blood, the bodies, the suspicion. It's her duty, as elder sibling, to protect Ayoola after all. But when Ayoola starts dating the man Korede is in love with, and he writes her concerns and warnings off as jealousy, the elder sister realizes it may be time to let Ayoola fend for herself.
The impact this book had, the mastery with which Korede and Ayoola's tiny world is crafted and linked to the reality beyond theirs, the normalcy with which the main character discusses her efforts to assist her sister…it all combines into a very horrifying, very special package unlike no other. It's a world that, while disturbing, is easy to fall in to and very, very difficult to emerge from, which, in my estimation, is one of the hallmarks of a great story.
---
The lesson: it's okay to take some time for yourself no matter how busy your holiday season is. Honestly, the busier it is, the more you probably need that break. Books can take you places so far off the map you never even dreamed of them, so they're a great alternative to an expensive island vacation or a day at the spa. So make some tea, coffee, or cocoa, shut the door, and dive into a far, far away.