Lists
10 Book and Snack Pairings for Maximum Holiday Coziness
This list of holiday book and snack pairings is sponsored by BookClubbish.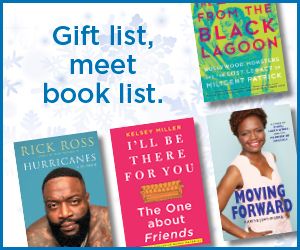 A good book makes the best gift. Check off your holiday shopping list with the best books for friends and family.
---
One of my favorite things about the holidays is snacking, and I am not ashamed. No other time of year celebrates baked goods and hot drinks quite as much. My other favorite thing about the holidays is having uninterrupted reading time. And we all need snacks to fuel our reading. This year, while you're getting cozy with your favorite holiday read, might I suggest creating an accompanying thematic snack?
To get you started, I've put together this list of cozy holiday book and snack pairings. There's something for everyone, whether you're really into baking or content to munch on pre-packaged goods (no shade, I love Cheetos). Enjoy!
Turkish Delight and The Lion, the Witch, and the Wardrobe by C.S. Lewis
Starting off with a fairly obvious pairing, but no list of holiday book and snack pairings is complete without Turkish delight. This classic children's novel is about four siblings who go through a wardrobe into a magical winter world, where they are tempted by a witch offering them Turkish delight, a sweet candy made of starch and sugar that comes in a variety of flavors. If you are feeling ambitious, you can make your own, or buy it at a Middle Eastern grocery store if you have one handy.
Gingerbread & Lime Cookies and Little Women by Louisa May Alcott
Little Women begins at Christmas, with the March sisters giving their holiday breakfast to a less fortunate family. I think for many fans, myself included, Little Women has always been associated with the holidays (and coziness, thanks to all that knitting and family togetherness). Greta Gerwig's new film adaptation even comes out this Christmas Day.
One of my very favorite passages in the book is about Amy's obsession with pickled limes, a genuine 19th-century food fad that apparently enticed American schoolgirls. "It's nothing but limes now, for everyone is sucking them in their desks in schooltime, and trading them off for pencils, bead rings, paper dolls, or something else," Amy tells Meg. I don't know if I would want to eat an actual pickled lime, but I love lime in baked goods. May I suggest this recipe for lime and ginger chewies? Or this one for glazed lemon-lime ginger cookies? Yum!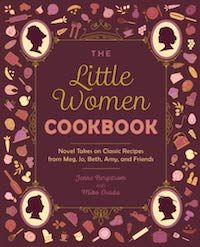 And if you really want to get into the Little Women holiday spirit, a new cookbook inspired by Louisa May Alcott's classic came out this fall. The Little Women Cookbook by Jenne Bergstrom and Miko Osada includes carefully researched historical recipes for March family favorites…including pickled limes! The book also has four full Christmas meals (three suppers and a breakfast), featuring recipes for appetizers, main dishes, and desserts.
Tea & Scones and Royal Holiday by Jasmine Guillory
Jasmine Guillory's newest romance is set in London at Christmas time and her books always feature so many great food scenes…making it a perfectly snack-spiring (I am so sorry) holiday read. Royal Holiday is about Vivian, an American social worker who tags along on her daughter's work trip to England, which just so happens to involve styling a duchess. When Vivian meets the Queen's handsome private secretary, Malcolm, sparks fly, but they both know it's just a fling, not the beginning of a relationship. Or is it?
Much mention is made of scones in this book, so obviously that is the snack I will suggest. Here is a BBC recipe for classic British scones that look incredible. Don't skimp on the clotted cream and jam! It's hard to find authentic clotted cream in North America, but if there is a British store in your area, check there. Or honestly, just book a trip to the UK. Complete your snack with a simple, classic tea, like Earl Grey or English Breakfast.
A Cup of Chocolate and Hercule Poirot's Christmas by Agatha Christie
Murder mysteries may not spring directly to mind when you think of holiday reading, but for me there's nothing cozier than reading about Hercule Poirot solving a crime. In Hercule Poirot's Christmas, everyone's favorite Belgian detective is called in to deal with a sticky family situation involving a will, a wealthy man, and his four sparring sons.
Poirot has very particular eating habits that are not especially inspiring, but he does enjoy a cup of chocolate every day and I think we can all get behind that. Here is a Poirot-inspired recipe for drinking chocolate, which I suggest pairing with a French pastry, perhaps a croissant or brioche, from your local bakery.
Gingerbread & Milk and Gingerbread by Helen Oyeyemi
Okay, this pairing is a bit…obvious. But gingerbread is an inherently cozy-feeling food, and Helen Oyeyemi's most recent novel is all about playing with and subverting fairytale tropes, which is exactly the kind of book I want to hunker down with in cold weather. The novel is about a mother and a daughter in London who have a special gingerbread recipe handed down over many generations. It's a family saga about food and inheritance, and the type of gingerbread we're talking about here is something more substantial than a delightful holiday snack. So I recommend baking an old-fashioned gingerbread cake to go with this book, and adding a generous dollop of homemade whipped cream before you dig in, with a glass of milk to wash it down.
Candy Canes & Other Christmas Treats and Holidays on Ice by David Sedaris
This is one of the easiest holiday book and snack pairings. All you need to do is hit up the seasonal candy aisle at a grocery or bulk food store. David Sedaris's hilarious book of holiday essays is all about the more commercial side of Christmas, inspired by his time working as an elf at Santa's Workshop. There's no more appropriate snack to go with it than all the cute Christmas candy your heart desires: candy canes, red and green Hershey's Kisses, a marshmallow Santa, and maybe some peppermint bark to finish things off. Pair all of these goodies with black coffee to cut the sugar and fuel yourself up for the holidays.
Roasted Chestnuts & Mulled Wine and We Met in December by Rachel Curtis
This slow-burn romance is about Jess and Alex, two twentysomethings living in a London houseshare. They meet and form a connection at Christmas dinner, but Alex starts dating another woman in the house, kicking off a year of awkward encounters, near misses, and romantic misunderstandings. As this book is set in London, and it takes Jess and Alex a long time to find their way to each other, I'm suggesting classic "slow" Christmas treats. Roasted chestnuts take a little bit of effort and about 30 minutes to cook, while you could spend an entire afternoon stirring a pot of mulled wine if you wanted to (but this Ina Garten mulled wine recipe takes only 20 minutes).
Popcorn and Pride and Prejudice and Mistletoe by Melissa de la Cruz
A gender-swapped Pride and Prejudice set at Christmas? There is nothing cozier. In Melissa de la Cruz's version of the Jane Austen classic, Darcy Fitzwilliam is a successful hedge fund partner in New York and Luke Bennet is a carpenter in Ohio. When Darcy heads home for Christmas, she meets Luke at her parents' annual holiday bash and, naturally, sparks fly.
Last year, this book was made into a TV movie starring Lacey Chabert, which is why my snack suggestion here is popcorn. Popcorn is seasonally appropriate (you could pop extra and make a decorative garland), handy to grab while reading, and perfect for a post-book marathon of the Lacey Chabert movie plus every single film version of Pride and Prejudice.
Smoked Salmon, Cream Cheese & Crackers and Seven Days of Us by Francesca Hornak
The Birch family is returning to their country estate for Christmas. When daughter Olivia, a doctor, arrives with the news that she may have been exposed to a deadly disease and has to be quarantined for a week, the rest of the family is quarantined, too. Over the next week, the family is forced to spend time together, resulting in secrets being revealed and revelations being made. And that's all before an unexpected guest arrives…
One character in this book is a snooty restaurant critic, and there's quite a bit of description of family meals. One includes smoked salmon, which is a fun treat to have on hand. I like to keep it simple: a good cracker, some cream cheese, and a little piece of smoked salmon (and maybe a caper). Pro tip: assemble it all before you start reading, lest you get cream cheese all over the pages…
Champagne & Oysters and A Christmas Carol by Charles Dickens
Let's end the list with the mother of all holiday book and snack pairings. Food is an important feature of Dickens's A Christmas Carol, from a classic plum pudding to the feast Scrooge hosts after he's learned the true meaning of Christmas. I was tempted to tell you to bake a plum pudding—now known as Christmas pudding thanks to this novel's popularity—but instead I will suggest something much more luxurious. Champagne was a favorite of Dickens and apparently he often drank it before giving public readings of A Christmas Carol. Oysters are a key part of the giant feast that the Ghost of Christmas Present is eating. Together, they are a dreamily self-indulgent snack to enjoy while losing yourself in Dickensian London.
---
And why not keep the book and snack pairings going after the holidays? Winter is long and snacks are delicious. See this list of YA books to enjoy with snacks or check out all Book Riot posts about bookish food.