Fiction
6 Holiday Novellas You Can Squeeze in Between Eating and Shopping
This list of holiday novellas is sponsored by BookClubbish.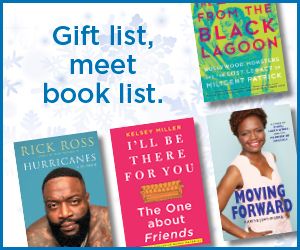 A good book makes the best gift. Check off your holiday shopping list with the best books for friends and family.
---
Nobody has time during the holiday season to read! There is gift shopping, decoration shopping, outfit shopping, and then the actual parties to attend. Plus, there are relatives to visit and relatives visiting. But as bookworms, we still want to read, too! So if you are aching for a juicy romance and a cup of tea to curl up with in a chair, but have less time than usual, try out these holiday novellas!
I was pleasantly surprised at how invested I got in the complex characters and well-developed plots in such short books. I could easily download the ebooks on my Kindle Reader app, and read each book, approximately 90–100 pages, within two hours. It was convenient to even read a couple of pages while I was in line at a store or watching my nephew play outside. These are the six novellas that will warm up your holiday season.
A Match Made for Thanksgiving (Holiday with the Wongs Book 1) by Jackie Lau
It's rare to find a book centered around Thanksgiving, so I was super excited about this one. Even better, this book is about and written by people of color. Hot Nick and sweet Lilly both agree to a one-night stand, but can't deny they want to keep seeing each other—especially when she is invited to his house for Thanksgiving! If you enjoyed reading/watching the hit Crazy Rich Asians, and watching the Netflix romcom Always Be My Maybe, you will love this book by Jackie Lau.
One Christmas Eve (Cedar Street Book 2) by Shannon Stacey
New York Times bestselling author Shannon Stacey shares her intriguing plot line and sassy heroine with us in this hilarious new novella of enemies to lovers. After leaving a judgmental ex to pursue her dream of co-owning a bookstore with her cousin, Zoe will not let someone dictate her design choices, no matter how good-looking he is. That includes her new office neighbor Preston. Still, she can have fun irking him in a window display war. And maybe more?
(Bonus: They celebrate Thanksgiving in this book, too!)
A Second Chance Road Trip for Christmas (Holiday with the Wongs Book 2) by Jackie Lau
In this new release, we revisit the hilarious and loving Wong family, who are now celebrating Christmas! I love romance series, something I was introduced to with Alisha Rai's novels. I get my questions answered about how the couple is doing, plus it is more realistic to see them continue on to their nesting phase, after the steamy sex phase. This series is especially cozy because the book centers around the protagonist's well-meaning but overbearing family. Asian grandparents are the funniest, as you will soon see! The Wong family continue trying to matchmake their sons. Will they be successful with Greg and his college sweetheart Tasha? (And yes, there will be a Book 3 in the series, for the third son Zach, celebrating Chinese New Year.)
Love in the Stacks (Love in New Bedford Book 2) by Delilah Peters
This book is about librarians, and it's the steamiest! It's from Carina Press's Dirty Bits collection. It's also the shortest—only 57 pages. Book lovers need to have fun too, and they surely do in this novella about getting snowed in at the library after a Christmas party. If you like dirty talk, this book is perfect for you.
Girl at Christmas (Smart Girls Book 4) by Rhoda Baxter
Amazon bestselling author Rhoda Baxter introduces us to an interracial couple in Book 4 of her Smart Girls series. Lab tech Tammy sadly is dumped right before Christmas! Thankfully there is a nice single doctor, Lawrence, who works at her lab. Unfortunately, he's not in the best of shape. Although only 31 years old, he already has heart problems and was told to lose weight by his doctor. This light romance especially interested me because the heroine is South Asian, and smart! Plus, I like when the romantic leads already know each other and go from friends to lovers.
New Year's Resolution: One to Keep (River's Sigh B&B Book 7) by EV Bishop
Let's end this holiday novella list with a book about the last holiday of the season—New Year's! USA Today bestselling author Ev Bishop gives us a holiday treat: a New Year's novella! Sophie and Jesse both make New Year's resolutions to stay single during New Year's—then meet each other. Both recently single, they fight their attraction to the other, but can't avoid it because they are the only two staying at the River's Sigh B&B. (This is an oldie but a goodie.)