Inbox/Outbox: October 5, 2012
I had a crazy dry spell as far as reading goes for the past two weeks, but now I am ready to break the dam. I've been a busy reading bee! I'm ready to take on all those books I've been anticipating since BEA this summer.
Inbox (Books Acquired)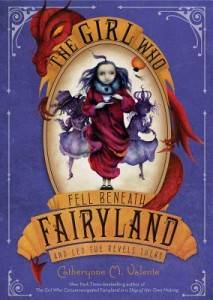 This is How You Lose Her by Junot Diaz (Riverhead). I've never read any Diaz and I felt a bit eye-rolley about how they were only giving out sample chapters of this book at BEA instead of the whole thing. But the reviews have been good and some people I trust have ranted and raved, so I'm excited about it.
Telegraph Avenue by Michael Chabon (Harper). Michael Chabon is one of those authors that I would say something awful to because what do you say to someone whose work means so much to you? You say stupid things about lunch meat or the weather. I will EAT this book (mentally).
NW by Zadie Smith (Penguin). I've also never read Zadie Smith and maybe shouldn't start here, but I have it on the shelf waiting for me, so.
The Girl Who Fell Beneath Fairyland and Led the Revels There by Catherynne M. Valente (Feiwel & Friends). This is the sequel of The Girl Who Circumnavigated Fairyland on a Ship of Her Own Making, which is one of my very favorite fairy stories.
Outbox (Books Finished)
The Monk by Matthew Lewis (Penguin Classics)– The most ridiculous (in a good way) gothic novel on the planet. Ghosts, evil nuns, evil monks, kidnappings, gloomy castles, weary travellers. It's pretty much perfect.
Heads in Beds: A Reckless Memoir of Hotels, Hustles, and So-Called Hospitality by Jacob Tomsky (Doubleday, November 2012)– A totally fascinating memoir of a man who has worked in hotels his whole adult life. It's part instruction manual (as in, don't do the following things if you don't want the bellman to come after you) and part examination of the soul-killing nature of working in the service industry.
The Twelve by Justin Cronin (Ballantine Books, October 16, 2012)– I could not have loved this sequel to The Passage more than I did. I finished it in 48 hours. It is exactly what the middle book of a trilogy should be.
In The Queue
The Casual Vacancy by J.K. Rowling– Must see what all the fuss (good and bad, though mostly bad) is about.
The Grapes of Wrath by John Steinbeck– For a read-a-long with a group of bloggers. It's a re-read, which I rarely do, but it's Steinbeck. (Who writes The Best Things.)
Your turn, readers! How was your reading week?
By signing up you agree to our Terms of Service