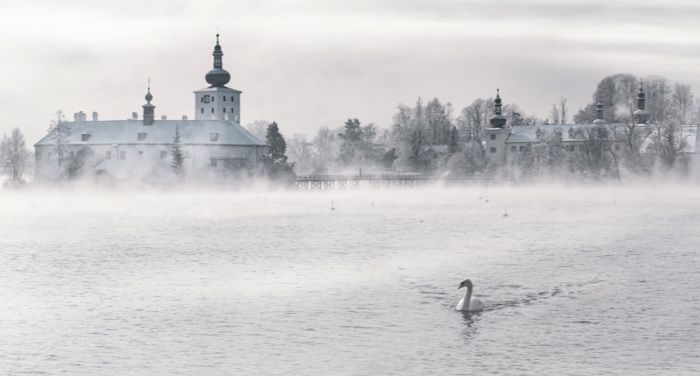 Lists
9 Magical, Winter Fantasy Books to Read Under a Warm Blanket
More than any other season, during winter I want to read books that complement the season. Maybe because I live in Tennessee, where snow rarely graces us with its presence, I crave snow-laden magical reads during winter. The kind of books that can only be read properly under two blankets with a cup of hot tea cradled in my hands. The kind of books where magic mirrors the way the sun sparkles on snow. Stories I imagine grandmothers telling their grandchildren by the warmth of a fire on cold winter days to keep them entertained when they can't play outside. These nine winter fantasy books—set in the snows of medieval Russia, the frost of Viking myth, and more—give the perfect kind of winter feelings.
9 Winter Fantasy Books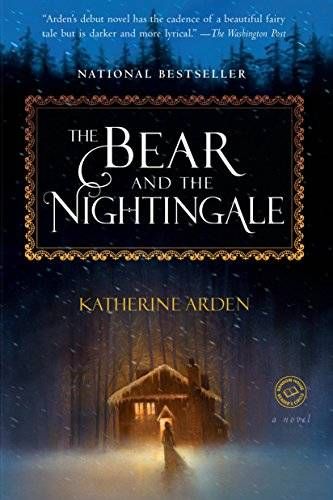 The Bear and the Nightingale by Katherine Arden
Born in the heart of winter, Vasya can see chyerti and domovoi—guardian spirits and creatures from Russian folklore. Her new stepmother Anna can see them too, and confesses to the village's new priest, Father Konstantin, that she sees demons everywhere. He decides to abolish the demons and bring the people back to God through fear. Threatening God's wrath, he convinces the villagers to stop leaving out food for the domovoi. But instead of saving the village, he gives power to the evil bear god. Only Vasya and the frost-king Morozko can save the village. With all three books in the Winternight Trilogy published, now is the perfect time to read these magical, winter fantasy books.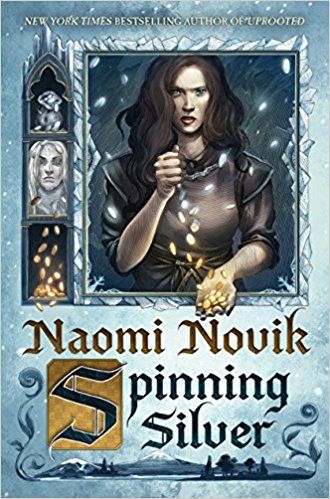 Spinning Silver by Naomi Novik
The Staryk are fey who control winter and lust after gold. When Miryem the moneylender's daughter makes an idle boast that she can turn silver into gold, the Staryk king comes knocking at her door demanding she does so. If she's successful, she'll become his wife. Meanwhile Wanda, who works for Miryem's family to pay off her father's debt, secretly hopes to escape her abusive father's clutches with her two brothers. She sees in Miryem and her loving family the possibility of hope. Farther away Irina, a duke's daughter with a slither of Staryk heritage, captures the attention of a demon who has possessed the Tsar. These three women are the only thing keeping the Staryk at bay in this lyrical fairytale fantasy set in an Eastern European-inspired, snowbound world.
Black Sun by Rebecca Roanhorse
This year's winter solstice coincides with a rare solar eclipse. On that day, Serapio, blinded by his mother and trained to become the Crow God reborn, is destined to take vengeance on the Sun Priest and their followers, who have violently suppressed Tova's indigenous religious traditions. Hired to take Serapio to Tova, Sea Captain Xiala can calm the waters with her voice thanks to her water-dwelling Teek heritage, but her sailors fear her as much as they fear Serapio's strangeness. On Tova, Naranpa has recently become the Sun Priest, and she's unprepared for the religious order's political machinations and backstabbing. This first book in a new epic fantasy series inspired by the pre-Columbian Americas sets up a violent and epic clash between colonizers and Indigenous peoples and pushes against Eurocentric fantasy tropes.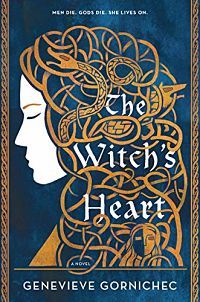 The Witch's Heart by Genevieve Gornichec (February 9, 2021)
For refusing to teach Odin how to foretell the future, the witch Angrboda was burned three times and her heart ripped from her. She's banished and makes a new life hidden in the woods, a quiet life exchanging healing tonics with the huntress Skadi for food to help her survive winters in the homey cave she creates. Then Loki appears, and while at first Angrboda distrusts him, that distrust slowly transforms into love, especially after giving birth to their first child and seeing Loki's devotion to that child. The Witch's Heart retells Norse Mythology through the eyes of women rejected by the Gods. It's a poignant and feminist read for dark winter nights.
Girls Made of Snow and Glass by Melissa Bashardoust
This feminist, YA retelling of "Snow White" takes place in a kingdom cursed by snow. Mina's magician father crafted her a glass heart, and because of this she believes she's unable to love, yet that's her greatest desire. When she marries the king, she also becomes stepmother to Lynet, the exact image of her late mother, the king's first wife. Lynet admires Mina's fierceness and wants to be just like her. Mina is the only one who sees Lynet as herself instead of as her mother. Both struggle with how to make choices in a world largely defined by the men in their lives.
Wintersong by S. Jae-Jones
On the last night of the year, the Goblin King rides to claim his bride. This year, he kidnaps 19-year-old Liesl's younger sister Kathë, and to win her back, Leisl must travel to the Goblin King's labyrinth and strike a deal with him. As a child, Leisl played music for the Goblin King, though she's mostly forgotten those memories. She does remember her grandmother's tales of the Goblin King, and while she's since set them aside and devoted herself to her music, she remembers the stories, and those tales help her navigate the labyrinth. This beautiful and lyrical YA novel teams with wintry imagery.
The Midwinter Witch by Molly Ostertag
Aster wants to compete in the Midwinter Witch competition her family holds every year, but as the first transgender witch in a very patriarchal, traditional family, many mock her for that idea. Meanwhile her friend Ariel, adopted into her family, struggles with feeling safe with her powers and in her new home, especially when she starts dreaming dark dreams about an aunt she's never met. The Midwinter Witch is the third book in The Witch Boy middle grade graphic novel series. It's a super fun winter read.
The Dollmaker of Krakow by R.M. Romero
With fairytale elements reminiscent of E.T.A. Hoffmann and Hans Christian Andersen, The Dollmaker of Krakow depicts the horrors of the holocaust through the doll Karolina's eyes. But Karolina is no ordinary doll. Rats have ravaged her doll world, and when she escaped with a toy soldier named Fritz, a wind ferried them to our world and into the hands of human magicians. Karolina's magician is Krakow's dollmaker, a kind-hearted and shy war veteran who owns a toy shop. With Karolina's help, he breaks out of his introverted shell and befriends a Jewish violinist and his daughter. When the Germans invade Krakow, a dark magic descends on their lives, reminding Karolina of when the rats invaded her homeland. While this dark and magical middle grade novel takes place during multiple seasons, much of it is in winter, and it's the kind of book you'll want to read snuggled under covers and with a cup of hot tea, to remind you that warmth does exist in our world.
Wintersmith by Terry Pratchett
The third book in Pratchett's Tiffany Aching Discworld series is just as funny and charming as the first two. When an almost 13-year-old Tiffany dances in a ritual commemorating winter's coming, the Wintersmith mistakes her for Summer, his bride, and falls in love with her. With Tiffany-shaped snowflakes falling from the sky and plants growing where she walks, Tiffany must find a way to dissuade the Wintersmith of his love before he becomes human, and winter becomes permanent. This is the perfect winter read for the entire family.
---
If you're looking for more winter fantasy books, check out these long reads perfect for cold days, these feel-good fantasy novels, and this list of newer fantasy novels.