Lists
8 Long Reads to Commit To in Cold Weather
This content contains affiliate links. When you buy through these links, we may earn an affiliate commission.
Over the past few years, I've taken the time to dive into a few classic Big Books or series that I floated through: big, gorgeous Penguin Classics or fantastical paperbacks, breaking the spines and letting them swallow me up and protect me from harsh wintery winds. Something about the cold makes them feel more inviting; makes me feel more amenable to immersing myself in one long tome instead of many smaller ones—as a fun fact, I read almost all of the books I'll recommend below in the deep chills of winter or early spring.
This desire to dive deep into a long book, or into a series, is made particularly interesting because I can be irritable about very long books. I expect more from them. If a book is more than 400 pages, I expect it to need those 400 pages to tell its story or express its tone; if I feel it could have been 300 pages with a more cutthroat eye, I tend to feel like it's wasted some of my time. I already wrote a post about how difficult it can be to slow down your reading without feeling guilty—when I've committed to reading a very, very long book, I already find myself anxious about the time it's taking to read compared to ten other books I could have read in its place. So it needs to be good. This makes the books that do need their 400+ pages all the more special.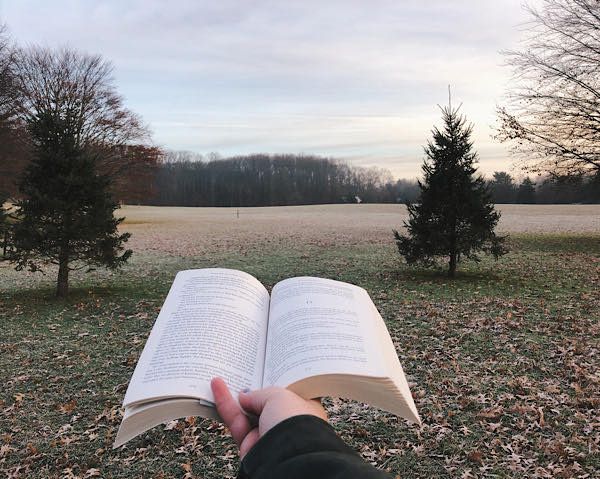 Here are a few of those book recommendations: long books to read during winter months, during snowstorms, when you're happy enough to crack open and dig into hundreds of pages for a slow, lush build of a story, a warm mug of tea (or whiskey) by your side.
This was my first read of 2017, in the cold dreariness of post-holidays Chicago January. For some reason, I had underestimated how much I would like this book, and I found myself utterly engrossed. Eliot has the skill with imagery that Woolf has, and combines it with Austen's social commentary, all to tell an epic tale spanning the viewpoints of seven main characters. Marriage, intrigue, drama: the characters are fascinating, the romantic turns and twists of the plot compelling, and I was done with its 850 pages in just eight captivating days.
I read the entire Broken Earth trilogy over a single holiday break, and it broke me in all the best ways. If you're a SFF fan who hasn't read this series, you have to get with the times: every single novel in this trilogy—The Fifth Season, The Obelisk Gate, and The Stone Sky—won the Hugo Award, and The Stone Sky also won the Nebula. On a dystopian supercontinent, a Fifth Season arrives: an episode of catastrophic climate disaster. Here, the orogenes possess the power to control energy—prevent or cause earthquakes, manipulate temperatures—and as a result, they are feared, oppressed, and murdered. In this world, mother Essun sets out to find her daughter, and a tale of truly epic scope begins. I had the honor of telling Jemisin herself at BookExpo 2018 that The Stone Sky made me cry an embarrassing amount on my plane back to Chicago just before the new year.
Xenogenesis series by Octavia Butler
Also known by its rebranded title "Lilith's Brood," Butler's classic science fiction trilogy tells the story of humanity's introduction to the Oankali. Centuries after war has destroyed earth, this alien race, driven by an almost maniacal need to heal others, resurrects Lilith Iyapo and many others. the Oankali plan to rescue us by merging with us as a race: but now, Lilith and her generation's children will be something new, and unfamiliar. It's a fascinating sci fi series that you can get in one 746-page volume, and swallow up in a snow-filled week.
In this hefty classic, Mr. Gilbert Markham finds himself enchanted with new neighbor and mysterious, reserved widow Helen Graham and her young son Arthur. But Helen has her own secret past, and the plot unfolds through long letters and journal entries, splitting the narration between Helen and Gilbert. This is a slow burn of a romance, centered on Gilbert's respect for Helen and Helen's love for her son and desperate desire to escape what's chasing her; a story of toxic masculinity, controlling men, and real-life horrors. This novel was an absolute joy to read in snow-coated Buffalo, as I visited my grandparents last Thanksgiving.
One of my favorite novels of all time—but this one definitely won't be for everyone. Woolf tells the story of a group of friends from childhood to adulthood in a series of experimental, stream-of-consciousness soliloquies, all framed by the imagery of the waves pounding under the sky, beginning at dawn and ending in the twilight. The internality of this narrative is hard to get used to, but once you do, the characters sink into you deeply: there is queer subtext as well as a character suffering with the gray fog of mental illness. It captures the morphing, shifting nature of a childhood friendship, and is a work of incredible craftsmanship and scope that left me aching. This is not a novel for the faint of heart—but as someone who loves a difficult text and a good puzzle, I was left stunned.
A brilliant surrealist satire that captures a dictatorship in all of its dangers as well as its ridiculous rules, its showmanship, its sycophants. The novel is foolish, absurd: characters contort in ludicrous ways to accommodate the ways the Ruler bends the past, the truth, and logic. And when Kamiti finds himself at the center of a modern-day folktale, and befriends protest movement leader Nyawira, he becomes accidentally key to the opposition movement. This is a superb novel: a slow build, but worth it from beginning to end, referencing itself, making in-jokes with the reader, and all around telling a fantastic, intricate story.
I've read American Gods too many times to still be surprised by its twists and turns, but every time I read this novel about the meaning of faith and of belief, I find something new in it to love. Strong, kind Shadow Moon, my favorite cinnamon roll character, becomes the bodyguard to Mr. Wednesday, an enigmatic con man. As they road trip across the United States, Shadow learns that they are part of a soon-to-begin battle between the old gods and the new. I've written often about my love for Gaiman's novels—this is one of his most celebrated, and has become both a television show and a comics series. This is an astounding novel that gets better every time I read it.
Pachinko is a stunning, 479-page work of historical fiction that tells the story of four generations of a Korean immigrant family that settles in Japan in the early 1900s. Matriarch Sunja presides over the novel, tough, determined to survive, to keep her sons alive and to compromise as little as she can. Lee's novel spans the 1900s to '80s, and digs into the world of Korean immigrants in Japan: revealing the bullying, prejudice, institutional challenges, and more that Koreans had to overcome to succeed. A superb book and a finalist for the National Book Award, Pachinko is a gorgeous family epic that will keep you engaged through the chilliest of winter nights.