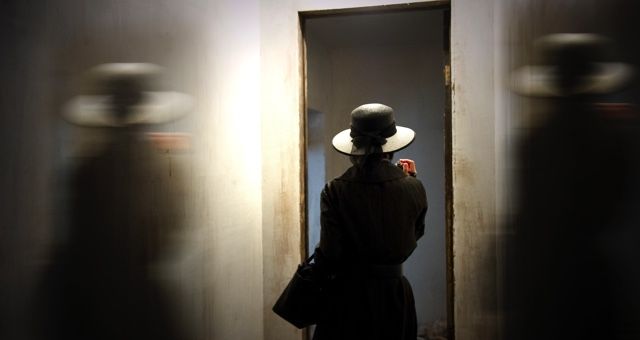 Lists
Noir by Women, Not Just Femme Fatales
This list of noir by women is sponsored by Sourcebooks.
Journalist Billy Jensen spent fifteen years investigating unsolved murders, fighting for the families of victims. Every story he wrote had one thing in common—they didn't have an ending. The killer was still out there. But after the sudden death of a friend, crime writer and author of I'll Be Gone in the Dark, Michelle McNamara, Billy got fed up. Following a dark night, he came up with a plan. A plan to investigate past the point when the cops had given up. A plan to solve the murders himself. Gripping, complex, unforgettable, Chase Darkness with Me is an examination of the evil forces that walk among us, illustrating a novel way to catch those killers, and a true-crime narrative unlike any you've read before.
---
I doubt that I personally will ever tire of identifying with the femme fatale…mysterious, irresistible, acting in self-interest, the one for whom the male protagonists try to decide things…but she inevitably thwarts their plans. She can be reckless, smash things, and know that someone else will clean up her mess.
Wouldn't that be nice.
The fact is, the femme fatale, whether heiress or double agent, is very uncommon in real life. In fact, she's uncommon in noir unless the fiction is written by a man! But there's a reason why the trope of the femme fatale is so prevalent: so much famous (or shall I say, Notorious) noir film and fiction is written by and from the perspectives of men.
I'm not saying I don't enjoy the classics—I absolutely do! I love thinking that I can just look up sideways at a man in my best lighting and say something overtly suggestive and have him melt to putty in my hands. There are other ways, though, that women are present in noir. This is a short list of bomb women-written pieces of noir that depict women as something other than a femme fatale.
Leaving Atlanta by Tayari Jones
This novel depicts the horror of living in late 1970s Atlanta, during the time that the Atlanta Child Killer raised hell. What's special about this book is that it not only talks about that serial killer, who has largely been lost to history in the wakes of more glamorous murderers, but it tells the story from the perspectives of three Black children at the time, the Killer's typical victims. I read this book in a single day because I could not put it down. (I also live in Atlanta, and so as she was mentioning places like Fair Street on the west side, I could imagine exactly where these children were when they got snatched.) This book is truly terrifying, but it establishes a perspective of working mothers trying hard to keep families together, make ends meet, and protect their children (both boys and girls) amid a setting of violent crime.
The Quelling by Barbara Barrow
This novel also changes perspectives per chapter, and it tells the coming-of-age process of two sisters who are linked in what seems to be—but may not be, actually—a folie a deux. The narrative begins when they are arrested for a violent crime they committed together in their preadolescence, and then surrendered to a locked psychiatric unit. It continues to unveil their relationship with each other, their bizarre psychological professional treatment—the goals of which are to "quell" them—and, of course, we learn about their relationship to crime and violence. I've read few things as warped and fascinating as this piece of noir.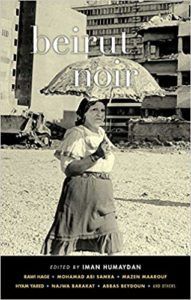 "Maya Rose" by Zena El Khalil
I found this short story in a collection entitled Beirut Noir edited by Iman Humaydan, and I was immediately enthralled. The piece is told from the perspective of an infant girl's soul as she is stillborn. Though she does not commit crimes herself, she explains the Druze beliefs of reincarnation that allow her to narrate this story despite not being alive in her infant body. She tours Beirut in spirit, floating through the city during and after Lebanon's Civil War, introducing us to other women in her life, telling their stories from a perspective outside of time, and she details the crimes and wars that inform all lives in Beirut, too. The concept of the point of view in this story is nearly magical realism, but because it is embedded in the grit of its setting, noir is the exactly right categorization for it.
The Complete Stories of Flannery O'Connor
I was going to try to narrow it down to one story, but so much of Flannery O'Connor's writing is noir—granted, it is also southern gothic, but those two genres are not so very far apart. I suppose the most on-the-nose inclusion of hers would be "A Good Man is Hard to Find," in which the grandmother does not want to go with her family to Florida for fear that they run into the killer on the loose, The Misfit…although I would argue that "Good Country People" is another good fit. In that one, our protagonist is a big woman with a doctorate in philosophy and a prosthetic limb who allows herself to be seduced by a Bible salesman. Truly, if you are unfamiliar with the noir stories (or southern gothic) of Flannery O'Connor, I'm delighted to be the one to introduce the two of you.
Cutting Edge: New Stories of Mystery and Crime by Women Authors edited by Joyce Carol Oates
In this anthology of noir short stories, ALL the authors are women—so if none of the above strike your fantasy, you'll surely find something in this one. From the introduction through the end, all kinds of iterations are explored. My personal favorite is "One of These Nights" by Livia Llewellyn, in which the protagonists are teenage girls out for vengeance against one of their peers at the public pool. A close second favorite of mine is "Please Translate" by Edwidge Danticat, a transcription of voicemails left by a desperate mother to the father of her child regarding the child's whereabouts. Though those two are my favorites personally, all of the stories in this collection are excellent, and I definitely recommend it for any connoisseur of noir looking to expand their repertoire with women writers. (Forthcoming from Akashic!)
---
Though this short list is by no means exhaustive, but these are a few of my favorite works of noir by women in which we are not depicted only as femme fatales—I hope you enjoy them!