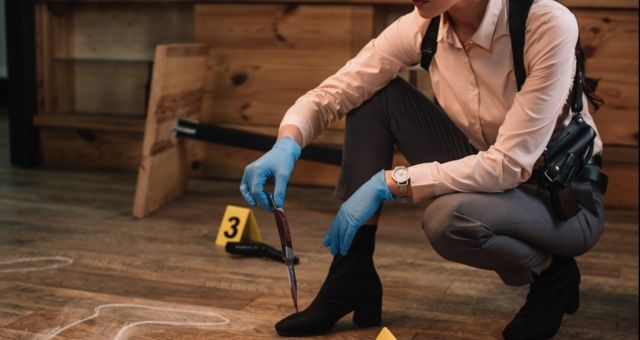 Lists
Female Crime Fighters in Fiction
This list of fictional female crime fighters is sponsored by Sourcebooks.
Journalist Billy Jensen spent fifteen years investigating unsolved murders, fighting for the families of victims. Every story he wrote had one thing in common—they didn't have an ending. The killer was still out there. But after the sudden death of a friend, crime writer and author of I'll Be Gone in the Dark, Michelle McNamara, Billy got fed up. Following a dark night, he came up with a plan. A plan to investigate past the point when the cops had given up. A plan to solve the murders himself. Gripping, complex, unforgettable, Chase Darkness with Me is an examination of the evil forces that walk among us, illustrating a novel way to catch those killers, and a true-crime narrative unlike any you've read before.
---
You always remember your first female sleuth. For me, it was Nancy Drew. I was 9 or 10 years old when I first came across Nancy in a Hardy Boys team-up novel where they found themselves solving a crime while on a Caribbean cruise. Now the premise may sound ridiculous, but it was exactly the type of mystery 10-year-old me was drawn to. Nancy was my first girl crush. She was brave and she had moxie, she ran circles around those Hardy boys.
As I grew up I've found that the desire to consume stories with strong female leads is an itch that I never quite get tired of scratching. From Buffy Summers to Veronica Mars to Harriet the Spy, each character shares the same crime-fighting spark, while standing out on their own. To celebrate these ladies, I rounded up some of my favorite female-led crime stories below. Take a look and let us know what you think!
Broken Monsters by Lauren Beukes
Lauren Beukes has perfected the supernatural crime thriller (if I do say so myself). She's written a novel that's intriguing, with a plot that simultaneously pulls you in and makes you want to look away. It's like the reading equivalent of closing your eyes at the end of a horror movie. Detective Gabbi Versado is the no-nonsense detective striving to find the killer of a brutal and bizarre murder. The mystery/murder is interesting enough to keep the story going but we're lucky because Beukes manages to humanize the detective through her relationship with her daughter Layla (an absolute spunky delight). If you're looking for a sleepless night, this one's for you.
Sleeping Murder by Agatha Christie
Miss Marple is not your average hard-nosed detective, she's the exact opposite. First introduced in The Murder at the Vicarage, Miss Marple is a nosy yet extremely clever busybody whose keen observation skills help her solve crimes in the English countryside. In Sleeping Murder, Miss Marple is called upon to help two new newlyweds uncover a "ghostly" mystery in their new home. If you're a mystery buff you may guess the twist early on, but I that shouldn't deter you from reading a story by one of the greatest mystery writers ever.
Hollywood Homicide (A Detective by Day Mystery Book 1) by Kellye Garrett
Dayna Anderson didn't start out wanting to be a detective. She's a broke former actress just trying to help her parents keep their home. She witnesses a crime and has the brilliant idea to chase the reward money. What she thought would be an easy case soon builds into a full-on investigation with multiple suspects, paparazzi, and an attempt on her own life. By the end she's in it for more than just the payout—she wants justice. I imagine that Dayna and I would approach amateur sleuthing the same way, and like Dayna, I would get in over my head.
Goldie Vance Vol. 1 by Hope Larson, Brittney Williams
Goldie Vance is the teen sleuth you'd want on your side if you were unexpectedly kidnapped by Soviet Spies. She's fabulous and vivacious—like Nancy Drew with just a splash of Veronica Mars. It's unabashedly fun and bright and the kind of graphic novel I wish I was reading as a kid. Set primarily in Florida in a '60s-style alternate universe, Goldie's a 16-year-old working at her father's hotel. Like any good teenager, she's just a bit too curious for her own good. She finds herself embroiled in mysteries around Nazis and spies and stolen jewels (oh my), all while maintaining a flirtation with local record store clerk Diane. The graphic novel may cater to a younger audience at first glance, but it's a beautifully illustrated, nuanced portrayal of a biracial teenage girl who is brave, eager, and unafraid.
The Thousand Dollar Tan Line: Veronica Mars: An Original Mystery by Rob Thomas
I couldn't resist—how could I leave Veronica Mars off a list of kickass female crime-fighters? Set ten years after the show and immediately after the movie, Veronica is back in Neptune as a PI at Mars Investigations. She finds herself investigating a simple missing persons case that turns out to be anything but. If you've seen the show then you know that there's no such thing as a simple case. There are twists and turns and, of course, a whole lot of spunk. The relationship between Veronica and her Dad is arguably the backbone of the show and it still comes through here. Oh, and don't worry, there's plenty of Logan too.
A Conspiracy in Belgravia (The Lady Sherlock Series) by Sherry Thomas
Do I need to say anything beyond a gender-swapped Sherlock Holmes? If you're a Sherlock Holmes fan who has wondered what the series would be like with a female lead, this is for you. This book is the second in the Lady Sherlock series that introduces Charlotte Holmes, an extraordinarily talented "consulting detective." Along with the capable Mrs. Watson (another gender-swapped role), she solves cases from a familiar Baker Street office. At a time where women are meant to be marrying and having children, she's busy hunting down her illegitimate half brother. The second book allows readers to understand Charlotte, her nuances and quirks. The best part? If you're a fan, there are four books and a fifth on its way to keep you entertained.
---
Do you have more you would add to our list? Tweet @BookRiot and share your picks!