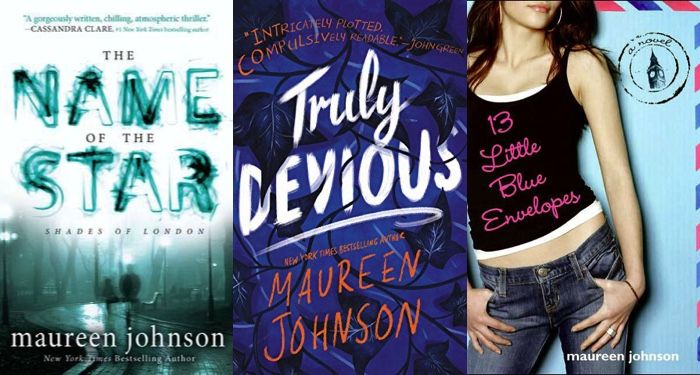 Reading Pathways
Ghosts, Murder, and Adventure: Reading Pathways to Maureen Johnson's Books
This content contains affiliate links. When you buy through these links, we may earn an affiliate commission.
In case you didn't know, Maureen Johnson rules. She's a delight to follow on Twitter and writes fabulous young adult fiction about smart girls who love themselves and know they're capable of awesomeness. Now that her latest YA mystery series is complete, it's the perfect time for a reading pathway! Use this guide to make your way through Maureen Johnson's books—mostly mystery and romcom in genre.
Where to Start Reading Maureen Johnson's Books
Rory's just moved to London to attend boarding school, and of course, there's a wannabe Jack the Ripper tormenting the area as soon as she arrives. The killings are mimicking those of the Ripper from more than a century ago and police are scrambling—they have no leads or witnesses. But Rory saw the suspect. It's just that she's the only one who can see him. And now he's set his target on her.
The Name of the Star is the first book in the Shades of London series, and I cannot recommend it enough. Murder mystery! Ghosts! Boarding school! And, of course, Maureen Johnson's humor and ability to describe a place so well you think you're experiencing it yourself.
Stevie is a true crime fanatic, so when she gets the chance to attend Ellingham Academy, a famous private school in Vermont with an unsolved murder in its past, she jumps in head first. She's prepared to solve this cold case. But there's also, you know, classes and friends and other things to contend with. Until there's a suspicious death on campus.
The story of Stevie's first year at Ellingham is interwoven with the story of the original crime at Ellingham: the death of Albert Ellingham's wife and daughter. They were kidnapped shortly after the school opened. The only clue was a riddle, signed Truly Devious.
Truly Devious is the first book in the Truly Devious trilogy, chock full of Agatha Christie references and snark.
Ginny's charismatic Aunt Peg lived abroad with little contact with family for a few years, but that's just how Aunt Peg was. When Ginny got the news of her death, she was stricken—until a package arrived, postmarked before Aunt Peg's death. Inside were 13 little blue envelopes with letters and instructions inside. She cannot open the next envelope until she's finished the task on the current letter. The first was $1,000 and an order to buy a plane ticket. The second was directions to a flat in London. The third was brief: find a starving artist. Ginny explores London through the guidance of her late aunt, and learns all about art and love and life along the way.
If you've ever wished for a loved one to leave you money and a list of adventures to take (honestly, who wouldn't want this to happen?), 13 Little Blue Envelopes is for you. There's also a sequel, The Last Little Blue Envelope, with more adventures.
Further Reading
These are just my favorites. But Maureen Johnson's written so much! She partnered up with John Green and Lauren Myracle for Let It Snow, a collection of interconnected stories about Christmas and romance and smooching. She wrote a handful of fun romcoms in the mid-2000s, too, Suite Scarlett and The Bermudez Triangle among them.
Johnson also edited How I Resist, an essay collection about activism and hope for young adults. With essays from Jason Reynolds, Jacqueline Woodson, Libba Bray, Junauda Petrus, Alex Gino, Jonny Sun, and so many more incredible writers, it's a wonderful collection to show teens (and everyone, really) that we can all create change in the world.
---
Looking for authors similar to Maureen Johnson? Check out these reading pathways for other wonderful young adult writers: V.E. Schwab, E. Lockhart, Jenny Han, Seanan McGuire, and Meg Cabot.