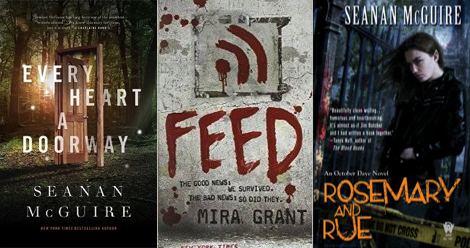 This content contains affiliate links. When you buy through these links, we may earn an affiliate commission.
It is a super great feeling to realize an author you like has written ALL THE THINGS. It is even better when you realize they wrote even more things in a different genre under a pen name. Helllloo Seanan McGuire (fantasy) and Mira Grant (science-fiction). She is awesome, but her bibliography can be a littttle overwhelming. Well, lucky you, because I'm here to be your guide to all of Seanan McGuire books.
Seanan McGuire Books: Fantasy
Do you want to start off with fairy tales?
I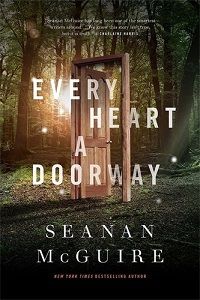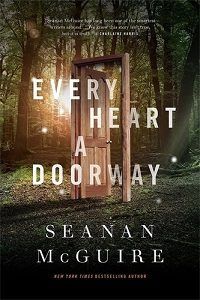 n that case, start with the Wayward Children series. These are beautifully written novellas that follow children who live in a home for, you guessed it, Wayward Children. These characters went on adventures to magical lands, and then came back to earth where they are just waiting for their doorways to open back up and take them home where they belong. If you love Catherynne Valente or Robin Mckinley, this is your entry point to McGuire. These are honestly some of my favorites of her work, and a good place to start because they give a brief glimpse of her writing style and magnificently creative brain.
From there, check out October Daye.
October Daye is a series of urban fantasy books that revolve around the aforementioned Daye. October is part-human, part-faerie private investigator. If you've been missing Jessica Jones, but thinking "dang, this would be fun if there were more magical half-human creatures along with intrigues!" then this series is for you. They are super fun, sometimes ridiculous reads, and truly perfect if you are missing Illona Andrews or Battle Hill Bolero by Daniel Jose Older. October Daye is snarky, the series is long enough to keep you going for a while, and there's plenty of mystery.
Seanan McGuire Books: SCIENCE FICTION
Mira Grant is Seanan McGuire's science-fiction pseudonym (the pseudonym isn't science fiction. It's very real, just to be clear).
I'd start off with ZOMBIES.
The Newsflesh trilogy is what happens when you combine a world full of zombies with a van full of journalists just hunting for the next big story. You end up with a super fast-paced zombie ride that will take you kinda weird places, but will definitely keep you reading. I devoured these books (pun intended), and while some things I found…a little unsettling…I still think they're fun, especially if you are into zombies. After this, all I wanted to do was play Left 4 Dead for days.
And THEN, time to face the KILLER MERMAIDS.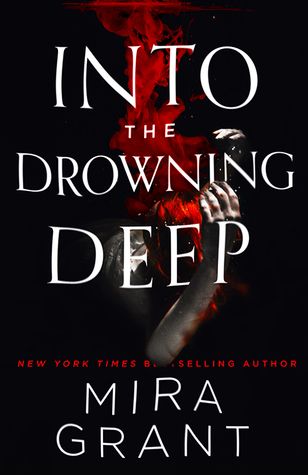 Into the Drowning Deep is one of the latest Mira Grant offerings, and is probably my second favorite after Wayward Children. What happens if a group of scientists takes a giant cruise ship to try to find the mermaids that maybe killed a TV show hunting mermaids? THEY FIND THEM AND SHIT GETS REAL.
You will not want to put down this book for the last 200 or so pages, so be prepared with snacks. Also you might end up with some slight nightmares associated with Ariel, but it is totally worth it. Do highly recommend, and this is just the first in a series, so you have more killer mermaid goodness to look forward to in the future.
From there, you can check out her Parasitology (Grant) and Incryptid (McGuire) series, which means you have got your reading cut out for you for the next little bit. Yoooou're welcome.
Where would you start with Seanan McGuire books?