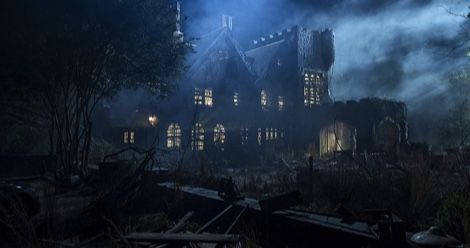 Horror
13 Spooky Books Like THE HAUNTING OF HILL HOUSE
This content contains affiliate links. When you buy through these links, we may earn an affiliate commission.
Shirley Jackson's The Haunting of Hill House is a beloved classic work of horror. While the new Netflix show isn't a straight adaptation of the novel, instead using it as loose inspiration for a story about a family beset by terrifying ghosts in a creepy old house, it does manage to capture a little of the flavor of Jackson's original. (We'll just ignore that last episode…) I devoured all ten episodes in a few days, and now I'm dying for more haunted house books. So here's my list of 13 of the best ghost stories, spooky reads, and other books like The Haunting of Hill House.
Obviously, if you enjoyed either the book or the TV series The Haunting of Hill House, you'll probably like Jackson's other work. I'd start with this novel—newly adapted into a movie starring Taissa Farmiga and Alexandra Daddario—because it's often called Jackson's masterpiece. Merricat Blackwood lives with her older sister Constance and their uncle Julian in an isolated house. Merricat, the narrator, is the only one of the family who goes into the local village. The rest have been shunned since a previous family tragedy. But what exactly happened that night six years ago?
Henry James is known as a major figure in the transition between realist and modernist fiction, but he also wrote this absolute banger of a ghost story. A young woman is hired to be a governess to a man's niece and nephew, Flora and Miles. The house is remote, the other servants taciturn. You know the drill. As the governess settles in, she begins to spot creepy apparitions around the grounds, and she soon realizes that the children seem to spot them too…This novella has inspired countless adaptations and retellings, and for good reason.
Helen Oyeyemi is very good at writing about people living uneasily together in a house full of secrets. In White is for Witching, it's a huge house perched on a cliff in Dover, England, where the Silver family is mourning their mother. Even the house seems to be reacting to her absence—or something more sinister is at work. Creaks, groans, mysterious rooms, and the presence of spirits everywhere: all the hallmarks of classic Gothic fiction are here. And since Miranda Silver seems to be more keenly attuned to the house than anyone else, her brother and father fear for her life. (And how good is that cover? SO GOOD.)
Rare book dealer Apollo Kagwa's wife Emma has been acting odd—disengaged from him and even from their baby son. She even starts to claim that their baby isn't theirs at all. When her behavior culminates in a shocking act, she disappears. Apollo sets out after her, acting on information from a mysterious stranger. As he journeys through a version of New York City that's by turns familiar and wild, he soon discovers that he really doesn't know his family at all. Like The Haunting of Hill House, this is a story about family secrets, a mother who loses herself, and real-life horrors that are just as frightening as any mythical figures.
I was a full-grown adult when I first read this book (in fact, it was last year) and I found it so scary that I had to keep the cover out of sight when I wasn't reading it. As in Hill House, the major character in The Shining is a building: the creepy and remote Overlook Hotel, where Jack Torrance relocates his family over the winter for a chance at a fresh start. Alone in the hotel, charged with taking care of it until the next tourist season, the Torrances quickly discover that there are sinister forces at work. And unfortunately, their 5-year-old son Danny seems to be particularly susceptible to them.
The Graveyard Apartment by Mariko Koike, translated by Deborah Boliver Boehm
An apartment building next to a graveyard. Most of us would run away screaming—we've seen enough horror movies—but married couple Teppei and Misao and their daughter Tamao (plus their dog and bird) move in. It's a great price, even if there are no stairs to the basement and the elevator stops working intermittently. At first, it's a slow build, but as the tension begins to ratchet up, and as strange things keep happening, you'll be on the edge of your seat.
John Boyne's novel is another creepy-old-house-in-the-country tale, this time set in 1867. Eliza arrives at Gaudlin Hall to take up the position of governess (surely a cursed job!) to Isabella and Eustace. On the way, she has an upsetting experience in a train station, and her fear only grows when she arrives at the Hall to find no other adults—only her two charges. When she has yet another terrifying experience, she knows something is terribly wrong. And yet, she must find a way for herself and the children to survive. To do that, she begins to dig into the secrets of Gaudlin Hall.
For many years, Angela Toussaint's late grandmother's house has been beloved in the community…until an unspeakable tragedy changes everything. Angela hasn't been back in two years, since the death of her son, but now she is ready to find the answers to the questions that have long haunted her. What is the truth about Corey's death? What is the entity her grandmother claimed to have fought? Why has the town seen so many other tragedies? Like Hill House, this novel explores how a house can hold us captive, even when we don't live there.
Rebecca by Daphne du Maurier
Our unnamed narrator is a newlywed, freshly arrived in England with her husband after a whirlwind courtship abroad. An orphan, working as a maid, our heroine is dazzled by the wealthy Maxim de Winter. But when they arrive at his isolated country estate, she realizes just how much she doesn't know about her new husband. There's his sinister housekeeper, Mrs. Danvers, who insists on talking about Maxim's first wife, Rebecca, who died in mysterious circumstances. Then there's the house itself…which seems to still be holding Rebecca's presence.
Turned into an acclaimed movie, this novel isn't about ghosts or a haunted house, as are most of the other books on this list. But it is about the relationship between fathers and sons, and about how broken people will turn to terrible things because they have no other options, just like the TV series version of Hill House (less so the original book). It's the '80s in Sweden, and Oskar's suburban neighborhood is terrorized by the murder of a teenage boy. Oskar, who is 12 and has been bullied at school, is full of his own rage. He hopes his new neighbor, Eli, might be a friend. But although Eli is also 12, she knows things that other 12-year-olds don't know. And she comes out only at night. As Eli and Oskar develop an intense friendship, she reveals the truth about what she is…and the dangers that follow her.
Now You're One of Us by Asa Nonami, translated by Michael Volek and Mitsuko Volek
After a whirlwind romance (haven't people learned by now these are dangerous?!), Noriko moves in with her new husband's family. In their huge mansion, four generations live together, no fighting or discord. That's weird enough, but stranger things keep happening. Late night visitors, family meetings that Noriko can't attend, things she can't even remember. What is really going on with this family? And what's going to happen to her now that she's one of them?
Neurosurgeon Jake Breaker holds other people's lives in his hands every day, including their memories. He has his own indelible memories of one summer in Niagara Falls when he and his friends helped his Uncle Calvin, who believed in ghosts and all kinds of other mysterious things. Jake, his uncle, and his two friends form the Saturday Night Ghost Club and travel Cataract City looking for haunted places. And years later, Jake reflects on why that summer was so important to him. Like Hill House, this is a novel about family, and memory, and how some memories will always feel more real than what came after.
And for lucky number 13, here's a work of non-fiction! In the TV series Hill House, oldest child Steven Crain is sort of like a paranormal investigator, except he tries to prove that ghosts aren't real. And he's written several books about this, bestsellers that bring in what his siblings refer to as "blood money" because his first book is about the story of their twisted childhood. If you, too, want to learn more about some possible real-life ghosts, try this book. Ghostland is an offbeat road trip through American history that explores some of its most haunted places—and the living people who have made these places their own.
Happy ghost hunting! Still not enough Hill House for you? Check out this Reading Pathways post about her, and here are 9 short horror stories to keep you up alllll night.