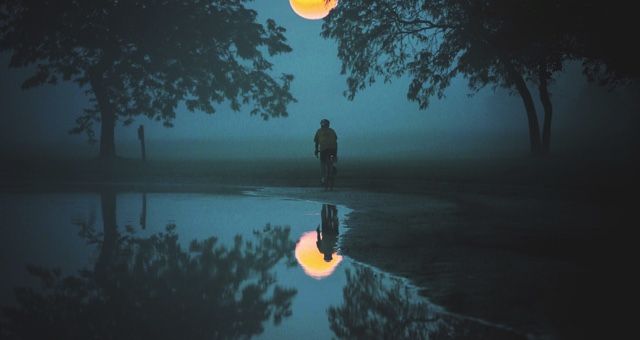 Horror
Ghosts With the Most: 8 Great Haunted Books
This list of books about ghosts is sponsored by Tor Books.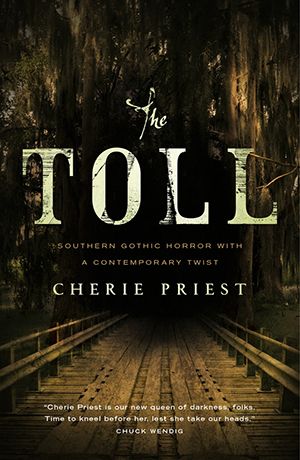 From Cherie Priest, author of The Family Plot and Maplecroft, comes The Toll, a tense, dark, and scary treat for fans of the strange and macabre. Titus and Melanie Bell are en route to the Okefenokee Swamp cabins for a honeymoon canoe trip. But just before they reach their destination, the road narrows into a rickety bridge with old stone pilings and room for only one car. Then Titus wakes up in the middle of the road, no bridge in sight. Melanie is missing. When he calls the police, they tell him there is no bridge on Route 177…
---
Let's (see-through) face it: there are a lot of ghosts in literature. Both good and bad ghosts. There's Hamlet's dad, Nearly Headless Nick, and a whole bunch of them in A Christmas Carol. They are not on this list of books about ghosts, but they still get props.
I love scary books. It takes a lot to scare me. I really like ghost stories! I have a few favorite ghosts, including the kitten ghosts in Her Fearful Symmetry and the sister's ghost in Beloved. And below I have several novels I love that happen to feature ghosts.
There's also a lot of books I would love to add to this list, but telling you they had a ghost would be a spoiler. I will say, if you want to read a creepy early example of horror, pick up Wieland: or, The Transformation: An American Tale. It's widely (wiedly?) considered the first American gothic novel. But I won't tell you if it has a ghost or not.
Here are eight books that most definitely do have ghosts!
The Haunting of Hill House by Shirley Jackson
One of the most famous ghost novels of all time, with good reason. Jackson was an expert of creep, the queen of the unsettling. The novel is about four strangers who stay at Hill House for various reasons, but will all be subjected to the spooky that resides there. GULP. I do want to see the Netflix series based on the novel that came out last year. And I do not recommend the 1999 film with Owen Wilson and Catherine Zeta-Jones that is based on the novel.
Ring by Koji Suzuki, translated by Glynne Walley
Despite the fact that this series has been a HUGE bestseller in Japan, a lot of people still don't realize that those spooky movies with the creepy girl who climbs out of the television are based on a book. Remember those? Where whoever watches the video tape is cursed and will die unless they do something horrible? And hey, remember videotapes?
I Remember You: A Ghost Story by Yrsa Sigurdardóttir, translated by Philip Roughton
This book is effed up AND scary. It's two stories: One is about three friends who have purchased an abandoned house on an island. They plan on converting into a B&B. Nothing spooky about that, right?? The other story is about a doctor whose son has been missing for a long time. Then he receives a call from the police: they've just found the body of an elderly woman and she mentions his son in her note. That's not spooky, either, right??? Eventually, the two stories will meet, which means double spooky. I do recommend the adaptation of this one. I thought they did a great job.
Heart-Shaped Box by Joe Hill
An aging rock star buys a haunted suit off the internet. Yes, he 100% deserves everything he gets for doing that, but it's still fun to watch him get it. The ghost is going to chase him across the country until he figures out how to put it to rest. I remember reading this book in the middle of the night and being scared out of my wits when my cat suddenly jumped up on my bed. Lulz, cats.
The Good House by Tananarive Due
In this novel, Angela moves into her grandmother's home, called The Good House. But it is anything but good. Turns out, her grandmother was a healer who expelled spirits from a cursed woman seven decades earlier. The spirits really didn't appreciate her taking away their toy, so they've been waiting to get revenge. Which they do, in the form of Angela's teen son. Two years later, she returns to the house to settle the score.
Hell House by Richard Matheson
It really doesn't seem fair that Matheson has one of the best vampire novels and one of the best ghost novels, but here we are. A wealthy magazine and newspaper publisher offers a physicist and two mediums $100,000 each to prove there's life after death. So they go to a supposedly haunted house in Maine. (Maine is the setting for a lot of spooky books, because we're weird here, for sure.) The house is nicknamed Hell House, and they're about to find out why. (Spoiler: It's not because it's a friendly happy place.)
The Little Stranger by Sarah Waters
Ohhhhhhh, how I love this one. It's huge and scary and gothic. It also has one of those endings you will immediately need to discuss with someone. It's about a country doctor who is called to a former stately mansion to assist a sick servant. He becomes friendly with the family, and learns they have had several spooky encounters recently. Like, REALLY unhappy ghosts. I loved it! I even have a line from this novel tattooed on my arm: "What a punishing business it is, simply being alive." That's the truth, Ruth. I have not seen the recent adaptation yet, but I hope to watch it soon!
The Ghost Bride by Yangsze Choo
This one is soon to be a Netflix series. It's about a woman in China in the 19th century. With no dowry or marriage prospects, she accepts a family's offer to wed their dead son, so his spirit will be at peace. But when you purposefully seek out spirits, you are sure to get spirits. She becomes involved with two men, one alive and one dead, and learns all about the Chinese world of the dead.